Many investors consider dividends a nice afterthought that boards dribble out to investors as a consolation prize. The reality is that dividends for the post-war decades have been a meaningful component of return.


Dividends Count: The table below illustrates distributions as a component of total return for the decades since the '50's. On average, approximately 50% of the average total return has been from dividends.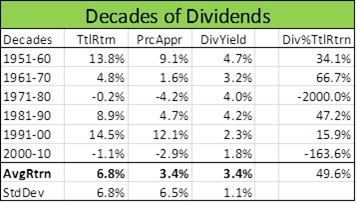 Additionally, the average standard deviation for dividends has been 1.1% versus 6.5% for price appreciation. To further bolster the case for dividends is the fact that at least you get a positive return from dividends either turbo charging your appreciation or mitigating your loss.

Red-Headed Stepson: The issue for dividends versus capital gains has been the relative tax imposed on each. Capital gains have always been the fair-haired boy in this comparison. Capital gains have historically been taxed favorably until the Tax Reform Act of 1986 when the tax rate was equalized.

Dividend Emancipation: Despite emancipation of dividend yields, dividend yields continued to drop during the '90's with the building of the "tech bubble" and in the most recent decade as a result of entertaining two stock market troughs. In many cases while stock buybacks are an alternative use of immediate shareholder value appreciation, they were used to fund aggressive option programs for executives.


Future Tax Laws: The most important element as to whether dividend yields will increase in the future is how lawmakers will treat dividends and capital gains in the next round of tax reform. If equal treatment is retained, then dividend yields may make a comeback as there is a generation of future retirees who desperately need current income. If dividend again become the redheaded stepson, then conduits may be favored as they don't generally benefit from the qualified dividend exclusion.

A Case for Dividends: Last year I penned two articles regarding dividend paying stocks. One article was entitled: The Case for DVY: Income Potential and Capital Appreciation. I continue to recommend a diversified portfolio of large cap dividend paying stocks through the ownership of ETFs: SPDR S&P Dividend ETF (NYSEARCA:SDY) and iShares Dow Jones Select Dividend (NYSEARCA:DVY). There are many other alternatives available in the equity income area.
Disclosure: I am long SDY, DVY.