The real point of this article is not to just explain the drop in Nvidia (NVDA) stock on March 30, 2011, but to demonstrate how combining deep knowledge of an industry with deep knowledge of the behavior of the stock market can lead to immense profits.
The morning started out by one analyst finally waking up to the hard data that the PC demand is slowing and the graphics business of the company is in trouble. This analyst cut his profit estimate for this year to $1.10 a share, down from $1.18, and to $1.20 from $1.35 for the next year. The analyst also lowered his target from $24 to $18. Regular readers of my blog and my articles on Seeking Alpha know that when analysts were raising their targets from the mid-teens to the mid-twenties and thirties, I sold the stock short with an average price of $25.53.
Of particular interest is the fact that a 7% change in earnings estimate changed the target by 25% -- so much for the traditional securities analysis using price earnings ratios and other similar tools. This is a prime example of why traditional securities analysis does not generate great profits.
The analyst does not appear to have addressed the impact of the Sandy Bridge processor. The elephant in the room is Sandy Bridge. Sandy Bridge is the new processor from Intel (NASDAQ:INTC) with integrated graphics on par with discreet graphics cards that have been Nvidia's bread and butter. On Feb 10, 2011, in my article titled "Nvidia Investors Discounting Qualcomm's (NASDAQ:QCOM) Graphics Capabilities," I wrote, "Nvidia is expected to lose as much as half of the traditional business as the new chips from Intel become widely available. In spite of the foregoing harsh reality, Nvidia's stock price has nearly doubled in a very short period."
Then came the rumor that Droid Bionic has been delayed at Verizon (NYSE:VZ). Droid Bionic is the new smart device from Motorola Mobility (NYSE:MMI). The chart shows Nvidia falling on a day when the group was strong and the overall market was strong. It is instructive to compare the price of a stock with another stock that has similar drivers. A lot of excitement about Nvidia arises from its Tegra chip. Tegra is based on a core from Arm Holdings (ARMH). Arm is a great reference for Nvidia's performance. The chart shows the comparison.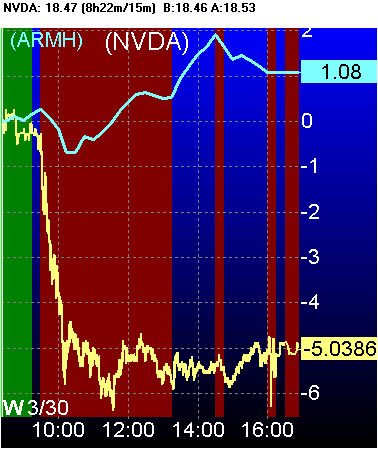 At the time this article was written, I was not able to verify or discount the rumor. When more information is available, I will post it on my blog. I have a habit of digging deep. A little digging revealed that the rumor is a potential delay in the release of Droid Bionic from April to May. If the rumor is true, it is not a loss of revenue for Nvidia. It is just a short delay. The second part of the rumor blames Nvidia for the delay – it is possible but not probable. Tegra from Nvidia is simply an apps processor. Being an electrical engineer and well versed in these matters, it is hard for me to see how an apps processor in a device would cause delays at a carrier. If there is a problem at the carrier, it is likely to be with the LTE chip. Nvidia does not make LTE chips.

LTE stands for 3GPP Long Term Evolution, which is the latest standard in mobile network technology. LTE is often marketed as 4G. 4G stands for the fourth generation standard. In reality LTE is not true 4G, but a pre-4G standard which is a step towards Advanced LTE. Advanced LTE is true 4G – a standard of communication technologies to increase both bandwidth and speed of mobile phone networks.
Droid Bionic, being a pre-4G device, has new technologies that may not have been completely tested at Verizon previously. If there are truly some delays, they are likely a result of testing the communication part of the device and have nothing to do with Nvidia.
In a nut shell, the stock drop today is due to a graphics issue that I have been writing on my blog for three months and a rumored LTE chip issue that has nothing to do with Nvidia. Setting aside the technical mumbo jumbo, the price action tells us that over $18 the stock is in weak hands who panic easily.
Those who were able to read the message of price action correctly made money on the stock today and will make more in the coming days. Nvidia stock is a dream come true for both investors and traders due to its tight spreads and high liquidity and holdings by weak hands. The key to making money is to not be bullish or bearish but be able to combine knowledge of the technology with price action.
In my article titled "Nvidia on Fire" on March 25, I wrote, "Nvidia is a short on any significant bounce up. Obviously day traders can play from both sides." I eat my own cooking and obviously took advantage of the bounce to short sell for a very short term trade that has turned out to be very profitable. From a little longer term perspective, I was short from an average price of $25.53 and recommended ZYX Short Sell Change Alert subscribers to consider short selling. On March 18, I recommended ZYX Short Sell Change Alert subscribers to buy to cover or take protective measures. I covered the last tranche at $17.60.
My next action on Nvidia, like my all previous actions, will depend on the direction dictated by the six screens of the ZYX Change Method.
Nvidia is a short on a bounce or breakdown.
Disclosure: I have no positions in any stocks mentioned, but may initiate a short position in NVDA over the next 72 hours. I was short on Nvidia from an average price of $25.53. I covered the last tranch at $17.60. I sold short again at $19.30 and covered it at $18.40. I intend to sell Nvidia short on bounce and if it is a significant bounce I will inform subscribers of the ZYX Short Sell Change Alert. I intend to buy long ARMH on dips. If it is more than a very short term position I will inform subscribers to the ZYX Buy Change Alert.