Remember when then-Fed Chairman Alan Greenspan made his famous comment about the "irrational exuberance" of the world's stock markets in 1996?
There's another side to that coin, it's when traders dump a stock without pause. Let's call it an "irrational apathy," toward a stock.
Overreaction by investors can trigger violent short-term swings in a stock's share price. So when a stock I follow experiences an unusual sell-off, it's time to check out why it happened and decide if we've been presented with a buying opportunity. This isn't always the case, but when it is, it's worth moving quickly.
Take Snyder's-Lance Foods (Nasdaq: LNCE), for example. When the merger of similar-sized snack-food makers - Snyder's of Hanover and Lance Foods - was announced in July 2010, Lance's stock shot up 33 percent in one day.
Yet shares tumbled 10 percent when year-end results were released in February. This company continues to pay a dividend of 3.3 percent at current levels, and unlike many much-bigger companies it never interrupted payments during the recession.
The chart below shows the volatility in this stock over the past two years.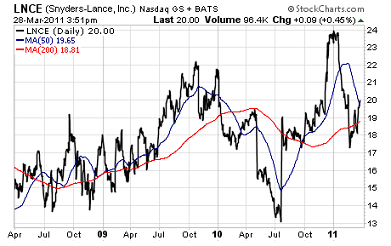 It's worth discussing this company's background.
The merger of Snyder's of Hanover, a pretzel maker, with Lance, a company known for its snack crackers and potato chips, was announced in July 2010 and then completed five months later.
Both were small players in the salty snack market and were going up against giants such as Frito-Lay - a part of PepsiCo (NYSE: PEP), and the Austin snack brand of Kellogg (NYSE: K). Lance, nearly a century old, was the first company to sell packaged peanut butter crackers.
This may all sound a tad boring - but remember that the degree of research, market testing, and product development for huge food and beverage conglomerates like Kellogg's is intense. It is the stuff that business school case studies - covering everything from strategy to finance to marketing - is made for. And a merger that moves a stock 30 percent higher in one day is worth noting.
The combination of Lance and Snyder's was designed in part to give the small companies more leverage to gain space on supermarket shelves. In addition to other brands including Cape Cod, Jays, Tom's and Archway, the company now makes private-label and third-party foods.
When 2010 results were released February 18, unexpected one-time charges caused an earnings miss and spooked shareholders. Snyder's-Lance reported charges related to the merger trimmed year-end earnings per diluted share to just $0.07, compared with $1.08 the year before.
Without the charges, the company said EPS would have been $1.09. But that reasoning didn't stop the stock price from falling hard.
I think Snyder's-Lance appears to have fallen victim to nervous traders, and its shares are currently more than 20 percent below the most recent high of $24.26 from early January. The stock still has a consensus 12-month target price of $21.75.
The numbers still indicate to me that Snyder's-Lance is a decent value play, and that the company pays a dividend north of 3 percent is worth at least a cursory look. This dividend continued uninterrupted during the recession.
The stock has a forward P/E of 15.5, and the company has a current market cap of $1.3 billion.
I'm a strong believer in owning dividend-paying stocks. Unfortunately too many investors fail to recognize their importance, and the reasons why they should ALWAYS be part of every portfolio. You can access my special report on dividend paying small caps stocks here, and learn more about this exciting class of assets.
Disclosure: None