No matter what gold price diagram you look at, the price of gold seems to be going upward. We are above old all time highs. Is it just a huge bubble or is the price justified? I wanted to look further than the customary 10 year charts available. In my previous article about gold, I took a look at 110 years of gold price history. In this article I examine gold price history from 1971 until today in various currencies. But first, let's start with a mystery gold chart:



(Click charts to expand)
The chart above shows the gold price in a certain currency for a period of 9 years. Doesn't it bear some familiarity with the current 10 year gold chart in U.S. dollars (below)?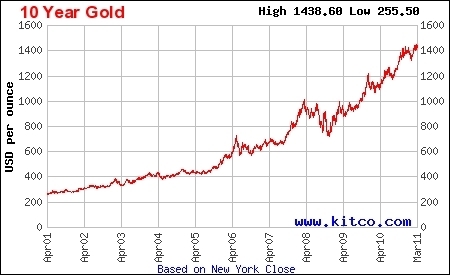 One major difference between these charts is that in the mystery chart the price of gold increases 1800% in 9 years whereas the latter chart shows 'only' about 500% increase in 10 years. The mystery chart certainly looks like a bubble being formed. The mystery chart is describing the gold price in Indian Rupees and it ends in January 1980. The price of gold topped in many currencies around that time as it did in Indian Rupees. But what followed then was a mother of all bull markets: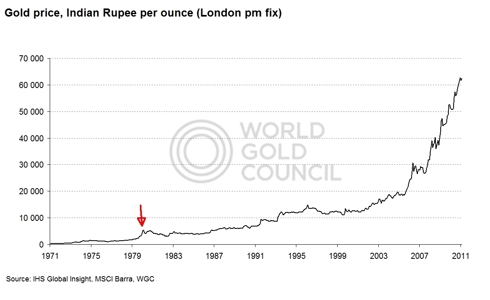 The red arrow marks the end of the first 9 year period (Jan 1971 – Jan 1980) and the period shown in the mystery chart. In comparison, the gold price chart in USD looks quite different: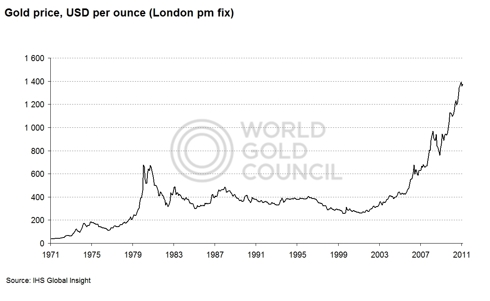 The old peak of 1980 is clearly visible and the current price is far above that peak (in nominal, but not in real terms). Looking at the gold price in Yen we get yet a third kind of chart: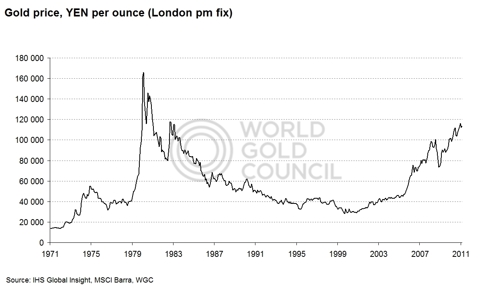 The price of gold in Japan has not yet reached the old highs of 1980. To make comparing the charts easier I adjusted gold price data available from the World Gold Council so that the price of gold in each currency in January 1971 is 1. This gives us a good idea how the price of gold has developed relative to various currencies since.
As you can see from the chart, two currencies stand out: South African Rand and Indian Rupee. This is what high inflation looks like. As the value of paper currency goes down, the price of gold in that currency goes up. There is no magic involved. I could imagine that more than a few bubble calls have been made along the way. However, to spot a bubble one has to take into account inflation and that is not so easy unless you happen to completely believe the official statistics, which describe the most commonly accepted 'truth' about price level.
OK, What about the rest then? To get a better view, I removed the gold price in South African Rand and Indian Rupee from the previous chart:
Note regarding gold price in Euros: Prior to 1999, Deutsche Mark is used converted to euro at the irrevocable euro conversion rate.
I was actually most amazed with this chart. I could not believe how big differences there were between these currencies. UK Pound has the lead in the "great race to the bottom" while Yen and Euro have kept their value reasonably well considering that they too are paper currencies. All the dollars (US, Australian, Canadian) are behaving like the UK pound except after 2008, when they fell behind in the "race."
My conclusion from all this is that gold seems to be an excellent inflation hedge and that the nominal gold price should not be used to justify whether gold is a bubble or not. The price of gold has no upper limit as inflation keeps eating away purchasing power of fiat currencies. It is hard to say whether we have a gold bubble or not right now. The last time it was in a bubble resulted in much faster appreciation and a much higher price in real terms ($2406 in 2011 dollars). On the other hand, gold is far away from where it has been on average over the last 40 years (in real terms). Therefore, a bubble might be forming. How high it goes and whether it bursts in the same way as before remains to be seen. It all comes down to supply and demand.
Gold miners have been closing out their hedge books for the last 10 years and most producers of the yellow metal are now fully exposed to changes in the price of gold. According to the
ABN AMRO Gold Hedging Report (Q4 2010)
(pdf) the global hedge book is at ten year lows (4.7 Moz vs. 100 Moz in 2001). In addition, the same report forecasts the average cash cost to reach $700/oz by the end of 2011. While 75% of world gold production has a cash cost of $840/oz or below, 10% of production is estimated to have a cash cost of $1160/oz or higher. Therefore, the price of gold is driven higher by raising production costs in addition to steady demand. When it comes to expectations of demand and gold price in general, gold producers seem to be extremely bullish.
I feel that the price above $1000/oz is well justified and also seems to be supported by ever higher cash costs in gold mines. Basically, some mines would be closed if the price of gold would fall below $1200/oz. This in turn would tighten the supply and offset falling demand. However, as so much of gold is kept just because of its monetary value, there is plenty of gold that can suddenly come to the market if people expect falling prices. This would certainly send the gold price far below the current levels – even back to under $1000/oz for some period of time.
Disclosure: I am long ABX, NEM.

Additional disclosure: Long gold via various instruments.