These six high momentum large cap stocks have a projected annual growth rate of greater than 15% over the next fiscal year, exponential moving averages greater than or equal to 5 above or below their 200 day EMA, on balance volumes trending higher, and above industry average profit margins. These are bullish indicators regarding a stock's possible future performance.
Nonetheless, this is only the first step in finding winners for your portfolio. Now that we have cut the wheat from the chaff, let's take a closer look to distinguish the driving factors behind these remarkable statistics and ensure the stories are intact.
Below are four tables (click on each to enlarge), with detailed statistics regarding company summaries, price performance, fundamentals and earnings and dividends followed by a brief analysis of each company's current events. Please use this as a starting point for your own due diligence.
Summary Statistics
Click to enlarge

Price Performance Statistics

Fundamental Statistics

Earnings and Dividend Statistics

Chesapeake Energy Corporation (NYSE:CHK)
- Together with its subsidiaries, the company produces natural gas in the United States. The company focuses on discovering, acquiring and developing conventional and unconventional natural gas reserves onshore in the United States, primarily in its six natural gas shale plays: the Barnett Shale in the Fort Worth Basin of north-central Texas, the Haynesville and Bossier Shales in the Ark-La-Tex area of northwestern Louisiana and east Texas, the Fayetteville Shale in the Arkoma Basin of central Arkansas, the Marcellus Shale in the northern Appalachian Basin of West Virginia, Pennsylvania and New York, and the Eagle Ford Shale in south Texas. The company was founded in 1989 and is based in Oklahoma City, Oklahoma.

Chesapeake has been on a tear since Carl Icahn announced his interest in mid-December. Fortunately, I was a shareholder and enjoyed a 50% run over the last three months. I sold out of my position. However, with the recent changes in the worldwide energy silhouette, I believe Chesapeake may continue its run to achieve its intrinsic value of $62 per share. CHK has a median price target of $37.75 by 27 brokers and a high target of 53. CHK received two upgrades in February. Canaccord Genuity upgraded Chesapeake from Hold to Buy and Argus upgraded it from sell to l hold. Please review the illustration for CHK's summary and key statistics.
Continental Resources, Inc.
(NYSE:CLR)
- Engages in the exploration, exploitation and production of crude oil and natural gas primarily in the north, south and east regions of the United States. The company sells its oil and natural gas production to end users, as well as to midstream marketing companies or oil refining companies at the lease. As of December 31, 2009, its estimated proved reserves were 257.3 million barrels of oil equivalent, with estimated proved developed reserves of 113.6 million barrels of oil equivalent. The company had interests in 2,317 wells and served as the operator of 1,661 of these wells. Continental Resources, Inc. was founded in 1967 and is based in Enid, Oklahoma.

CLR is the largest operator in the Bakken shale. They have 22 rigs in production and have budgeted for a significant increase in rig count. CLR predicts 30% growth through 2011 and 300% growth over the next five years. If they can successfully match or beat this goal then Continental is a great choice for the long term. A perennial favorite of CNBC's Jim Cramer of Mad Money, Cramer says "North Dakota's an amazing story. It produced 113 million barrels of oil in 2010, a staggering gain over the production just three years before, which was 46 million barrels." On Mar 15, 2011, Global Hunter Securities upgraded CLR from Neutral to Buy. CLR has a median price target by 20 brokers of $72 and a high target of $90. With the tumult in the MENA (Middle East & North Africa) and the recent quasi endorsement of North American fossil fuel use for energy by President Obama today, CLR looks positioned properly for future prosperity. Please review the illustration for CLR's summary and key statistics.
Cummins Inc.
(NYSE:CMI)
- Designs, manufactures, distributes and services diesel and natural gas engines, electric power generation systems, and engine-related component products worldwide. It operates in four segments: Engine, Power Generation, Components and Distribution. The Engine segment offers a range of diesel and natural gas powered engines for the heavy-and medium-duty truck, bus, recreational vehicle, light-duty automotive, agricultural, construction, mining, marine, oil and gas, rail, and governmental equipment markets. The company was founded in 1919 and is headquartered in Columbus, Indiana.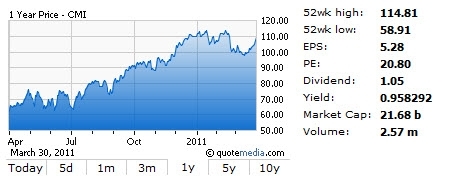 CMI has been put on numerous analysts lists as a potential "elephant" target for Warren Buffet. Buffet stated on CNBC's Squawk Box that when it comes to possible acquisitions, there aren't many "elephants" out there and not all of them want to be in the Berkshire Hathaway (NYSE:
BRK.A
) "zoo." That's a reference to his recent letter to shareholders, in which he says his "elephant gun" has been reloaded and he has an "itchy trigger finger" for a major acquisition. CMI offers a captivating value at 11.75X earnings, a significant cash hoard, and great balance sheet. CMI fits Buffett's criteria of being an understandable business and would seem to be a suitable supplement to his "zoo." On Dec 14, 2010 Boenning & Scattergood initiated coverage on CMI with a rating of Outperform. CMI has a median price target by 14 brokers of $121.50 and a high target of $140. With the impending recovery and rebuilding on Japan looming as well as CMI accelerating equipment purchases to boost productivity, CMI's future appears bright. Please review the illustration for CMI's summary and key statistics.
Noble Energy, Inc. (NYSE:NBL)
- Through its subsidiaries, engages in the acquisition, exploration, development, production and marketing of crude oil, natural gas and natural gas liquids in the United States, West Africa, Eastern Mediterranean, the North Sea, and internationally. Its principal projects include the Central DJ Basin properties in onshore U.S., Galapagos and Gunflint projects in the deep-water Gulf of Mexico, Tamar project in offshore Israel, Aseng, Alen and Diega/Carmen projects in offshore Equatorial Guinea, and West Africa gas projects located in the offshore Equatorial Guinea and Cameroon. The company was founded in 1932 and is based in Houston, Texas.
Noble Energy has a five point plan to create long-term value.
Create a diversified but focused asset portfolio - Allows optimal capital allocation for superior returns.
Exploration-led growth - Proven track record, "game-changing" opportunities
Broad lineup of major development projects - Provides sustainable, visible growth
Fortress balance sheet strategy - Designed to support long-term plans
Organizational strength - Talent and experience, "action-oriented" culture

NBL has an outstanding exploration track record. They discovered nearly 2 BBoe in the last five years at very low finding costs per unit. NBL replaced about 25 times annual production led by liquids and international gas. NBL has a conservative financial position which supports long-term growth plans. With over $1.4 billion cash on-hand, $2.1 billion available under a credit facility, a debt to book cap ratio, net of cash, of 15%, NBL's balance sheet seems bullet proof. Additionally, NBL has hedges in place to support 2011 cash flow; ~ 45% oil protected at $80.25, ~ 55% U.S gas protected at $5.75 and only 15% tied to unhedged U.S. gas. On Jan 28, 2011 Wunderlich initiated coverage on NBL with a Buy rating. NBL has a median price target by 15 brokers of $100 and a high target of $131. NBL appears well prepared to reap the rewards of a push for increasing the domestic energy supply. Please review the illustration for NBL's summary and key statistics.
Noble Corporation (NYSE:NE)
- Provides offshore contract drilling services for the oil and gas industry worldwide. As of December 31, 2009, it operated a fleet of 62 mobile offshore drilling units, including 13 semisubmersibles, four dynamically positioned drill ships, 43 jackups, and two submersibles. The company also offers labor contract drilling services, and engineering and consulting services. Noble Corporation was founded in 1921 and is based in Baar, Switzerland.

NE has one of the largest offshore drilling fleets in the world and is in the process of trading out the old for the new. With the advent of new technology, CEO David Williams stated at the Howard Weil Energy Conference, "We do think that if we can keep building on the top end, and take some of the low end fleet out the bottom, we can reshape this fleet." With the Deep-water Horizon disaster occurring last year, NE is adding new "High Tech" rigs to meet inordinate demands by its clients. Noble is building three new ultra-deep-water rigs and announced earlier this week plans to build two more shallow-water jackup rigs as well. Williams said he was considering the possibility of a spin-off of a group of older rigs. He expected a decision as early as this year. New deep-water opportunities are prevalent and the seeming shift in U.S. energy policy toward deep water drilling evidenced by specific statements in President Obama's speech regarding lessons learned from the deep water Horizon spill bode well for NE. On Mar 24, 2011, UBS upgraded NE from Neutral to Buy and on Mar 15, 2011, Stifel Nicolaus upgraded them from Hold to Buy. NE has a median price target by 34 brokers of $48.50 and a high target of $58. Please review the illustration for NE's summary and key statistics.
Southwestern Energy Company
(NYSE:SWN)
- An independent energy company, engages in the exploration, development and production of natural gas and crude oil in the United States. The company operates through two segments, Exploration and Production and Midstream Services. The Exploration and Production segment involves the development of the unconventional gas reservoir located on the Arkansas side of the Arkoma Basin, as well as exploration and production activities in Oklahoma, Texas and Pennsylvania. Southwestern Energy Company was founded in 1929 and is based in Houston, Texas.
SWN is significantly undervalued , perhaps by greater than two times the current market value based on the recent price paid by BHP Billiton (NYSE:
BHP
) for Chesapeake Energy's Fayetteville assets. If you add up and include SWN's assets (proven reserves and implied value of undeveloped lease holds), the stock price should be in the range of $80 per share. Southwestern is targeting total gas and oil production of 465 to 475 Bcfe, up approximately 18% over the company's expected 2010 levels. Approximately 410 to 420 Bcf of the 2011 targeted gas production is projected to come from the company's activities in the Fayetteville Shale play, up from the 2010 projected production of approximately 346 to 349 Bcf. As of December 16, 2010, the company had NYMEX hedges in place on notional volumes of 128.6 Bcf of its 2011 projected natural gas production hedged through fixed price swaps and collars at a weighted average floor price of $5.43 per Mcf.
Chesapeake Energy has created enormous value through JV transactions. Chesapeake Energy and BHP Billiton announced that BHP will acquire all of Chesapeake's Fayetteville assets for $4.75 billion in cash. The assets represent 487,000 acres of leasehold and producing properties, pumping 415 million cubic feet of natural gas equivalent daily, plus the 420 miles of midstream pipelines servicing the area. Enterprise Products partners (NYSE:
EPD
) offered $42/share to buy Duncan Energy (NYSE:
DEP
), a 29% premium to Duncan's previous closing price. Several other JVs, CNOOC (NYSE:
CEO
) and Chesapeake, and buy outs, XTO Energy (
XTO
) by Exxon (NYSE:
XOM
), have occurred recently.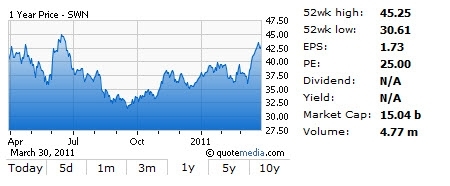 This activity has spotlighted SWN's assets. SWN has been discussed as an excellent take-out target by many analysts, including Jim Cramer on a recent episode of Mad Money. With a market cap of approximately 13 billion, SWN is a bite sized meal for one of the major O&G companies and the CEO of SWN seemed willing to entertain the idea during his interview on Mad Money. Please review the illustration for SWN's summary and key statistics.
These stocks are performing at a high level, have positive growth projections, profit margins, high momentum, and intact stories. Furthermore, they are all well positioned to benefit from burgeoning global energy demands spurred by numerous positive catalysts. I am reviewing my portfolio to determine which candidates compliment my array of equities best.
Disclosure: I have no positions in any stocks mentioned, but may initiate a long position in CHK, CMI, NE, CLR, NBL, SWN over the next 72 hours.
Additional disclosure: Company information gathered from CNBC, Yahoo Finance and respective company websites.