By David Russell
American Express (NYSE:AXP) has been range-bound for months, and one investor apparently thinks that the trend will continue. The financial-service giant peaked at $46.29 yesterday, marking the fourth time since December it has failed to break above $47. During that time, it has also mostly held support around $43, but the situation could now be turning more bearish because it made a lower low this month and a lower high this week.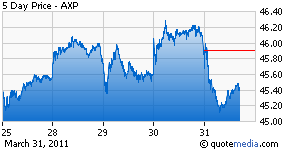 That could make some chart watchers conclude AXP is ready to make a push to the downside. The stock fell another 1.59 percent to $45.18 in late morning trading today.
The two most active options contracts are the January 40 calls and the October 43s, both of which were heavily sold according to our monitoring programs. The 40s traded more than 5,000 times, mostly for $7.45 to $7.55. Volume was below open interest, so the investor may have unloaded an existing holding or opened a new short position.
Some 3,100 October 43s were also sold, mostly for $4.80. Volume was more than 25 times open interest in that strike, so we know it was an opening transaction. Activity in the two contracts accounted for more than half the volume in the name so far today.
The next potential catalyst for the stock is the release of first-quarter results on April 20. The last report on Jan. 25 showed continued improvement in bad loans, but AXP fell as investors worried about potential regulation in the credit-card processing business.