Priceline.com (NASDAQ:PCLN) has been one of the big winners of the current bull market. On March 9th, 2009, the stock closed at $78.36. Yesterday, the stock broke the $500 level and closed at $504.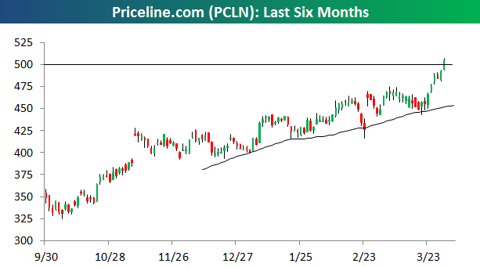 It surely feels like PCLN is breaking to a new all-time high each time it crosses another $100 threshold, but in actuality the stock still needs to DOUBLE before it hits an all-time high. On a split-adjusted basis, PCLN's all-time high is a whopping $974.25. That level was reached just one month after the stock IPOd on 3/29/99 at $96/share!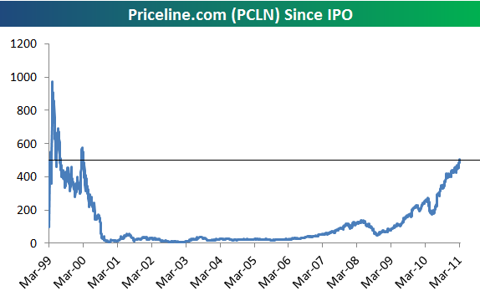 Travelzoo (NASDAQ:TZOO) is another online travel company that has been surging recently. Since February 23rd, TZOO has risen more than $30 from $37.70 to $68.48. But like PCLN, Travelzoo is still well below its all-time high even after its recent run. TZOO actually went on a crazier run back in 2004 when it went from $7.50 to $106 from 3/23/04 to 12/27/04.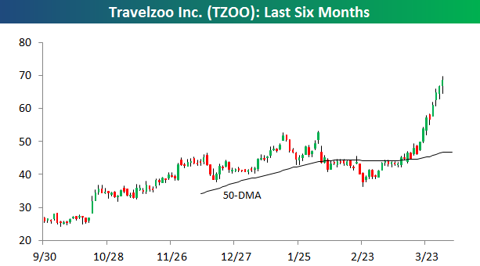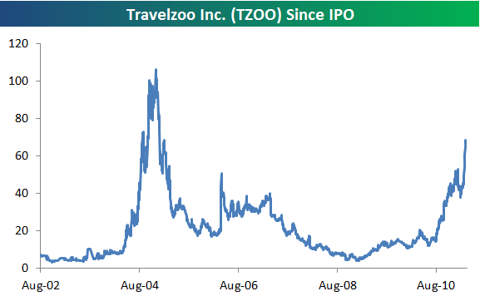 (Click charts to expand)