by Brad Zigler

The past 12 months have been pretty good for financial assets. Blue chips in the S&P 500 Composite have gained 15.5 percent since March 30 last year. Domestic bonds, too, have appreciated. Before coupons, the Barclays Capital Aggregate Bond Index (NYSEARCA:AGG) has risen 5.2 percent.
The advances in physical assets—the stuff that's supposed to provide an inflation hedge—have been even more dramatic. The S&P/Goldman Sachs Commodity Index (NYSEARCA:GSC) is 21.1 percent higher than it was a year ago. Oil is up 26.9 percent and gold's 27.9 percent is above its year-ago price.
That hedge business is becoming more important as investors smell the aroma of inflation wafting from the Consumer Price Index and other metrics.
Our Monetary Inflation Index (the 365-day rate) returned to positive territory back in January, after an eight month-sojourn into disinflation.
U.S. Inflation Metrics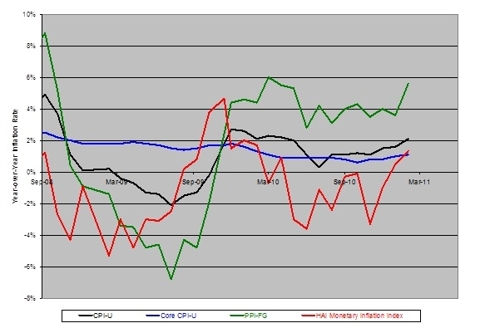 Click to enlarge
Inflation is corrosive to financial assets, and in times like these, investors tend to pile into their hard assets hedges. But what is a proper hedge? If you're fully invested in financial assets, you need to raise cash from some asset sale to afford a hard asset allocation. Does that come from stocks? From bonds?
And what do you buy with your proceeds? Broad commodity exposure? Gold? Oil?
To answer the "where" question, we need to look at the correlation of commodities to stocks and bonds. To keep things neat, we'll measure the S&P 500 Composite (NYSEARCA:SPY) and the Barclays Capital Aggregate Bond Index against the S&P/Goldman Sachs Commodity Index, London gold and spot WTI (West Texas Intermediate) crude oil
Five-Year Correlations
| | SPX | BCAgg | GSCI | Gold | WTI |
| --- | --- | --- | --- | --- | --- |
| SPX | -- | -29.0% | 36.9% | -2.7% | 30.4% |
| BCAgg | -29.0% | -- | -19.1% | 1.3% | -20.0% |
Replacing bond exposure with commodities increases your volatility, but maintains a similar level of "counter-stock" correlation benefit. Replacing stock exposure with commodities may lower your volatility, but given the relatively high correlation between stocks, may provide less diversification benefit. Ultimately, investors need to decide what they're hoping to achieve with their commodities exposure.
Next, you have to ask what size your hard asset hedge should be. Dealers have long recommended a 5-to-10 percent allocation to hard assets, so who are we to argue? Let's try a 10 percent slug.
Now, we have to determine what to buy. Perhaps past performance can give us some insight. We'll look back over the past 12 months.
Starting with an old-fashioned 60-40 portfolio—60 percent stocks, 40 percent bonds—we'll peel off a 10 percent hard asset allocation from each side and compare the results. To keep things tidy, we'll use the same benchmarks as before.
Commodity Allocation Taken From Stocks
(30-Mar-10 to 30-Mar-11)
| Portfolio | Return | Volatility | Reward-to-Risk |
| --- | --- | --- | --- |
| 60 SPX/40 BCAgg | 11.4% | 9.9% | 1.15 |
| 50/40+10% GSCI | 10.9% | 7.8% | 1.40 |
| 50/40+10% Gold | 12.6% | 8.4% | 1.50 |
| 50/40+10% WTI | 12.5% | 9.7% | 1.29 |
Here, the best return enhancement came from a gold allocation, where an extra 1.2 percent could be earned by dropping bullion into the portfolio.
But we have to be mindful of risk, too. That's measured by the swings in the day-to-day value of the portfolio. Low volatility is better for most long-term investors. The gold allocation reduced portfolio volatility, though not to the degree of the GSCI's effect. On a reward-to-risk basis, though, gold is the hands-down winner.
Now let's see what happens if we take the hard asset piece out of the fixed-income side.
Commodity Allocation Taken From Bonds
(30-Mar-10 to 30-Mar-11)
| Portfolio | Return | Volatility | Reward-to-Risk |
| --- | --- | --- | --- |
| 60 SPX/40 BCAgg | 11.4% | 9.9% | 1.15 |
| 60/30+10% GSCI | 13.0% | 11.3% | 1.15 |
| 60/30+10% Gold | 13.6% | 10.2% | 1.33 |
| 60/30+10% WTI | 13.5% | 11.6% | 1.16 |
Once again, adding a gold allocation provides the best risk-to-reward ratio, though in absolute terms, it's a slightly weaker improvement compared with the previous portfolio. Most interesting, though, is the net effect of the GSCI allocation. Replacing fixed-income exposure with broad-based commodities, while raising the portfolio return over the past year, also added enough volatility to effectively cancel the benefit.
So, what can we take away from this? Just this: It's possible—possible, mind you—that a commodity allocation could have provided return enhancement as well as risk reduction to an investment portfolio over the last 12 months.
Before you rush out to rejigger your investments, though, keep a few things in mind. First, we've only looked back a year. There's a considerable amount of variance in asset returns year-to-year. Just take a look at the chart below, which tracks the past five years' performance:
Five-Year Asset Class Performance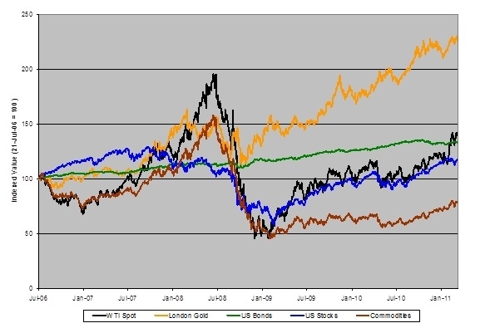 Click to enlarge
A veritable roller coaster, right?
Second, we've used indexes and benchmark physical assets for our analysis, some of which may not be directly investable. Direct investment in WTI, for example, is doable for commercial entities, but not for mom-and-pop investors. Main Street investors can instead gain access to the oil market through exchange-traded vehicles, but each of them possesses unique characteristics that impact returns.
Most importantly, though, we've assumed constant—and costless—rebalancing of our portfolios. That's clearly unrealistic.
Not, to worry, though. Next week, we'll revisit this case study and plug it into the real world, using investments available to John Q. Public.
Stay tuned.