After last week's mix of TIPS, and U.S. mid-cap and networking exposure, the weekly ETF Pullback is back to pulling things out of the ground. This week, the exposure is all commodities with a particular emphasis on precious metals. Here's this week's list:
This was last week's list:
As noted, this is a weekly trading strategy. It looks for significant uptrends that have recently experienced interruption. Based on the notion of mean reversion, the model presumes the ETFs will soon get back on track. (See appendix below for details and performance information.)
Still, there are times when I look at a list and find myself contemplating its longer-term merits. I saw four out of five ETFs on last week's list (excluding the currency exposure), as potential core positions. I can also see this week's list as having considerable merit beyond a one-week trade.
The case for the two general-exposure commodity funds, GCC and DBC, is pretty straight forward. Resumption of economic growth in general and stronger growth rates in less-developed regions should boost demand for "things," and that's pretty much what commodities are about.
But what about China? The government is trying to cool things. Might it carry that too far?

But what about Japan? Do we really know yet exactly how disruptive the earthquake and nuclear issues will turn out to be?

But what about the Middle East? Who can guess what's going to happen there?

But what about the price of oil? Will it go so high as to choke off economic recovery.

But what about inflation and Fed easing the Obama Administration's image (whether true or false) of having never seen or printed a dollar it doesn't want to spend?
But, but, but, but, but, but, but ...

Yes, there are a lot of "buts" out there. That gives rise to the fears that often drive investors toward precious metals. (Economic recovery and the consequent boost in industrial use of these metals, particularly silver, adds appeal assuming the scenario pans out.)
Things really do look bad ... or do they?
I listed five "buts" and others probably could add more. So it certainly does seem as if we're living in troubled times.
Actually, though, a case could also be made that today may be one of the least-troubled times in human history.
We have plenty of wars, actual and potential. But we've always had plenty of wars and until very recently, few if anybody considered this a bad thing. Now we do see war as undesirable and exert historically unprecedented efforts to seek non-violent alternatives and when these fail, to contain actual fighting as best we can.

We have lots of oppression for all sorts of reasons. But unlike most of human history, this is widely seen in the modern era as a bad thing and we're at least trying, however haltingly and imperfectly thus far, to stamp it out.

We face many economic challenges. But we've always faced economic challenges and for most of history, simply getting what one needs to stay alive was horribly uncertain. In the last 100 years or so, we've come a long way toward improving our understanding of economic dynamics (including the idea that central planning doesn't work) and making efforts to contain damage. (Those who disapprove of how Bush and Obama responded to the latest crisis might do well to stop whining and be thankful the White House hasn't been occupied lately by Warren Harding, Calvin Coolidge or Herbert Hoover.)

Are you a Bernanke hater? Fine. Would you like to see if we could bring back Roy Young or G. William Miller (appointed by Presidents Hoover and Carter respectively)?

There's too much disease in the world and we don't know how to pay for health care. True enough. But in contrast to the experience of much of human history, we at least care about the problem and are trying to address it.
I could go on and on, but I think you get the point. Bears can certainly trot out a big laundry list of reasons why today is a bad time to invest. The challenge, though, is to pick a day in human history when it looked like a good time to invest from the vantage point of those who were making the actual decisions (i.e., don't rely on 20-20 hindsight to say how attractively valued stocks were in the 1930s, before we knew if the depression would end or who would win the upcoming World War).
How, you may wonder, does this make a case for precious metals. It sounds like I'm saying the opposite, that today is great and that fear is unwarranted. Actually, though, the new and improved world we live in may actually be stoking our fears to a greater degree than they've ever been stoked before.
Crisis is part reality and part perception. In many ways, the realities are diminished, as discussed above, but the perceptions may be dramatically heightened, even to the point of overwhelming the improved realities.
For an example, I'm going to date myself and cite the old-time Archie comic book series (back in the days when comics were bought by kids who wanted to read them, rather than by collectors trying to get rich). One of the characters posed a question: What would you say if you were to discover you have a million dollars? Most gave the usual gleeful, joyful, responses, but the father of Veronica (the rich girl) gave this answer: "How horrible! I'm down to my last million."
Here's another example. Suppose you bought a WiFi-only iPad and wake up one day to find your cable internet is malfunctioning. You call the cable company and learn they'll need to come to your house to fix it, but that the earliest appointment you can get is three days hence. How hysterical will you be? (Tell the truth.) Chances are you'll be boiling. But in the grand scheme of things, a crisis like that is, actually, pretty trivial.
The more we have, the better off we are, the quicker and more intense our aversion to setbacks, obstacles, etc. that objectively speaking aren't really all that bad. By historical standards, the world today is arguably a better place than it has ever been. Yet because of that, our tolerance for trouble may be less than it's ever been.
I don't know that precious metals are really all that great as a play on inflation or war or political tension. I do, however, suspect that precious metals may be a wonderful play on our increasingly neurotic culture characterized by drastically diminishing tolerance for bad news and escalating fear of it.
Appendix
To create this model, I started with a very broad-based ETF screen I created in StockScreen123.com.
Eliminate ETFs for which volume averaged less than 10,000 shares over the past five trading days

Eliminate HOLDRs (I don't want to be bothered with the need to trade in multiples of 100 shares)

Eliminate leveraged and short ETFs (I think of these as hedging tools rather than standard ETF investments of even trading vehicles)
Then I sorted the results and select the top five ETFs based on the StockScreen123 ETF Rotation - Basic ranking system, which is based on the following factors:
120-day share price percent change - higher is better (15%)

1-Year Sharpe Ratio - higher is better (15%)

5-day share price percent change - lower is better (70%)
The idea of using weakness as a bullish indicator is certainly not new. But often, it's an add-on to other factors that, on the whole, emphasize strength. Here, the weakness factor is dominant, with a 70% weighting.
This model is designed to be re-run every week with the list refreshed accordingly. I trade through FolioInvesting.com, where I pay a flat annual fee rather than a per-trade commission, so I don't care about the fact that turnover from week to week is often 80%-100%. If you want to follow an approach like this but do have to worry about commissions, the strategy tests reasonably well with three ETFs, or even with one. (Cutting the number of ETFs is far preferable to extending the holding period.)
Figure 1 shows the result of a StockScreen123 backtest of the strategy from 3/31/01 through 12/30/10.
Figure 1
Click to enlarge
Figure 2 covers the past five years, a very challenging market environment that witnessed the fizzling of many strategies that had succeeded for a long time.
Figure 2
Click to enlarge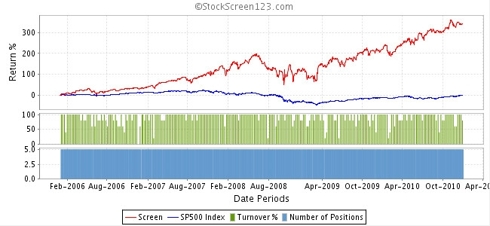 Click to enlarge

Figure 3, a screen shot from the FolioInvesting.com account I use to trade the strategy.
Click to enlarge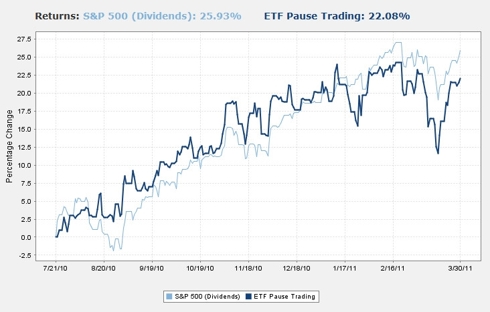 Click to enlarge

Clearly, the model is in a cold spell now, which really isn't surprising given the rapidity with which trends come and go. My willingness to stick with it presumes this environment won't last.
Disclosure: I am long SIL, GCC, IAU, DBC, DBP.