The panic selling from Japan earthquake has faded. Fear of Libyan civil war has also passed. Calm and risk appetite has returned to global markets. As the end of first quarter of 2011 is upon us, both the latest PMI numbers and nonfarm payroll numbers will be released on Friday.
In March, regional manufacturer surveys had showed that three out of four regional Fed districts saw manufacturing activities in their regions continue growing at faster paces. Employment growth rates are also on the rise, or at least flat in three regions. In three regions, price paid indices had increased at slower rates in March.
Based on regional survey results and the latest ADP number, the March PMI and nonfarm payroll numbers are expected to be better than readings in February, which can push equity prices even higher. The likely lower new order index number, however, could signal that economy will grow more slowly in coming months.
So far, U.S. consumers are still cautious, which is typical at the beginning of a new economic cycle. Growth rates of nominal disposable income and nominal personal consumption expenditure are rising fast, but still below their long term average rates.
Ratio of personal consumption over disposable income is at the level in 1990s.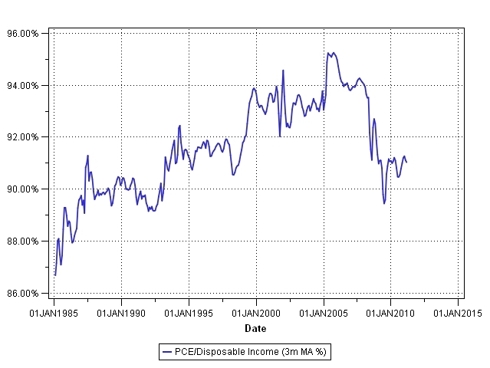 Click to enlarge
Nonresidential investment growth was accelerating. In the 4
th
quarter of 2010, the annual growth rate of nonresidential investment is 10.36%. But the dipping factory orders of durable goods in February implied that private business investment growth is going to be slower from now on.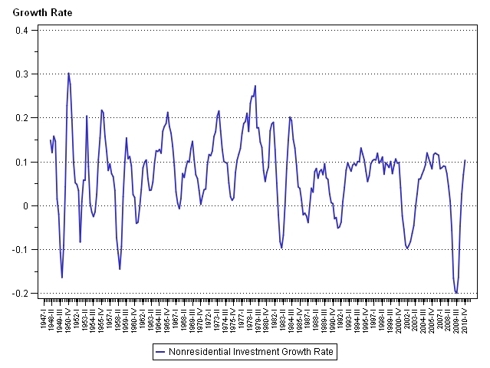 Click to enlarge
Corporate profit growth rate has dropped since to 18.34% by the end of 2010. It is still a long way to go for corporate profit to peak in this business cycle.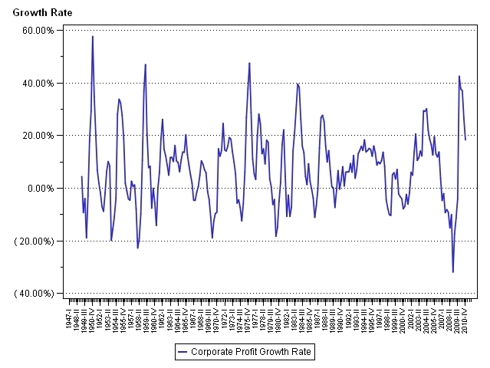 Click to enlarge
The picture for U.S. equities is bright and promising for now.
Disclosure: I have no positions in any stocks mentioned, and no plans to initiate any positions within the next 72 hours.