I wrote an article last week detailing the "trauma" that I experienced at Best Buy (NYSE:BBY) in just trying to make a TV purchase. The concept seems real simple until you are faced with having to make the buying decision ... you walk in, select your model, you pay for it, you decline the extended warranty, then you walk out. How hard could that be? I ended up leaving the store without the TV even though I walked in ready to make the purchase. Why was it so traumatic for me? I thought I would revisit this portion of the article after having taking some time to study Best Buy's recent stock performance and realizing how depressed it has become.
Click to enlarge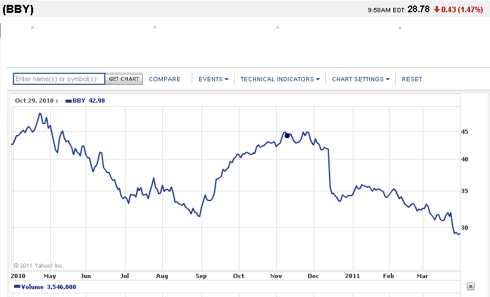 Click to enlarge

After looking at the one-year chart above, I am left to wonder, "has this also been the way other Best Buy shoppers have felt over the past several quarters?" That is to say, have they also left the stores empty handed?
Incidentally, last Thursday (3/24), the same day I was shopping for my TV, the company reported fourth quarter and 2010 full year earnings. It is clear that the company has some current and future challenges as it relates to is U.S. based stores. This once high flying retail giant that single-handedly forced Circuit City to close 567 of its U.S. stores now faces its own restructuring options. It is hard to imagine that the stock traded at $111 (split adjusted) just 12 years ago.
What's Inside the Fourth Quarter Numbers?
Well, nothing really to get excited about. The company reported less than stellar sales numbers. Sales fell 1.8% to $16.3 billion. Same store sales declined by 4.6%. The company was betting that poor sales numbers would be compensated by sales from new store openings. Unfortunately, this would not be the case. Domestic sales fell by 4% whereas comparable store sales declined by a slightly higher percentage of 5.5.
Categories of items that proved tough to move included DVDs, laptops, entertainment systems, hardware, software and yes, even televisions, something that I've become familiar with. On the brighter side, however, the company reported that that "well-liked" items such as Apple's (NASDAQ:AAPL) iPhones and Google's (NASDAQ:GOOG) android-run phones sold extremely well. Something that I thought was particular interesting was that the company also reported an 11% increase in its online sales. Is this a trend? Possibly.
In a recent article by Rocco Pendola, titled: Amazon Assaults the Competition in the Air, On the Ground, and From the Cloud, he writes:
"Consider a likely trajectory: A college student starts purchasing textbooks through Amazon because they are cheaper than she can get them for at the school bookstore. She also realizes she can get a bookcase, beanbag, plastic chairs, and a stereo system to outfit her dorm room for less at Amazon than she can at Ikea or Best Buy. While she's at it, she notices she might as well save herself money and trips to the grocery store by loading up on Pop Tarts and frozen pizza delivered to her door by Amazon. Because she shops so much at Amazon and uses the same grocery items regularly, Prime and Subscribe and Savestart to make sense. And while she's there, she ought to get on this cool new 'cloud thing' that Amazon thought of."
In the article, we learned there are others that might fall victim to Amazon.com's (NASDAQ:AMZN) success and its early entry into the "the cloud." Retailers such as Wal-Mart (NYSE:WMT), Target (NYSE:TGT), Costco (NASDAQ:COST) and yes even Best Buy, which I happen to think is already feeling the effects of what was quoted above. It may be prudent to also throw in hhgregg (NYSE:HGG) as possibly being affected by this.
What does Best Buy's reported numbers say and what does its outlook say about its growth prospects?
For the quarter the company reported an increase in SG&A spending, and a restructuring charge impacted operating income by 21.7% to $1 billion (6.2% of sales). The company also reported that earnings fell to $651 million, or $1.62 per diluted share. However, their gross profits did improve during the quarter.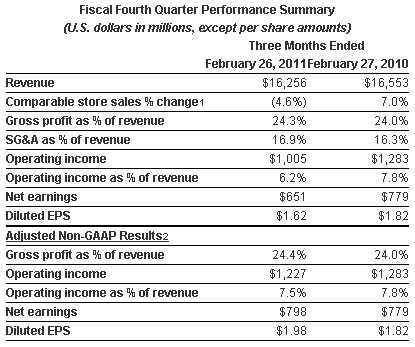 Financial Guidance:
Revenue of $51 billion to $52.5 billion, an increase of 1% to 4%, including the inclusion of a 53rd week in the fourth fiscal quarter of 2012, which the company anticipates will favorably impact full-year revenue by 1.5% to 2.0%.
Comparable store sales of flat to a 3% decline.

SG&A dollars to increase approximately 4%.

Operating income dollars of flat to a 7% increase.

Capital expenditures of approximately $800 million.

Net earnings per diluted share of $3.28 to $3.53.
There is hardly anything inspiring about the company's guidance. In fact, the mere mention of the term "flat" in two of the most important metrics in the financials suggest to me that the stock is likely not going anywhere for the foreseeable future. It is evident that management feels little confidence in the buying trend of retail shoppers nor their ability to quickly adjust to capitalize on it.
For Best Buy and other retailers such as Wal-Mart, Target and hhgregg to improve, they will need to ask some internal question.
Why are they seeing less traffic in their stores?

Are they no longer carrying popular items?

Or as a previous article suggest, is everything moving online or toward "the cloud"?
In Summary
The company has some obvious struggles. I agree with the previous article that the long term success of retailers will at some point hinge on their online or "cloud" strategy. That is easier for me to say than it is for management to execute. But it helps to know that it is on their minds as one positive taken from their report was an 11% increase in online sales. There is a message in that number.
As for the stock, one has to look back almost three years (October 2008) since it was at its current price. It hit a new 52-week low recently and another today (3/31). The stock now sits at $28.62.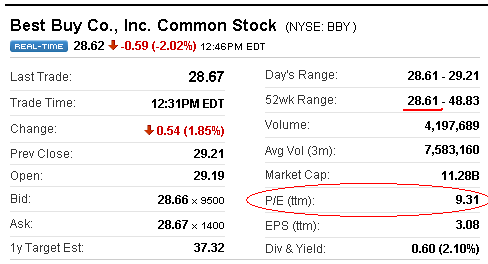 Even at such depressed levels, with an attractive forward P/E of 9.31, I think there is still more room for a better entry. Considering the less than exuberant guidance, I would not be surprised to see the stock reach $25 at some point over the next two quarters before it sees a rebound.
Disclosure: I have no positions in any stocks mentioned, and no plans to initiate any positions within the next 72 hours.