It's hard to believe that a quarter of 2011 has already passed us by, and before any more time passes, let's take a look at asset class performance numbers through the first three months of the year using the key ETFs that we track daily in our ETF Trends report over at Bespoke Premium.
Out of all the ETFs (or ETNs, Trusts, etc.) shown across all asset classes, silver (NYSEARCA:SLV) did the best in Q1 with a gain of 21.84%. Over the last month, SLV has gone up more than 11%, and it's up nearly 2% over the last week. The second best performing ETF on the entire list so far in 2011 has been the US Energy sector (NYSEARCA:XLE) with a gain of 16.85%. The Italy ETF (NYSEARCA:EWI) ranks third with a gain of 13.43%. Only two other ETFs on the list have gained more than 10% in 2011 -- France (NYSEARCA:EWQ) and the Deutsche Bank Commodities ETF (NYSEARCA:DBC).
Looking at just the major US indices, the Midcap 400 ETF (NYSEARCA:IJH) has done the best so far year to date with a gain of 8.84%. The Midcap Growth ETF (NYSEARCA:IJK) has done the best of the various large/mid/small and growth/value ETFs with a 2011 gain of 9.56%. Energy (XLE) has been the best performing US sector ETF, while Utilities (NYSEARCA:XLU) has gone up the least at 1.69%.
While Italy (EWI) has been the best performing foreign country shown, India (NYSEARCA:INP) and Japan (NYSEARCA:EWJ) are the only two that are down year to date at -6.35% and -5.45%, respectively. While oil (NYSEARCA:USO) gained 9.23% in the first quarter, it's somewhat surprising to see gold (NYSEARCA:GLD) only up 0.82% so far this year. What isn't surprising is that natural gas (NYSEARCA:UNG) declined 4.03% in the first quarter. Can anyone remember a time when natural gas didn't decline? Finally, all of the fixed income ETFs shown have declined so far in 2011 with the exception of one -- the inflation protected TIPS ETF (NYSEARCA:TIP).
click to enlarge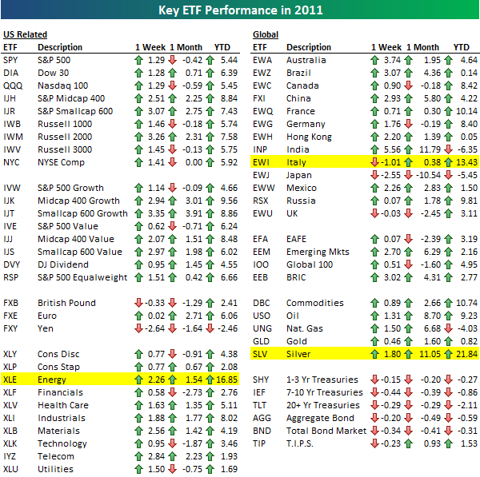 Click to enlarge