Medifast (NYSE:MED), a provider of weight management and disease management products, including meal replacements and vitamins, announced its December 2010 quarterly report after the market close yesterday. Earnings at 23 cents came in significantly below the street consensus estimate of 32 cents, and revenue was also lower at $63 million versus the $64.7 million estimate. For the March 2011 quarter, the company is guiding lower to $73.5-74 million in revenue versus analyst estimates of $80.7 million.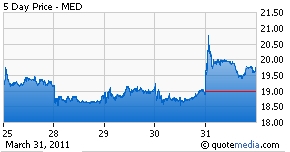 Although current quarter revenues and earnings came in below estimates and the company is guiding lower revenue for the March 2011 quarter, both the December 2010 quarter and the fiscal year 2010 revenues are still the highest ever and represent 33% and 52% growth over the year-ago revenues, respectively. In fact, both the December quarter and fiscal year revenues have increased sequentially each year over the last 10 years since 2001, from $0.9 million revenue in the December 2000 quarter, for a compounded annual growth rate of 53%. Further, fiscal year earnings for December 2010, while below estimates, still rose over 75% in 2009 to $1.35.
Medifast sells its meal replacement and vitamin products via three channels: Take Shape for Life, Medifast Direct, and Medifast Weight Control Centers. Of these, Take Shape for Life, which combines weight-loss meal replacements with coaching, accounted for approximately two-thirds of its revenue, Medifast Direct for another 23%, and the Weight Control Centers for the remaining 10%. The revenue at Take Shape for Life grew at 38% over the year ago quarter, slightly faster than the 33% overall revenue growth for the company. However, long-term, the company is projecting strong growth from its Weight Control Centers, as it plans to add 25 to 30 company-owned centers in 2011 to its current 39 at the end of December 2010, and plans to grow to up to 250 company-owned centers in the next five years.
The weight-management/ meal replacement industry includes Weight Watchers Intl Inc (NYSE:WTW), Nutrisystem (NASDAQ:NTRI), and Ediets.com Inc. (OTC:DIET). Of these, WTW is the industry leader in volume, and in the just completed December quarter, they reported blockbuster numbers, beating both revenues and earnings at $357m/64c versus analyst consensus estimates of $321m/56c, and guided strongly higher earnings for FY 2011 at $3.50-3.85 versus the $2.77 estimate. The stock gapped up from $45 to $59 the day after the earnings report, and has been strongly higher ever since, at over $70 as of yesterday, and it is trading at a forward P/E of almost 20.
MED has almost $2 in cash and cash equivalents less debt. It is projected to generate $1.85 in 2011, and at the $19.75 closing price yesterday, it is trading at a cash adjusted less than 10 P/E, even assuming analyst estimates are lowered slightly to account for the company guiding lower revenue for the March 2011 quarter. WTW, meanwhile, has only $40 million in cash and cash equivalents and over $1.4 billion in debt, and is also growing revenue at single digits versus 52% revenue growth in 2010 and projected over 30% growth in 2011 for MED.
Institutions have been net buyers of the stock recently, with 146 Institutions holding a total of 11 million shares, or 71% of the shares outstanding, up from 64% in the prior period. The stock is also heavily shorted with 4 million shares, or 29% of the float shorted.
With the high obesity rates in the U.S. and in many developed countries, the market for weight-management and meal replacement products can be expected to remain a growth market, and presents a good opportunity for the investor. MED is a growing company in that 'space' and as explained above, presents an 'attractive' opportunity from both a valuation and growth perspective versus its more established and well-known 'peer', WTW.
The stock was weak after-hours yesterday and can be expected to be weak today at the open based on missing estimates and guiding lower. However, the growth story is still intact and presents an opportunity for the 'speculative' investor interested in small-cap companies to buy MED on weakness this morning and in the days ahead.
Credit: Historical fundamentals including operating metrics and stock ownership information were derived using I-Metrix by Edgar Online.
Disclosure: I have no positions in any stocks mentioned, and no plans to initiate any positions within the next 72 hours. Material presented here is for informational purposes only. Before buying or selling any stock you should do your own research and reach your own conclusion.