Chinese stocks are controversial these days.
In the Reverse Takeover space, also known as RTO space, every day a Chinese company imploded on fraud charges. Yesterday it was Advanced Batteries (
OTCPK:ABAT
), and Thursday it was Chinese Electronic Motor (
OTCPK:CELM
).
In the IPO space, we just had a star performer, Qihoo (NYSE:
QIHU
), which went up 134% on this first trading day. Investors decided to value this company at $4.2b, 72x its 2010 revenue and 490x its 2010 net income.
I won't comment on if Qihoo is a bubble but the capital market loves bubbles. The majority of the market participants love holding bubbles – It is like good ol' days before 2008 – except when the bubbles eventually and inevitably pop. Well, without further due, I am going to show you a bubble that is going to burst soon.
Yes, it is Youku (NYSE:
YOKU
).
I wrote about it in January, pointing out how crazy its valuation was and the fact that it is in a tough war against many competitors. Yet, the stock price rose from about $36 when I wrote it to as high as $52 this week. Am I wrong? No, I don't think so. The bubble becomes larger; the soap skin becomes thinner; and the eventual pop becomes even closer.
From the valuation angle, Youku's market cap of $5.6b using Thursday's closing price (diluted share count 118.6m) put its valuation at 97 times its 2010 revenue. Since the company is still losing money, it is meaningless to calculate its P/E ratio.
What is more troubling than the high valuation for Youku is that it is losing market share to its competitors. Marae Asset Research found its market share to shrink from a peak of 41% in May 2010 to a low of 33% in January 2011.
SOHU
and Baidu Qiyi (NASDAQ:
BIDU
) have been the winners during the meantime.
Now there is more evidence showing that Baidu Qiyi is using both technology and market power to reshape the competitive landscape of the China online video market. Youku is likely going to lose in this battle.

Qiyi introduced Qiyi Media to offer better user experience

On March 31, Qiyi, the television portal invested by Baidu and Providence Equity Partners, quietly announced a beta-version standalone video client software, Qiyi Media.
Technically what Qiyi Media achieved was to:
remove the web browser overhead,
enable more intuitive user interaction and
enable Peer-to-Peer streaming to save server bandwidth and enhance smooth viewing experience.
Practically what Qiyi Media enables the users to do is to turn the computer into a TV with superior user experience.
Not only does Qiyi Media excel in the technology, it also offers users free access to a media library that includes nearly all the popular movies and TV programs a typical Chinese consumer watches. Compared with Youku, the only thing that Qiyi does not carry is the user-generated content, which is a business Qiyi decided not to have. Market surveys indicate that Chinese Internet users spend the majority of their time viewing long-length TV programs when they use an online video portal.
The most important fact that investors should realize about this online video market is that there is little differentiation in the non-UGC content provided among those online video providers: Youku, Tudou (NASDAQ:
TUDO
), Baidu Qiyi, Sohu, Tencent (
OTCPK:TCEHY
) QQ Live and PPTV. They all have enough cash to pay for the contents. The only big thing that could make a difference is the user experience. Once one competitor comes up with a superior solution, the other competitors either have to follow suit or lose market share. The choices would not be easy for Youku. To follow suit, Youku will start losing revenue from webpage advertising, which is currently one third of Youku's revenue. Not to follow suit, Youku will lose market share.
Baidu is directing all media search into Qiyi, its own video site

What is more disturbing to the inudustry is that Baidu practically owns the gate of the Chinese Internet but it is now showing Qiyi's video as the first search result when it detects that the search keyword may be linked to a video.
A sample screenshot is shown below (click to enlarge), in which the keyword for 'three kingdom,' which is a famous Chinese history theme, is searched. A TV series of the same name is listed as the first match with photos and links pointing to Qiyi.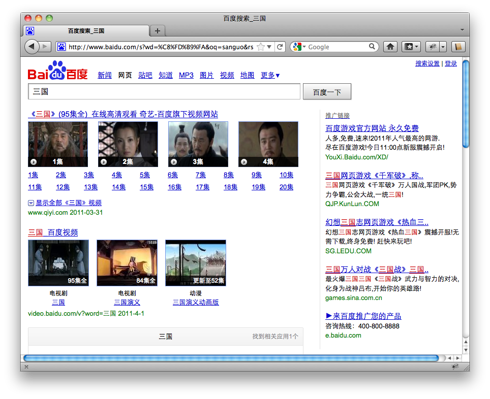 Youku also acknowledged in its last quarterly conference call that it lost the 30% traffic it used to get from the search engine. It is a big question mark for Youku's capability to maintain its current market share.
The above are just two points I would like to share with my readers. Youku has quite many competitors in the online video market. Unfortunately those competitors do not only have money but also resources that Youku cannot match. Baidu owns all the search traffic and Tencent owns all the instant message traffic. I deem it safe to call the Youku stock at the current price a bubble. It will have to burst. It's only a matter of when.
Disclosure:
I am short
YOKU
.