William O'Neil is the famous author of the book, "How to Make Money in Stocks," and the inventor of the CAN SLIM trading methodology. If you are not one of the two million people that bought his book, CAN SLIM is a high growth strategy aimed at buying "glamour" stocks as they breakout with high momentum.
While finding a perfect candidate is difficult, I did find one stock that I feel matches up fairly closely. The stock is (NASDAQ:BCPC) or Balchem Corporation. Although they pay a small dividend of 0.40% yield, it is definitely a high-growth stock.
*To read about a bit about the how to trade using CAN SLIM, read this article.
Balchem Corporation (BCPC)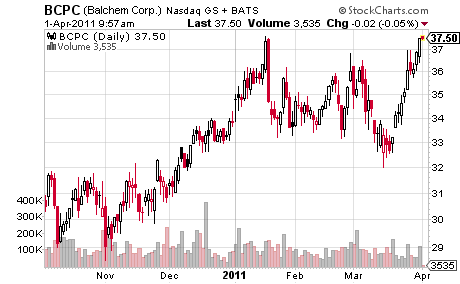 Current quarterly earnings – As we compare quarterly earnings growth year over year, the last quarter increased by 32%. The quarter previous grew (year over year) by 20%. Not only is quarterly growth high, but it is accelerating between quarters.
Annual Earnings Growth – Has basic EPS grown aggressively between years? From 2008 to 2009 the earnings grew by 38%. Between 2009 and 2010 the EPS grew by over 21%. While the growth rate has slowed somewhat between years, the recent quarterly trend indicates it might be picking up steam again. Regardless, this is a fairly high annual growth rate.
New product, conditions, or management – While their products are not necessarily new, they do fit in a specialized niche. Balchem utilize innovative techniques; one such technique is micro-encapsulation which enables companies to put a protective coating on food for various applications associated with longer shelf lives or nutrition. Belchem's specialty chemicals and techniques also apply to the healthcare and animal nutrition segments.
Supply of shares? The float is under 27 million. A low share float can create a strong upside once heavy accumulation is underway. Also, over the past 2 weeks the prices have been rising on steady volume.
Leader? Absolutely. This stock has a relative strength well over 80 when compared to the S&P 500 index over the past 52 weeks. Momentum trading relies on picking stocks outperforming over the past year as being strong stocks into the future.
Institutional Support? Yes indeed. There are a variety of big name institutions holding this stock such as Brown Capital Management, Vanguard Group, and BlackRock Fund Advisors. 121 institutions are holding, which is a bit high, and this translates into 74% of all shares. There has been a small amount of net selling lately, which is often when funds take profits as stocks reach new heights. I view BCPC as neutral in relation to institutional support. Sometimes a few quality investors is better than a massive pack of institutions.
Market direction is currently in a bull cycle making this the right cycle to buy in.
When to Buy
When is the exact right time to buy this stock? There is not a clear "cup and handle" or slow consolidation pattern here. The stock has traded fast and loose over the past few months which shows a great deal of indecision. As the stock trades at the $37.50 resistance and is coiled for a breakout – we shall see whether it pulls back to shake out the weak traders as it so often does, or whether it blows sky-high on incredible volume with a momentous CAN SLIM breakout. (You can read more about high sales growth with these 9 Stocks With High Revenue Growth)
The entire industry of specialty chemicals is performing well and this includes such stocks as Synthesis Energy Systems (NASDAQ:SYMX), Innospec (NASDAQ:IOSP), Braskem S.A. (NYSE:BAK), Solutia (NYSE:SOA), and PPG Industries (NYSE:PPG). Looking within leading sectors and industry groups is a good starting group to finding other strong high-growth stocks that could be building up steam for a price launch. As BCPC makes a run at a major resistance level, I am eyeing this pick very closely.
Disclosure: I have no positions in any stocks mentioned, and no plans to initiate any positions within the next 72 hours.