As the chart below illustrates, CORN -- an ETF tracking the price of corn -- had a monster day yesterday. The catalyst was a news story that in spite of greater land masses in the U.S. being devoted to growing corn, the nation's stockpile will not grow. The U.S. currently accounts for approximately 39% of the global corn harvest, according to the USDA, and so inability for U.S. production to meet demand needs could create corn shortages on a global basis.
[Click to enlarge]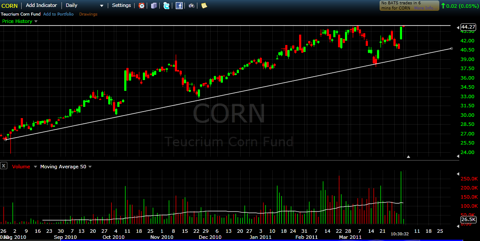 Technically, the daily chart shows an ascending consolidation pattern, often a precursor to a breakout move upwards. Personally, I would like to see a pullback to the bottom trendline before entering. Alternatively, should we break out to the upside without hitting the bottom trendline, entering on a pullback to approximately 44.40 (the upper horizonal resistance line) could serve as an entry opportunity for a low-risk trade.

Also of relevance here is the global political situation. As we've noted recently, a tightening of global money supply could lead to a deflationary spiral, sending commodity prices tumbling down. Moreover, the U.S.'s military action against Libya moves the world one step closer to a larger, broad-scale war. Should such a war emerge, commodity hoarding and supply destruction become more likely due to fear of certain military tactics.