The Dividend Aristocrats are often mentioned when researching dividend paying stocks, as being some of the most dependable dividend stocks, in terms of steady dividend growth. This week, we looked at the 3 highest dividend paying stocks in this group: Century Link, (NYSE:CTL), Pitney Bowes, (NYSE:PBI), and Eli Lilly, (NYSE:LLY), all of whom are listed in our High Dividend Stocks by Sector Tables.


All of these firms should be able to maintain their dividend payouts, as they've done for the past 25 years - CTL has a dividend payout ratio of 93%, LLY has one of just 45%, and PBI has more than enough cash flow to continue it. *(See below).
CTL and Qwest Communications today completed their merger, creating the nation's third largest telecommunications company in the United States. The combined company's increased scale and financial strength will enable it to deliver a broader range of communications services to consumers and small businesses throughout the company's 37-state service area and to business, wholesale and government customers nationwide via its 190,000 route-mile fiber network. (Source: Century Link website) One of CTL's main issues is the migration of land-line customers to cellphones, which they hope to combat through their Qwest merger. They also are strong in rural areas where competition isn't as fierce.
PBI has negative equity listed on their balance sheet, thus no ROE and debt/equity figures. * PBI has a big load of debt, but, being a cash machine, they're able to finance it easily. Their financing interest costs actually fell in 2010, vs. 2009, from $97.6 million to $88.3 million. Even after paying these interest charges, they earned $534.6 million pre-tax in 2010. However, their 2010 revenue did shrink to $5.43 billion, vs. $5.57 billion in 2009, and their 2010 EPS also fell, to $1.14, from $2.04 in 2009.
LLY grew their revenues 5.5% in 2010 to $23 billion, from $21.8 billion in 2009, and also grew their EPS by 8%, $4.74 vs. $4.42 in 2009. The company expects total revenue growth will be flat to slightly increasing. The company anticipates that the impact of U.S. health care reform will lower 2011 revenue by $400 million to $500 million. 2011 revenue guidance assumes the company maintains its patent exclusivity for U.S. Strattera sales, and also assumes rapid and severe erosion of global Zyprexa sales after patent expirations in major markets, including the U.S. starting in October 2011, and the continued severe erosion of U.S. Gemzar sales. The company expects these reductions in revenue to be offset by sales growth of Alimta, Cialis, Cymbalta, Effient, Humalog and animal health products. Excluding the anticipated decline in Zyprexa and Gemzar sales outside of Japan, and the incremental impact of U.S. health care reform, the company would expect 2011 revenue to grow in the mid- to high-single digits. (Source: Lilly website)
PBI and LLY delivered positive earnings surprises in Q4 2010: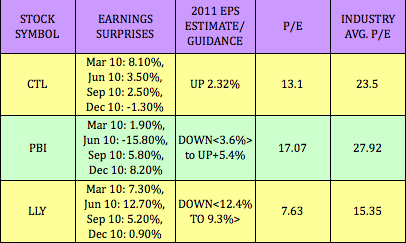 Their P/E's are well below their industry averages, but as you can see, these firms aren't big earnings growth stories, with PBI and LLY in the midst of organizational streamlining that'll take awhile to complete. LLY also has the issue of a growing its drug pipeline, in order to fight off patent expirations.
Here's how the dividends and options compare for these 3 stocks:
Covered Calls:



(Click to enlarge)
As you can see, the call options for PBI and LLY greatly exceed their dividend amounts for this time period, by over 2 times. There's also some assigned gains potential for PBI and CTL, which you can see in our Covered Calls Table.
Selling cash secured puts also gives you a much higher payout than these dividends:



(Click to enlarge)
There are more details on these and other put options trades in our Cash Secured Puts Table.
Concerning share performance, CTL has gained the most in the past year, while PBI has gained more year-to-date: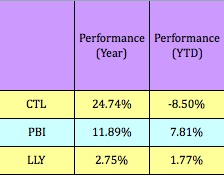 Disclosure: Author is long CTL shares
Disclaimer: This article is written for informational purposes only.