Traders love the volatility that usually accompanies stocks with high levels of short interest. When the market is in rally mode, stocks with high short interest usually get an extra boost to the upside because of short covering. When the market is declining, these same stocks usually underperform because there are shorts piling on to the regular long sellers.
Below is a list of the 50 most heavily shorted stocks in the country (in the Russell 3,000 to be exact). These stocks all have more than 26% of their float sold short. As shown, Bridgepoint Education (NYSE:BPI) has the highest short interest as a percentage of float (SIPF) in the entire Russell 3,000 at 58.79%. The shorts have been winning on this stock so far in 2011 since it is down 10% year to date. Rubicon Technology (NASDAQ:RBCN) is the second most heavily shorted stock in the Russell 3,000 and the only other stock with a SIPF above 50%. Unlike BPI, the shorts have been struggling with RBCN in 2011 since it is up 31% for the year.
Travelzoo (NASDAQ:TZOO), which we highlighted yesterday, is the best performing stock on the list so far in 2011. TZOO has the 14th highest SIPF in the Russell 3,000, and it is up more than 60% already year to date. Other big winners this year on the list of the most heavily shorted stocks include RPC (NYSE:RES), SunPower (SPWRA), and Meru Networks (NASDAQ:MERU). Orexigen (NASDAQ:OREX), Life Partners (NASDAQ:LPHI), and hhgregg (NYSE:HGG) are the stocks on the list that are down the most year to date. Along with Travelzoo and SunPower, some of the most notable names on the list include Coinstar (NASDAQ:CSTR), Tesla Motors (NASDAQ:TSLA), St. Joe (NYSE:JOE), Blue Nile (NASDAQ:NILE), Sears Holdings (NASDAQ:SHLD), Nutrisystem (NASDAQ:NTRI), and First Solar (NASDAQ:FSLR).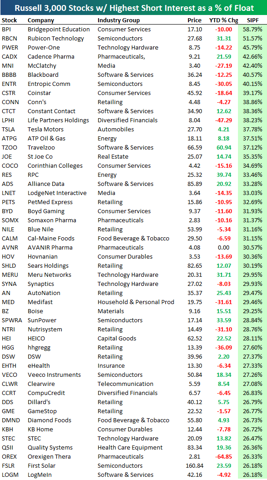 (Click chart to expand)