PRIOR WEEK
Markets Rally As Technical Strength, Buy-The-Dip Mood Outweighs Worsening 3 Crises
Why have stocks and other risk assets managed to rally back to new highs in the face of deterioration in the EU, Japan and MENA regions?
Fundamental Perspective: 3-Plus Crises The New Normal?
None of the ongoing crises present (nor the potential ones like a China economic bubble or worsening US housing situation) are seen as any immediate threat to the global economy, and much of what they've shown has been priced in. So there's nothing to seriously contradict the ongoing formula that has worked so far: low rates, low inflation, improving earnings and corporate balance sheets.
While inflation is up, it's mostly from rising commodities, which in turn causes reduced consumer spending for other items. Taking into account persistent high unemployment in much of the developed world, it's far from clear that inflation is a major threat unless something unexpected (like another leg up on oil prices) occurs.
The overall tone of macroeconomic data this past week was also positive, with personal spending, monthly jobs reports, and US Mfg ISM data beating expectations, and China's PMI rose for the first time in 4 months.
Technical Perspective: Entrenched Momentum
As the below S&P 500 weekly chart shows (click to enlarge), risk sentiment as reflected in stocks and other risk assets have deeply entrenched upward momentum, as markets have seen that since March 2009, every dip has ultimately represented a buying opportunity, even that of the EU crises in the Spring of 2010.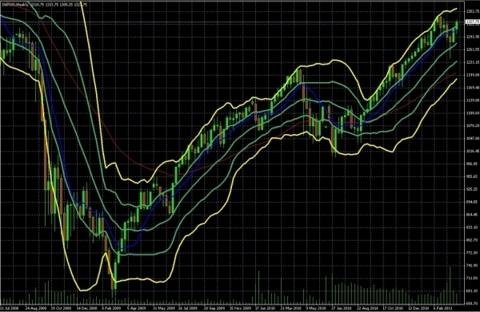 S&P 500 WEEKLY CHART COURTESY OF ANYOPTION.COM 02apr02 2350
As noted before, numerous technical indicators forecast that the odds favor further upside include:
Price re-entered the upper Double Bollinger band 'buy zone' bounded by the upper yellow and green Bollinger band, suggesting strong enough upside momentum for further gains.
The 10 week moving exponential moving average EMA (blue) has crossed above the 20 week EMA (brown) and both have crossed above the 50 week EMA (red)
The fundamentals behind the move remain intact, as noted above, so why stand in the way of a two year uptrend that is legitimate until proven otherwise?
In sum, it's going to take a lot of continued negative news to break the bullish sentiment underlying the technical strength.
The ongoing crises in the EU, MENA, and Japan regions all remain active, but they haven't generated enough immediate market threat or significant bearish surprises in weeks to outweigh the above bullish fundamental and technical supports for the market. Now that the index has returned to its upper Double Bollinger band buy zone, technical momentum is stronger still, and looks ready to surpass its highs of the pre-MENA/EU/Japan crises that began in mid February.
Arguably the biggest "threat" emerged this week, was the hawkish turn by the Fed and the rally in the dollar. However Fed President Dudley was quick to douse speculation about any early termination of QE 2, which in turn killed off the nascent USD rally last Friday. Even if his remarks were suddenly erased, no one is expecting anything more than a very gradual tightening that won't even begin for a number of months, which is a long time for markets.
Thus despite all the negative news out of the EU, Japan, and MENA regions, the uptrend in equities and other risk assets must be respected. Given how widespread the belief has been that this whole rally has been Fed-driven, we would have expected the more hawkish tone from the Fed this week to have had a more bearish impact.
The fact that it hasn't indicates just how resistant to negative news stocks have become, so that even as the Fed prepares reduced support for the economy sometime this summer, there remains enough hope that markets can continue higher. Also, there is no reason to believe that any substantive rate increases are coming. Even the full 1% rise predicted by many still leaves Fed rates among the lowest of the major economies.
Fed Turns More Hawkish: More Noteworthy Than Market Moving
Assorted Fed governors basically confirmed that barring a major negative surprise, QE3 off the table.
Fed Governor Jeffrey Lacker sent word Friday, Kocherlakota did so Thursday, and earlier in the week so did Bullard.
The only noticeable impact was on the USD's sharp rally vs. the JPY.
JPY Dives As Even US Fed Appears Closer To Tightening
While many suggested the new Fed hawkishness was driving the JPY lower and reviving belief it would be sold to fund purchases of higher yielding currencies (aka carry trade), we believe that an unwind of the long yen positions after the prior weeks' buildup of longs is at least as much of a reason for the shift in JPY pairs that began with the G7 intervention against the yen that began on March 18th. In particular, much of the long JPY unwind may be coming from Japanese exporters covering excessive JPY longs
However as with any major position adjustment, it's next to impossible to know in real time when it has run its course.
As we learned from the 2008 financial crisis – the 'carry trade' can unwind much faster than it develops. Thus we suggest caution about the carry trade optimism especially as many JPY pairs trade near significant levels.
USD/JPY rally stopped around the 84.50 level, a key pivot on daily charts, and faces additional resistance directly above into its declining primary trend line around 85.75 (from the 2007 peaks). 120.00 could be a key technical and psychological resistance point in EUR/JPY, as would be 90.00 in AUD/JPY. Strength above these levels would suggest further gains ahead, but overall we believe it may be too early to call a complete reversal in the JPY's underlying trend.
EUR Rate Hike Hopes Outweigh PIIGS Worries For Now
Rate hike speculation continued to crowd out a steady stream of bad bond sales, soaring rates, credit downgrades, and Greek debt restructure talk, and the EURUSD continued to make multi-year highs.
COMING WEEK
ECB Press Conference: Markets Bought The EUR On The Rumor- Will They Sell The EUR After The News?
This week is dominated by Central Bank announcements, with the RBA followed by BoJ, BoE and finishing with the ECB. Neither the BoJ nor BoE are expected to make any changes, though the BoE announcement may contain hints of how much longer it will tolerate rising inflation despite a still weak economy.
It's the ECB's press conference, however, that carries the biggest market moving potential. Hopes for increased rate hikes after the assumed 0.25% hike for this Thursday have outweighed downgrades of bank and sovereign debt to Ireland, Spain, and Portugal, thus EURUSD's rise to new multi-year highs around 1.4230.
Even though markets have already priced in a 0.25% hike, the euro would still be at risk of a short term selloff even with this increase if Trichet fails to fulfill expectations on future rate hikes this year.
To keep moving higher, markets will need indications of coming 0.75% worth of hikes in the coming 12 months fuel for continued rate hike hopes, which are the only thing holding up the EUR.
Anything less is likely to spark at least some near term profit taking on the EURUSD and other EUR pairs.
If Trichet retains the "old" code words we expect him to use "monitor very closely" to signal that the next rate hike is coming within about 3 months. That would be in line with market expectations and keep the EUR well bid. Inflation is expected to remain elevated until early next year and we suspect that the ECB will use this condition to justify rate hikes at a moderate pace to 2%.
Any signals from Trichet that this is not the beginning of a series of rate hikes would likely spark a selloff in the EUR pairs, especially in the EURUSD.
US Q1 Earnings Season Warm Up
While the official start of Q1 earnings doesn't hit until Alcoa (NYSE:AA) announces April 11, expect the usual flow of news and speculation that can move markets if the surprise is big enough or there is a lack of competing news.
How To Profit
Given the above technical and fundamental situation (especially the re-entry of the S&P 500 into its Double Bollinger Band buy zone) new long positions on the S&P 500 or other risk assets can be considered within your given trading / investing time frame.
Forex Traders
Long risk pairs like the AUDJPY, AUDUSD, and EURUSD
ETF Traders
Ride the above trends with related forex ETFs or stock index ETFs:
Forex:
Stock Index:
Binary Option Traders
Buy calls on risk assets like the EURUSD, USDJPY, S&P 500, Dow, Nasdaq, etc. for your chosen time frame, be it an hour, day, week, or month.
About Binary Options: These are a relatively new trading vehicle for individual traders (big institutions know them well) that can be ideal for pure trend traders seeking the simplest way to play the ongoing trends discussed above who want:
To achieve high returns usually seen only with highly leveraged (and risky) instruments – typically about 70% even if the trend moves only fractionally in your favor
To avoid the complex risk management and exit strategy planning associated with traditional spot market trading
To limit their maximum loss to their initial investment
Just search 'binary options' for a growing list of brokers that carry them.
I know most readers are not familiar with "BOs", so as soon as time permits I plan to have some articles coming out shortly on the pros and cons of binary options, as well as a video version. So stay tuned for both of these to learn about this very useful new trading vehicle.

DISCLOSURE & DISCLAIMER: AUTHOR SHORT EUR NO OTHER POSITIONS, THE ABOVE IS FOR INFORMATIONAL PURPOSES ONLY AND NOT TO BE CONSTRUED AS SPECIFIC TRADING ADVICE. RESPONSIBILITY FOR TRADE DECISIONS IS SOLELY WITH THE READER