There are many forces behind a higher gold, including continued tensions in the Middle East and North Africa, a falling dollar, and debt concerns in the eurozone. Prices are nearing old highs and a clear breakout signals another leg up for the coming weeks.

On the downside, rising stocks, lack of fresh bids, and the idea of an improving U.S. economy are limiting the metal's move.

Friday's good but not great job data pulled gold lower, but prices rebounded quickly-- an indication that the gold market is not weak. William Dudley, who votes on monetary policy, called the recovery "tenuous" and warned against excessive optimism over the U.S. growth outlook.

Gold can continue the uptrend move and take gold mining companies with it. There are two key levels to watch: the $1,410 an ounce support and the $1,450 an ounce resistance levels. A break above the resistance brings an opportunity to go long for aggressive investors and a break below the support level signals a downtrend toward $1,340.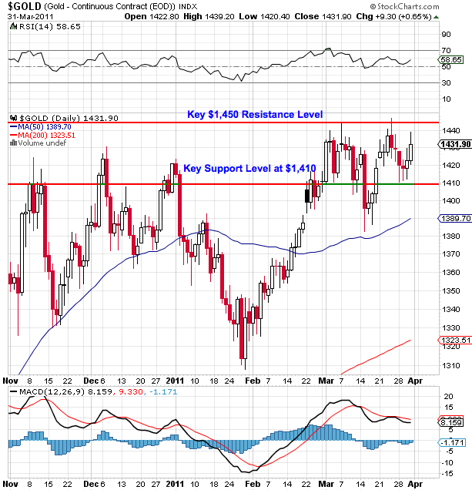 If gold manages to cross above the $1,450, gold stocks will follow. There are two ways to play this, either go with the laggers like Newmont (NYSE:NEM) or Kinross (NYSE:KGC) and hope they close the gap quickly, or go long with the leaders. In trend trading, we go long with the ones alreay on an uptrend and have momentum behind them. Risky? Yes, as trend can reverse at any point, but statiscally it beats the strategy of betting on laggers.

If you like to trade with the trend, these two high momentum stocks can provide high leverage to gold prices. Like the metal, they are trading at the 52w high and their recent performance is magnificent.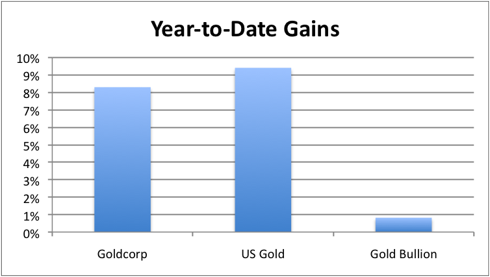 Goldcorp (NYSE:GG) is a giant gold producer with a $40b market cap. Recently the company announced after pursing an aggressive M&A-driven growth strategy, it's now time to focus on developing the current projects.
Zacks finds GG at a great discount in value relative to growth. EPS is expected to grow 222.7% year-over-year, better than the company's long-term growth rate of 60.3%.


U.S. Gold (NYSE:UXG) is an exploration-stage company with about $1.2b market cap. Cramer is behind this one. CEO Rob McEwen has personally invested in the company and thinks gold goes to $5,000 but a 20% correction is possible. The company has recently announced expansion of a drilling program.

Disclosure: I have no positions in any stocks mentioned, but may initiate a long position in GG, UXG, GDX over the next 72 hours.