By David Silver
For only the second time since 1998 (the other time was February 2010), Ford (NYSE:F) surpassed General Motors (NYSE:GM) in total U.S. monthly auto sales. Despite gasoline costs being up 17% since the beginning of the year, truck sales continue to be strong, with Ford seeing truck sales up 24.3% during the month and up 21.7% year to date. For GM, the Silverado saw sales increase 8.9% during the month while sales are up 27.6% for the year. For Chrysler, the Dodge Ram saw sales increase 23% for the month and 39% for the year. Additionally, with respect to Chrysler, the recently re-released Durango should be an area for growth.
Chrysler reported the best sales results in nearly three years, while Nissan (OTCPK:NSANY) reported numbers that nearly matched Chrysler's as a result of heavy incentives. Some automakers (namely Nissan and Ford) had a small level of incentives during the first two months of the year, however, Nissan really ratcheted up the incentives which helped to fuel the monthly sales result. Ford's incentives on the other hand were down 9.7% year over year according to TrueCar.com; however, compared to the month of February, incentives were up 7.8%. Incentives were a main culprit for GM's less than stellar result during the quarter, with incentives being down 16.7% compared to February. Part of the problem with offering heavy incentives is that it pulls forward some future sales.
GM estimated that the seasonally adjusted annual rate of sales for the month of March came in at 13 million vehicles, which is down from February's 13.4 million figure, but still up year over year. This would mark the sixth month in a row the figure tops 12 million. Estimates for this quarter had a wide range, with some analysts modeling for a figure under 12 million vehicles (I even read a note for a little more than 10 million units); my forecast called for between 12.7 and 12.9 million vehicles. The majority of the automakers (save for GM) have surpassed my forecasts, namely Ford, Nissan, and Chrysler.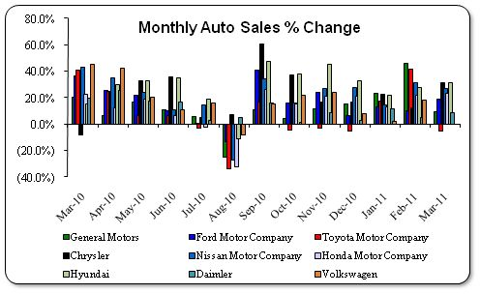 The question I keep getting asked is what happens if gasoline prices continue to increase? Well, if gasoline prices continue to increase, auto sales are going to suffer. However, prices will be walking a tight rope: if prices continue to rise albeit at a slower pace, then smaller car sales like the Ford Fiesta and the Chevy Cruze will continue to see strong sales. However, if we see another 15%-20% increase (like we did during the first quarter) I think it puts a damper on the improving economy and despite the improved jobs numbers, auto sales will suffer. Truck sales hold a disproportionate percentage of revenues for the automakers (approximately 50% of sales, but more than 60% of profits), and if sales of trucks and SUVs falter too much, it will put some significant pressure on the bottom line.
The problem with production shutdowns in Japan will not have a large effect on the North American auto industry. There may be a shortage of some parts, but I do expect production in Japan to be restarted in the next few weeks, and the truth is, only one plant (GM's truck plant in Shreveport, LA) is shuddered because of a part shortage. Toyota (NYSE:TM) has warned of a potential shutdown (it has gotten rid of overtime), but has yet to actually follow through.
I am not putting too much weight behind Ford surpassing GM in terms of monthly auto sales as GM pulled back on incentives, but also March is one of the strongest selling months of the year, especially compared to February, which is one of the worst. This could be the positive news that gives Ford's stock the momentum it lost over the past three months, but this is just another dent in GM's armor. They had a strong first quarter, but how many sales did they pull forward to get that result? That is the question I will be asking as I track the trends in the coming months.