Sino Clean Energy (SCEI) shares tanked on Friday, closing the session down nearly 14 percent to end the day at $4.91. The company, which produces coal water slurry fuel (CWSF), considers itself a key player in China's commitment to cleaner-burning coal production. Sino reported earnings on Friday. To ensure accuracy, I screenshot the results Sino reported directly from the company press release, posted at Yahoo! Finance.
Click to enlarge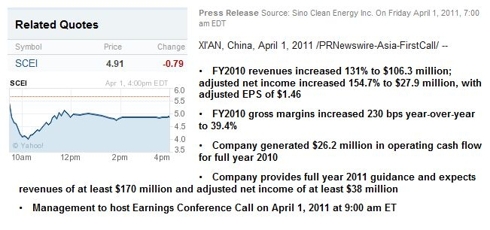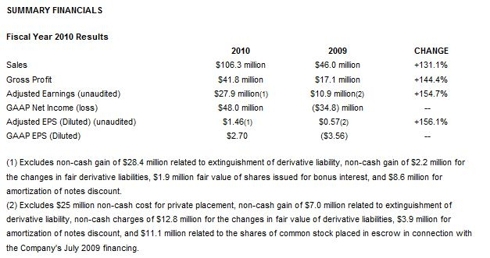 As noted in the release, the company reports significant sales growth of 131 percent, year-over-year. Sino expects revenues to increase from the 2010 level of $106.3 million to "at least" $170 million in 2011. Sino notified the SEC that it would not be able to file its 10-K on time. To be fair, Sino filed its annual report late last year as well. And doing so, particularly among small companies, is not uncommon. If you read through the company's press releases and filings you'll see that Sino has a history of reporting late, rescheduling conference calls, and correcting typos on the big numbers it includes in its financial statements.

After reviewing this release, I went to Sino Clean Energy's website and listened to the conference call it held on Friday.

CFO Background and Conference Call Highlights

Listening to Sino's call reminded me of high school when the teacher would split the class up into groups and assign a task. Thoroughly unprepared, group members would move their heads on a swivel, take turns looking at one another, and hope that somebody had an answer. After a period of hesitation, stammering "ums" and "ahs" resulted in a non-answer, followed by pressing from the teacher, and a less-than-satisfactory "answer" to the question. While Sino CEO, President, and Chairman of the Board Baowen Ren turned in a credible and convincing performance, CFO Wendy Fu's was just a mile or two north of abysmal.

You could blame the time it takes words to travel via phone line from the U.S. to China and vice versa or the language barrier, but I don't think either excuse flies. At the same time, I have a difficult time believing Fu is completely incompetent. She made the jump to VP of Finance and CFO at an impressive pace. That said, a look at her background proves, if nothing else, somewhat interesting and particularly relevant.

Shortly after graduating from Wuhan Jianghan University, Fu became Regional Finance Manager for Asia Pulp & Paper, a company that has had its share of problems, past and closer to the present. Sino has yet to update Asia Pulp & Paper's status on the New York Stock Exchange in its bio for Ms. Fu. To her credit, Fu jumped ship after two years at Asia Pulp & Paper to become Assistant Finance Controller at Wal-Mart China (NYSE:WMT) between 1999 and 2004. From there, she spent a year-and-half as a Senior Consultant at Deloitte & Touche before securing her CPA in 2007.

Armed with her CPA, Fu spent less than a year (August 2007 to March 2008) as the VP of Finance at ShengdaTech (OTC:SDTH), a Shanghai-based producer and distributor of nano precipitated calcium carbonate. Again, it looks like Ms. Fu exited at the right time. ShengdaTech sits in the middle of an accounting controversy. It faces delisting from NASDAQ and has formed a "special committee of the Board of Directors" to investigate the charges it faces.

After an apparent six-month gap in employment, Fu occupied the role of CFO at China Shenghuo Pharmaceutical Holdings (KUN) for just under a year (September 2008 to August 2009). Fu joined KUN in the aftermath of a class action lawsuit alleging that the company misled shareholders through a series of "materially false" press releases. KUN recently agreed to pay $200,000 as part of a settlement deal.

On February 12, 2010, Sino named Fu its CFO.

I don't know Fu personally, nor do I have any knowledge that she participated in any way in any of the above-referenced alleged or proven improprieties. The timing suggests she did not. That said, her choice of employers has been questionable. Pursuant to a discussion of her performance on the conference call and questions about Sino's business, however, I believe her less-than-smooth professional background holds relevancy. In addition, her bio at the Sino website fits into a pattern of-- at the very least-- sloppy work by the company.

If they even go this far, many investors' due diligence of a company stops at reviewing management's bios at the company website. Even with short tenures and gaps in employment, Fu's appears impressive. If you stop at the information Sino gives you, however, you would not know about the issues surrounding many of the firms she has been associated with. While I don't necessarily expect Sino to detail or point investors to another company's problems, I expect them to-- at a minimum-- remove blatant errors that could mislead potential investors. For instance, Asia Pulp & Paper no longer trades on the NYSE. It did when Ms. Fu was there, but leaving that mention in her bio is nothing short of disingenuous.

The following instances from Sino's conference call should, if nothing else, raise red flags for SCEI shareholders and potential investors.
An analyst asked where Sino accounts for an $11.2 million capital expenditure related to expansion of its Guangdong facility. He points out that the company's balance sheet (see below, from Yahoo! Finance) does not account for this $11.2 million under the line item Property, plant and equipment, net, which rose from about $12.5 million for the year ended December 31, 2009, to approximately $13.6 million for the year eneded December 31, 2010. After what sounds like a huddle about who should take the question, Fu takes a stab, noting that the expense has not been fully paid. The analyst asks if it's in the statement somewhere as a liability. After a pause, Fu responds, "I don't think so," explaining that it has not been accrued as a liability yet.
Later, the same analyst asks about the roughly $9.4 million listed under Prepayments and deposits. Fu states that it's for inventory. The analyst corrects her, directing Fu to the proper spot on the balance sheet, "No, Wendy, that's" $10.2 million for Prepaid inventories, I am asking what the $9.4 million is for under Prepayments and deposits. After another huddle and some fumbling, Fu replies with "Oh, yes," noting that the $9.4 million represents prepayment for "Guangdong production," although she might have said something else, it sounded like production through the muddle of the conference call. The analyst, sounding confused and not convinced, decides to give others a chance to ask questions.
Another analyst noted that he did not "understand the answer to some of the earlier questions." He asked Fu, the CFO, if the company uses cash or accrual accounting. After requesting a repeat of the question, Fu said that Sino uses accrual accounting. The analyst then asked why "an obligation incurred to expand capacity" (the aforementioned $11.2 million) does not appear on the balance sheet. After Fu's response, the analyst replied: "I heard you, but I really don't understand the answer." I have listened to Fu's response at least fifteen times and I share the analyst's confusion. In the span of 40 seconds (starting at around 37:20 on the archive of the call), Fu spoke, but said nothing. It was truly an uncomfortable and embarassing moment.
The same analyst asked what Sino expected its capital expenditures to be, at a minimum, in 2011. Unable to answer this question, Fu handed it off to Ren, the CEO, who estimated a minimum of $33 million and a maximum of about $50 million.
It could be the case that Sino Clean Energy considers the CFO position little more than something a public company should have. Why else would Fu appear so out of the loop when asked questions she should be able to answer off the tip of her tongue? If I were a shareholder, I would be downright terrified. As a prospective investor, I will stay away.

CFOs know the numbers. That's their thing. They should know a company's balance sheet inside and out. Basic questions should get answered with rapid-fire, confident, almost curt responses, not-- and I apologize for being harsh-- apparent cluelessness. Increasingly, CFOs-- at least in U.S.-based companies-- are more than bean counters; instead, they are sometimes involved in visioning and implementing a company's larger strategy. Ocassionally, they end up serving as interim CEO when needed (e.g., Thomas Seifert at Advanced Micro Devices (NYSE:AMD)) or even rising to that position permanently (e.g., Carl Casale from CFO at Monsanto (NYSE:MON) to CEO at CHS, Inc. (CHSCP)).

At Sino, based on how the earnings call went off, it seems that Fu holds the title of CFO, but has a relatively loose grasp on where the money goes and why. And her CEO, unless requested, never even stepped in to save her. Can he answer the $11.2 million question or link the $9.4 million to anything?
Click to enlarge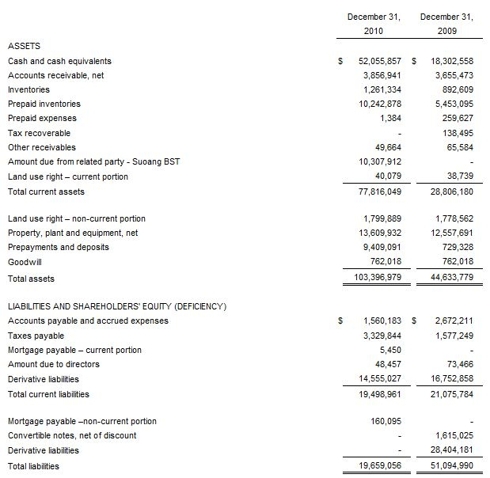 Conclusion

With Sino Clean Energy, it remains unclear whether or not we have a bona fide Chinese fraud on our hands. I prefer to err on the side that the company is not. Several things are certain, though. The company has many serious questions to answer, thanks to its -- best case scenario -- ill-prepared CFO, sloppy bookkeeping, and poor communications. Investors should proceed with extreme caution if they hold shares of SCEI or were planning on buying some. Given that literally thousands upon thousands of investment opportunities exist, including many with mind-boggling upside potential from a speculative standpoint, I am not sure why investors choose to risk capital on ones that present themselves publicly as just a step above a Saturday Night Live spoof.

Disclosure: I have no position, long or short, in SCEI or any other China-based, U.S. traded stock. I have no plans to initiate any position, long or short, in SCEI within the next 30 days.