I attended a lecture on the 29th conducted by a pioneer in the Equity Capital Markets business in Canada, Bruce Hilland, in which he discussed uncertainty and the devastating effects it has on the price of shares. This is abundantly evident in the case of Research In Motion (NYSE:RIMM), with its shares seeing a comparable sell off to Japan's Nikkei index:

This insinuates that the uncertainty around a nuclear meltdown is on par with the uncertainty around the success of the PlayBook. Is this warranted? Time to delve into the numbers.
On paper, RIM is surprisingly solid. It has $0 in debt, close to $2 billion in cash and quarterly earnings growth of 45% (YOY), all of which you can own at slightly under a 9 P/E.
Click to enlarge
Standing out on both charts is the pink "price line", demonstrating that price has been negatively correlated with this rise in value. As net income has increased, share price has gone down. This is not due to dilution of shares either, with RIMM reducing the number of common shares outstanding in the last 3 years:
Click to enlarge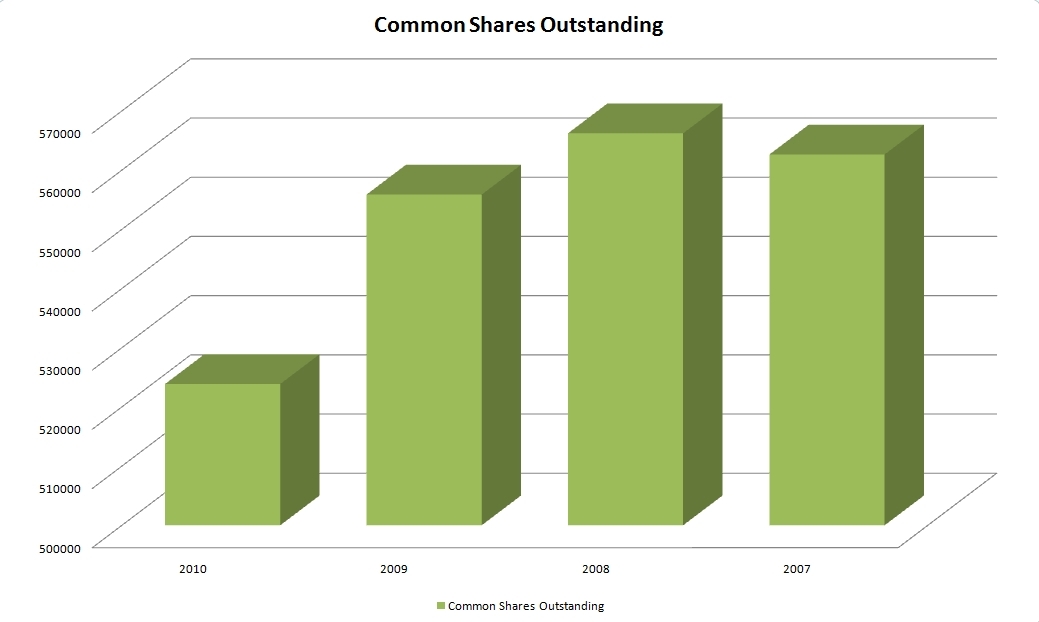 Analyst ratings reflect the uncertainty on the price of this stock, with price targets varying from $47 up to $74.
Click to enlarge
The green line on the upper graph represents the target price and the red line the consensus rating (buy, neutral, sell, etc). The price target has remained ever elusive, and as usual a lagging indicator. The lower chart reflects the size of the divergent from actual price to target price, which on a relative basis is closer than it has historically been. The oddity in all of this is that RIMM has actually surprised analyst estimates to the positive by an average of 3.15%:
Click to enlarge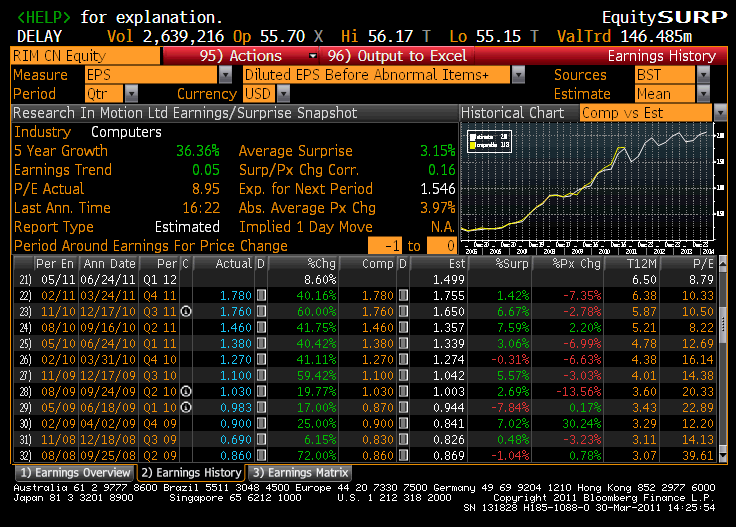 The yellow line is reported earnings, and the white is estimated earnings.
In a sentence, RIM has more often than not grown revenues, grown net income, grown shareholders' equity and beat analysts expectations, yet in the past 3 years has seen its market capitalization drop dramatically. I suspect even the great Phillip Fisher would be perplexed by this situation.
Looking deeper, it becomes clear why the price action has been what is has been. Although RIMM has been growing, it has been getting a smaller slice of a bigger pie:
Click to enlarge
Worldwide its share of the market has dropped from 6% to 4%, in the USA from 10% to 7%, with Google (NASDAQ:GOOG) making major headways in both markets. How has RIMM responded? By ceasing to report the number of new customers for the first time in its history, a strategy akin to the bird that buries its head in the sand to escape predators.
RIM has placed a big emphasis on its PlayBook coming out this April.
Click to enlarge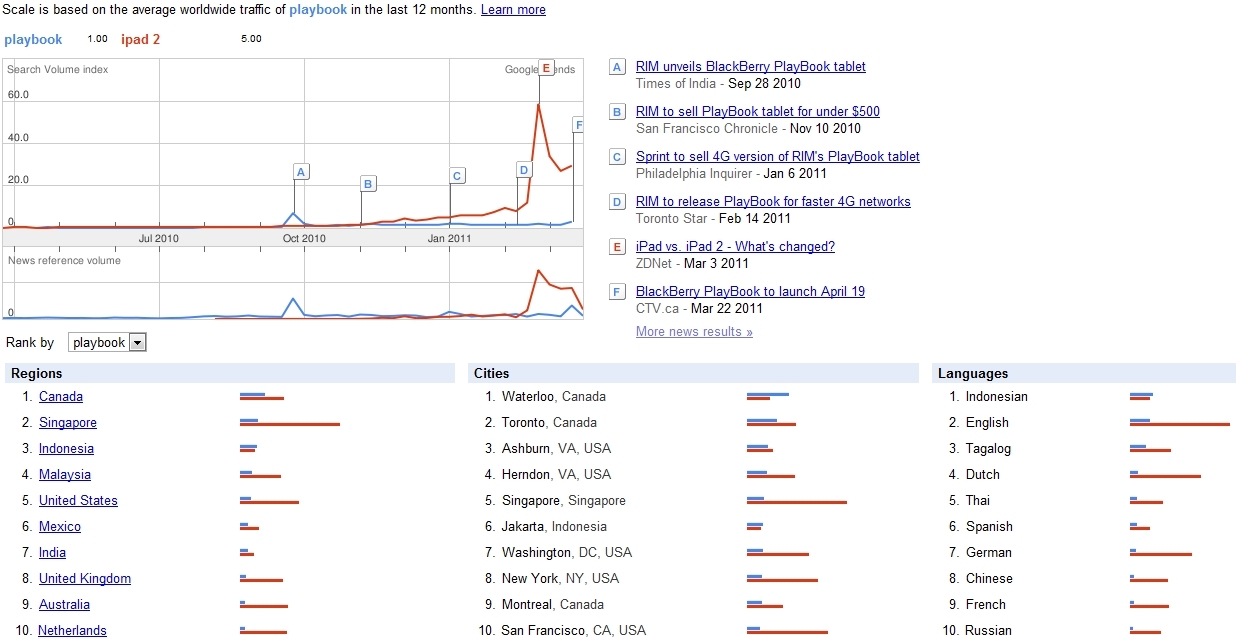 The Google Trends data above shows that iPad 2 has over 5 times the hype of the PlayBook, with most interest generated when it was announced in Q4 of 2010. Hype drives markets, and with April 17th fast approaching, this is not a good sign for RIMM and its shareholders.
In terms of competitive advantage, the Blackberry is quickly fading:
Its app store contains a paltry apprx 50,000 apps compared to 250,000+ on Android and Apple (NASDAQ:AAPL) platforms.
BBM is the only feature preventing users en mass from switching to an iPhone and apps such as liveprofile could potentially make the technology a commodity.
Additional security from a Blackberry Enterprise Server is easily replicated.
If has nowhere near the intellectual capital of competitors.
The RIM product is inferior, as an associate at the Vancouver Board of Trade eloquently stated, "going from a Blackberry to an iPhone is like going from a square to a round wheel".
RIM has adopted a "me too" innovation strategy, a poor choice in the telecommunications field. The key to being a leader in this market segment is to innovate beyond customer expectations. Google is, Apple is, RIM isn't even attempting to do this.
This is a stock with further potential downside, but due to the strength of its balance sheet, I wouldn't capitalize on it with a traditional short position. With implied volatility relatively low (blue line in chart below), buying put options at $55 with a July expiry is the way I'd play it, as my worst case scenario is then quantified at $400+ commission with no risk of slippage. The break even is at approximately $51, slightly above the lowest analyst estimate of $47, and this allows capitalization on what I suspect will be poor PlayBook sales numbers.
Recall that a low P/E ratio is far from an indicator of a good buy. With poor sales numbers next quarter, you'll see that ratio rise then drop further, as the market adjusts to the company's dampening growth. The price to book is over 3, meaning if the company goes to zero, equity holders are receiving 33 cents on the dollar. Lastly, RIM's choice to not reveal customer numbers speaks volumes about the state of its business, I suspect the company's customer attrition rate is even worse than imagined.
Disclosure:
I have no positions in any stocks mentioned, and no plans to initiate any positions within the next 72 hours.