It has been a roller coaster ride of a year for Dendreon Corporation (NASDAQ:DNDN) and its shareholders since the mid cap biotech company won FDA approval for its prostate cancer product, Provenge, on 04/29/10.
The company's stock, which closed the regular trading session on 04/01/11 at $37.41 on higher than average volume, has seen a 52 week range of $25.78 - $57.67.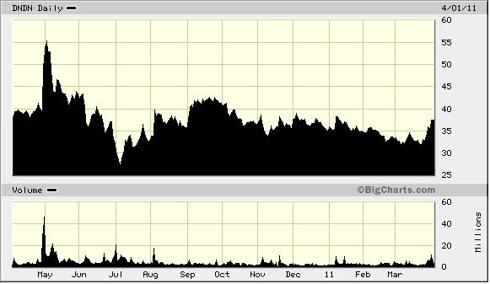 It recently received a 4% boost when it was announced on 03/30/11 that the Centers for Medicare and Medicaid Services [CMS] issued a supportive proposed decision memo suggesting that Dendreon's costly treatment is "reasonable and necessary" for certain patients with advanced prostate cancer. Many feel that the memo is an indication that soon much of the Medicare reimbursement overhang will be removed.
On the heels of this positive PR came another Dendreon related story, though this one is a bit more unusual.
On 04/01/11, a private Dendreon investor in Kansas took his plight public on InvestorVillage.com when he posted a link to a lengthy (65 page) proposal he had originally sent directly to the company's chairman of the board, Richard Brewer, on 02/22/11. The document offers many, if not all, of his concerns and ideas as they relate to the company. It covers a variety of subjects ranging from his views on the $16.5M shareholder lawsuit settlement to his suggestions that the company could be doing more from an investor relations/public relations standpoint.
He apparently decided to publicly release the document because he felt the company's response to his proposal was inadequate. It is also alleged that the investor sent the proposal to the top 12 mutual fund and hedge fund holders of Dendreon's stock and actually received some responses.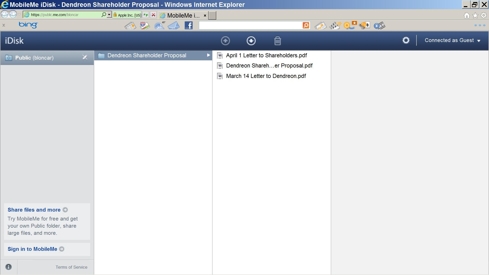 It is quasi-refreshing to see this investor confront the company's management and engage fellow investors in such a manner. Regardless of whatever minor distraction this situation may pose, it is clear that he feels all parties involved stand to benefit should the board of directors choose to act on his proposal. As a shareholder he certainly has every right to take the matter public if he believes the company hasn't given it proper consideration.
For better or worse, it seems that the company simply can't manage to escape drama and controversy. Perhaps the most intriguing and eye opening Dendreon tale was best detailed as part of the Deep Capture project where a grand naked-short-selling-stock-manipulation-conspiracy is outlined and shocking allegations are made against some of Wall Street's biggest and best known players.
Forget about the drama for a minute. What's currently holding the share price back?
The stock is down roughly 35% since its approval day high of $57.67. Smart profit taking coupled with immediate post approval shorting account for some of the initial decline. Concerns about the aforementioned reimbursement issues and the real possibility that competition may eventually cut into Provenge's peak revenue potential account for much of the rest.
Although Provenge currently has no true "on label" competition, companies such as Exelixis, Inc. (NASDAQ:EXEL) and Medivation, Inc. (NASDAQ:MDVN), among others, currently have development stage product candidates that arguably stand a good chance at going toe to toe with Provenge for market share at some point. Further complicating things is the fact that even though the company recently expanded its launch of Provenge to increase its availability to patients, most analysts do not expect the company to generate positive earnings until 2012 or later.
While the bets against DNDN have recently seen a slight increase, I tend to believe that the lingering treatment reimbursement issue will soon be resolved in a manner which favors the company and its stock will see an immediate and sharp appreciation in price, as this alone should all but eliminate any doubt that the company will, sooner than later, generate considerable revenues.
Given Provenge's mammoth potential, many shareholders (self included) feel that Dendreon's stock is grossly undervalued. It appears that we are not alone in this sentiment, as the average analyst one year price target currently stands at $55.00, representing a 47% premium to current levels. Accordingly, I plan to add shares on any substantial and unjustified pullbacks in the days ahead.