Data center related stocks closed the first quarter of 2011 with great performances, as most of the listed companies achieved double-digit returns: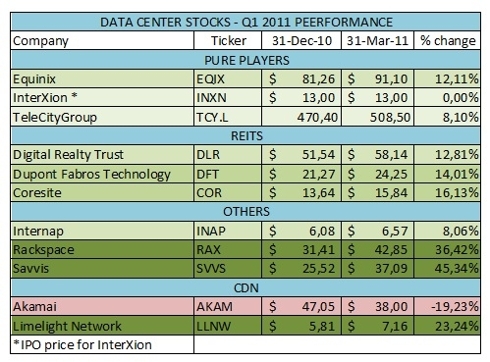 (click to enlarge pictures)
Network neutral players saw one flat performance, as Interxion (NYSE:INXN) closed the quarter quoting exactly at its IPO price, and two positive results, with TeleCity (OTCPK:TLEIY) achieving an 8% return, while Equinix (NASDAQ:EQIX) scoring a +12% since the beginning of the year. Part of Equinix's gain, however, was due to the recently issued press release, in partnership with Dell (NASDAQ:DELL) and Rackspace (NYSE:RAX), where these vendors announced that they joined forces to offer an OpenStack demonstration and test environment to customers to move cloud assets between data centers in different regions.
Cloud computing hype also contributed to some of the best results in the sector, as Rackspace and Savvis (NASDAQ:SVVS) both exceeded a 35% return in the quarter.
REITs delivered some consistent results, and Digital Realty (NYSE:DLR), Dupont Fabros Technology (NYSE:DFT) and Coresite (NYSE:COR) achieved gains ranging from 13% to 16%. Our analysis dos not include any dividend paid by these companies.
CDN performances were mixed, with Akamai (NASDAQ:AKAM) representing the only stock achieving a negative return in Q1, while Limelight Network scored a positive 23%.
With the exception of Akamai and Interxion (data since its IPO), every stock in the sector exceeded market average, as NASDAQ and the other main indices achieved performances of roughly 5% to 7% in the first quarter.
Since we started following data center related stocks' YTD performances, we've always excluded from our list two companies that were acquired at the beginning of the year, at a nice 30% plus premium.
This is just a quick look at their performances, to complete the picture of the sector. Their returns obviously exceeded all other companies, but contributed also to the performances of other cloud computing companies (mainly Savvis and Rackspace), as these players were identified as potential acquisition targets during the first quarter of 2011.



Disclosure: I am long EQIX.