As I watched the U.S. dollar swiftly reverse course after some early post-employment numbers strength, I concluded that this was the final confirmation I needed that the dollar is going much lower from here. I made a point to review my list of commodity charts and then did a quick check of EWZ, the iShares MSCI Brazil Index Fund ETF. Sure enough, the EWZ had a strong day on Friday. Moreover, it had a strong week, gaining 5% as part of an impressive breakout.
EWZ's breakout also leaves me empty-handed, as I had been trying to patiently wait for EWZ to complete a 20% correction before buying back in. I expected such a sell-off after EWZ closed below its 200DMA in February. The chart below summarizes the action.
[Click to enlarge]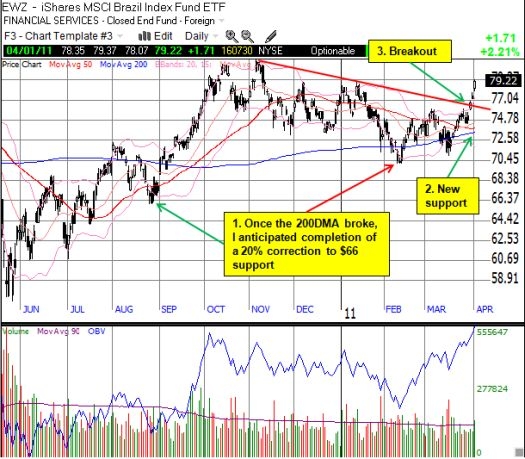 Chart created using TeleChart.
This is the second time I have missed a breakout on EWZ. The first one was last September. With the growing weakness in the U.S. dollar, it is time to get a bit more aggressive in anti-dollar bets. This decision includes a buy of EWZ on the next opportunity (hopefully a dip). The convergence of the 50- and 200-day moving averages (DMAs) should provide firm support for any near-term dips in the ETF.
Full disclosure: No positions