Two weeks ago, I opined on the future of the Japanese economy, saying that the market was overestimating Japan's speed of recovery. The crux of this argument was based on the radioactive contamination in the earthquake and tsunami damaged area would slow cleanup and reconstruction to a snail's pace.
In other words, the "Japanese Meltdown Will Inhibit Recovery."
As a former GE Mark1 nuke plant startup engineer, I was seeing events unfolding which told me the situation was far beyond the design features. Over the last two weeks, the situation appears to have gone from serious to calamitous.
I am hoping for the sake of the people of Japan (and the rest of the world), that there is an element of this crisis I am misunderstanding what I am seeing. No one in a position of direct knowledge is talking, which allows too much speculation.
Many pundits try to compare it to Chernobyl, to Three Mile Island, or to Fukushima Dai-Ichi nuclear plants. Each power plant design was different – so the options in each circumstance would be different.
What has struck me as strange in this crisis is the lack of aggressive attack from the get-go. The more aggressive you are during the early stages, the more options you are able to create to mitigate a nuclear event – and a boiling water reactor's failure tree is slow moving. Do not believe because there are not daily events to watch that technicians are getting a grip – this is the nature of this beast.
Once the environment gets radiated, most options disappear.
For those of you who have 1-1/2 hours – the following documentary on Chernobyl shows how aggressive actions from the beginning were instrumental in preventing an even worse disaster.
The direction of nuclear contamination is driven by the winds. If Japan is lucky, only the area directly around the plant will be uninhabitable. If the winds decide, the highly populated areas further south in Japan could be subjected to lethal levels of radiation.
Japan's future is literally resting with the winds. No country will accept radiated shipments coming from Japan.
One more point before signing off, Japan is divided into two electric zones – 50 hz and 60 hz. The ability to transfer power between zones is limited to 1 GW through frequency converters. This is literally nothing when you consider total generating capacity is 81 GW in the 50 hz zone where the damaged power plants lie.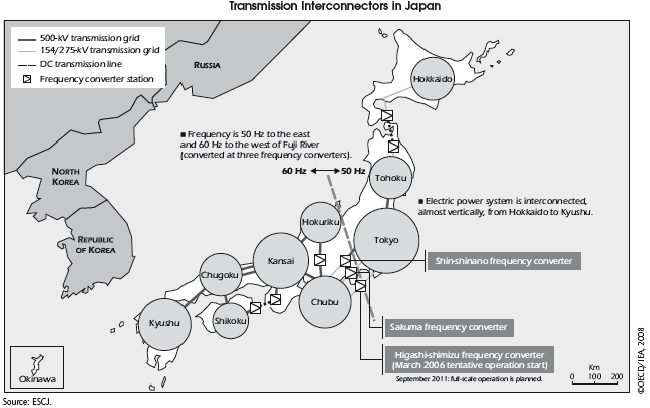 (Click to enlarge) This electrical distribution problem will not go away in 6 months.
Economic News this Week:
Econintersect issued its economic forecast for April 2011 indicating a peaking of this current economic sub-cycle. In simple words, the same moderate recovery seen in March will continue in April.
This week the Weekly Leading Index (WLI) from ECRI improved from an downwardly revised 6.4% to 6.5%. This level implies the business conditions six months from now will be approximately the same or slightly improved compared to today.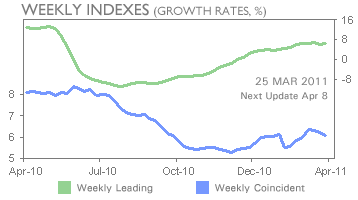 (Click to enlarge)
Initial unemployment claims in this week's release dropped slightly but essentially negated by revision to previous weeks – the four week average increased slightly. The data for the last two months as been quite noisy, and it remains important to follow the four week moving average for analysis of unemployment to smooth out the reporting idiosyncrasies.
The data released this week was positive and consistent with Econintersect's January, February and March forecasts of slightly improving economic conditions overall. The economy, similar to this period last year at this time, is gaining strength.
Weekly Economic Release Scorecard:
Bankruptcy this Week: Harry & David Holdings
Failed Banks this Week: (None)
Disclosure: I have no positions in any stocks mentioned, and no plans to initiate any positions within the next 72 hours.