The Nikkei 225 hit its post-earthquake low on March 15, down 17.53% from the close on March 10, the day before the quake occurred. The index closed the past week just below the interim post-quake high, down about 6.96% from March 10.
The first chart below shows the Nikkei 225 daily closes since 2007 with both the Financial Crisis of 2008 and the March 11 earthquake highlighted.
[Click all to enlarge]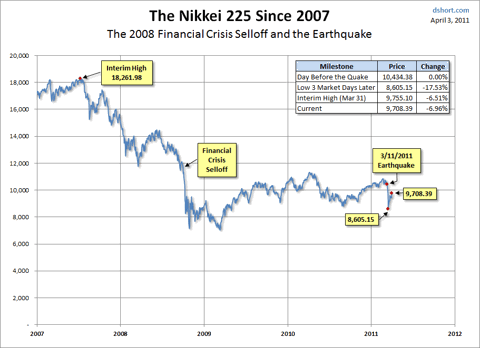 Click to enlarge
The next chart shows the market behavior following the 1995 earthquake. The Nikkei fell 24.7% over about five-and-a-half months. It then rallied 52.2% over the next 10 months.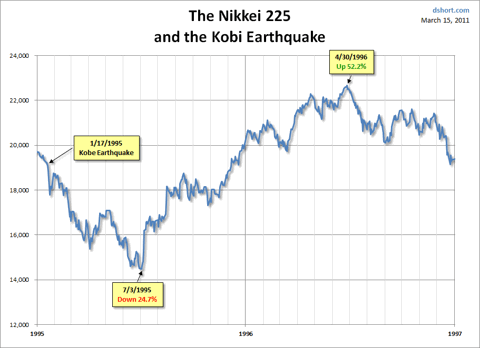 Click to enlarge
At this point, the ultimate economic and market impacts of the March 11 earthquake are simply unknown. For example, a
piece
published on April 2 in
The New York Times
gives some inking of how little we really know about the nuclear crisis at the Fukushima Daiichi power plant.
The Nikkei bounce to date is encouraging in the short term, but a similar bounce after the 1995 quake was followed by months of additional decline before an interim low was established.