In general the market has not been kind to micro-cap stocks after a strong run up in January 2011. One stock defying the negative trend after January 2011, in a big way, has been Dynatronics Corp. (NASDAQ:DYNT), which closed at $1.43 up +$0.26 (22.2%) on April 1, 2011, when the stock traded just over 1 million shares. This jump in activity is well above historic norms as reflected in the table below: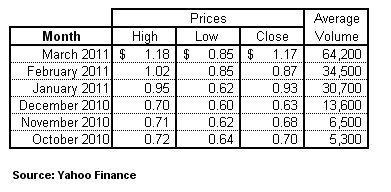 It is evident that recent contract signings with group purchasing organizations (GPOs) has caught the attention of investors. In January 2011, Dynatronics announced contracts with Premier and Amerinet, which became effective March 1, 2011, and give DYNT access to "tens of thousands of healthcare facilities across the United States that are members of these buying groups" and the Company estimates that "annual purchases of physical medicine products by members associated with these two GPOs exceed $50 million annually." Currently DYNT's annualized sales, before any impact from these contracts, is just over $32 million. On March 3, 2011, DYNT announced the signing of a third GPO agreement, also effective March 1, 2011, and the three GPOs represent "cumulatively 140,000 members".
Excerpts for the March 3, 2011 release are as follows:
"The addition of these three GPO contracts provides an opportunity for significant incremental business to the company over the next twelve months and beyond," stated Kelvyn H. Cullimore Jr., chairman and president of Dynatronics. "We are anxious to begin working with these potential new customers and introducing them to the Dynatronics brand of products."
GPOs represent the single largest share of purchasing power of the physical medicine market.
"These GPO members now have access to Dynatronics' premier line of equipment and supplies," said Larry K. Beardall, executive vice president of business development, sales and marketing. "Based on the current interest level, we believe the conversion rate of GPO clinics to our brand will be better than originally anticipated."

"Opportunities for growth at Dynatronics have never been greater," added Cullimore. "Breaking into the GPO market has been a major accomplishment that we expect will enable us to increase our market share significantly. We anticipate that this and other important developments at the company will also have a positive impact on shareholder value, particularly in conjunction with our recently announced $1 million stock buy-back program."
The recent contract signings have materialized as a result of significant changes and developments that commenced during the fiscal year ended June 30, 2007. Below is a brief history and how the changes evolved.
Dynatronics manufactures and distributes a broad line of medical equipment for physical medicine applications including therapy devices, medical supplies and soft goods, treatment tables and rehabilitation equipment. The company's products are used primarily by physical therapists, chiropractors, sports medicine practitioners, podiatrists, physicians and other physical medicine professionals. Additionally it has a line of aesthetic equipment (aesthetic massage and microdermabrasion devices, as well as skin care products), used by aestheticians, plastic surgeons, dermatologists and other aesthetic services providers. The physical medicine products accounted for over 90% of sales in fiscal 2010 and 2009.

DYNT manufactured approximately 44% of the physical medicine products sold in fiscal years 2010 and 2009, which is a higher percentage versus direct competitors servicing GPOs and this should provide a competitive advantage when it comes to pricing. Less than 10% of current annual revenue comes from aesthetic products and other revenues sources. Back in 2007 Dynatronics was selling approximately 4,000 products and its most recent catalog now contains "over 13,000 rehabilitation products".
From fiscal 1999 through fiscal 2007 annual sales ranged from a low of $15.2 million (fiscal 2000) to a high of $20.6 million (fiscal 2004) and declined steadily after fiscal 2004 through fiscal 2007 (sales of $17.8 million). Management had the foresight to recognize they were "spinning their wheels" and needed to completely revamp the business plan.
Between June 30, 2007, and July 2, 2007, the company acquired six key independent distributors and began adding new direct sales personnel that resulted in it expanding its direct sales channels to 22 states, which has since grown to 40 states. With the recent signings of the three GPOs and the changing landscape in the physical medicine marketplace (primarily consolidations among manufactures and distributors) this should allow DYNT to attract even more and better direct sales personnel. The Company made reference to these changes affecting markets they serve as follows:
"At the present time, we believe that there remain only two companies with a national direct sales force selling proprietary and distributed products: Dynatronics and Patterson Medical (through its Sammons Preston subsidiary). All other distribution in our market is directed through catalog companies with no direct sales force, or through independent local dealers. However, the network of local independent dealers is rapidly diminishing due to consolidation efforts and increased competition from Dynatronics, Sammons Preston and catalog companies. In the past year, we have reinforced our direct sales team to include 25 direct sales employees and 28 independent sales representatives. In addition to these direct sales representatives, we continue to enjoy a strong relationship with scores of local dealers. We believe we have the best trained and most knowledgeable sales force in the industry. The recent changes within our market provide a unique opportunity for us to grow market share in the coming years through recruitment of high-quality sales representatives and dealers."
Dynatronics launched its e-commerce website at Dynatronics.com, on July 6, 2010, which was a prerequisite for the expansion into the national account and group purchasing organization segments of the market, since these segments require online ordering capability.
After the fiscal 2007, annual sales jumped to over $32 million (from $17.8 million in fiscal 2007) but profitability was impacted by the acquisitions resulting in a net loss of $8.4 million in fiscal 2008, which included non-cash acquisition related costs. Revenues have remained at an annualized rate of just over $32 million in fiscal 2009, 2010, and for the six months ended December 31, 2010. The recession that commenced in October 2007, had an adverse impact on sales since many of the products sold by the company fall into the category of capital equipment.
While earnings per share have been paltry ($0.01 in fiscal 2009, $0.03 in fiscal 2010 and $0.01 in the six months ended December 31, 2010,) the cash flow from operations has been much greater than reported net income. This is the reason DYNT was able to reduce its total liabilities from $12.2 million at June 30, 2008, to $8.1 million on December 31, 2010. As further evidence of good operating cash flow, the Company's line of credit balance at December 31, 2010, was $2.4 million, which is the lowest amount outstanding sine the June and July 2007 acquisitions and about $3.8 million lower than its highest amount, which peaked during fiscal 2009.
The Company also bought back some of its shares during this period resulting in the diluted share count dropping from 13.7 million diluted shares outstanding at June 30, 2009, to 13.4 million on December 31, 2010.
The Company has confidence in the future as evidenced by the recent stock buyback announcement:
"On January 24, 2011, the Company's board of directors authorized a stock buyback program in which management is authorized, at its discretion, to repurchase up to $1,000,000 of the Company's common stock".
In summary, the GPO contract signings is just the most recent and noteworthy accomplishment dating back to fiscal 2007, when the management team took steps to completely revamp Dynatronics. Besides the anticipated future benefits from the GPO contracts, other areas of future growth can come from export sales (less than 2% of total sales in fiscal 2010) and the release of new products at the end of calendar 2011 (put on the back burner while implementing the other changes since 2007).

With a total market cap just under $20 million, and annualized sales of over $32 million, before any impact from the recent contract signings, I believe the Company is significantly undervalued at the $1.43 closing price on April 1, 2011. There are no analysts currently following the company with published sales and EPS forecasts.

I look for the stock price to increase to over $4.00 by sometime in the fiscal year ended June 30, 2012, and that represents a good speculation for long term investors.
Disclosure: I am long DYNT.