Portuguese Bonds Get Slaughtered Again
Last week Portugal let it be known that it had missed its 2010 deficit reduction target by a mile – instead of the expected 7.3% of GDP, the deficit would clock in at 8.6% of GDP. Apparently the European statistics agency Eurostat found fault with Portugal's deficit accounting – which excluded losses from a nationalized bank and several public transport companies. It seems Portugal's public accounts have been infected by a whiff of "Greek disease." We hasten to add that Portugal and Greece are by no means alone. Nearly every government likes to employ tricks that make certain data look better than they really are. In terms of what to include in public debt accounts, governments are highly creative and employ a lot of discretion. There are few things that governments get right, but they certainly are past masters at such deceptions. Greece may have been a tad too creative though, and ever since that has come to light, Eurostat has become more strict – hence Portugal's latest woes.
The admission produced once of the worst trading days yet in Portugal's crumbling bond market, egged on by further cuts to its credit rating. Alas, just like a real life rendering of Zeno's paradox of Achilles and the tortoise, Portugal seems to be forever approaching a bailout without ever getting there. Lately without a government, there isn't even anyone who can legitimately negotiate with the EU over such a putative bailout's conditions.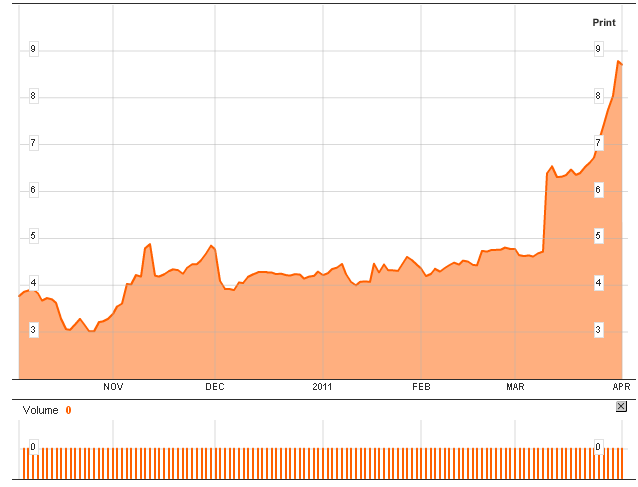 (Click to enlarge) Portugal's 2 year yield goes ballistic, landing at 8.7% and inverting the yield curve.
As Reuters reported regarding the revelations about the deficit:
"Finance Minister Fernando Teixeira dos Santos said the higher deficit was caused by a change in calculation methods at the European agency, Eurostat, which required that the deficit include losses at nationalized bank BPN and the accounts of three public transport companies. Officials from Eurostat visited Portugal in January.

"It is a question of methodology. Eurostat has made the rules tougher," said Cristina Casalinho, chief economist at local institution Banco BPI.

But she also said, "The negative element is that we are appearing more like Greece than we would like, indicating that in the past there must have been some carelessness in the accounts."

Teixeira dos Santos said the impact of the changes to national accounts would be limited to 2010, and INE forecast this year's budget deficit would still shrink to the government's target of 4.6 percent of GDP.

Portugal's troubles were already mounting following last week's resignation by Prime Minister Jose Socrates, after parliament rejected his minority Socialist government's latest austerity measures to help cut the budget deficit.

That prompted downgrades by credit rating agencies and warnings by economists that the country could be forced to seek a bailout soon.

However, Teixeira dos Santos said it was not possible for a caretaker government to seek a bailout.

"We have to face these difficulties and understand that the government doesn't have the conditions nor the powers to ask for any kind of external help," the minister told reporters."
(our emphasis)
Mr. dos Santos' undimmed capacity for unbridled optimism regarding next year's deficit reduction targets is remarkable. Meanwhile it is noteworthy that the failure to pass an austerity budget which has led to the resignation of prime minister Socrates' government has now apparently made it technically impossible for Portugal to accept a bailout. Since clearly the Portuguese have no intention of losing their fiscal sovereignty to the the ESM just devised by the eurocracy, this latest twist in their bailout avoidance strategy is nothing short of brilliant. Meanwhile, here is how the credit rating agencies have reacted – e.g. Fitch downgraded Portugal by three notches in one go:
"Fitch Ratings on Friday downgraded Portugal's long-term foreign and local currency issuer default ratings to BBB- from A- and kept the ratings on negative watch. "The severity of the downgrade by three notches mainly reflects Fitch's concern that timely external support is much less likely in the near term following yesterday's announcement of general elections to take place on 5 June," Douglas Renwick, director of sovereign ratings group, said in a statement. Fitch also views an International Monetary Fund-Euroean Union financial support package as the key in stable financing and warned that any delay in securing IMF-E.U. support increases economic and financial risks."
(our emphasis)
This sounds almost as though Fitch were especially eager to catapult Portugal out of its Zeno-type paradox and over the finishing line – as the WSJ notes, Fitch's rating has now been slashed to the "verge of junk." As long as caretaker Socrates is at the helm though, Portugal is likely to continue to refuse accepting a bailout until it can no longer peddle any new debt in impending auctions related to debt rollovers (the point where it normally would have to declare its insolvency and initiate debt restructuring proceedings).
According to the WSJ,
"Standard & Poor's also cut Portugal's sovereign credit rating to one notch above junk status this week, its second such rating cut in less than a week, and Moody's Investors Service cut Portugal's sovereign ratings in the middle of March but is still maintaining them at several notches above junk status.

[...]

Portugal's borrowing costs have soared due to investor concern that the country will struggle to reduce its budget deficit given its chronically low economic growth prospects and unsustainably high borrowing costs.

Market participants are worried that Portugal may struggle to cover EUR9 billion in bond repayments due between April and June. Portugal has enough cash on hand, according to Dow Jones calculations, to cover about EUR4.23 billion of bond redemptions and additional coupon payments due in April but not enough cash for EUR4.9 billion of bond redemptions due in June, even taking into account Friday's extraordinary bond auction."
(our emphasis).
At this point allow us to point out that we are strongly in favor of the delaying tactics employed by Mr. Socrates' caretaker government. In fact, we believe that even in the event of a failure to roll over its debt, Portugal should refuse to countenance a "bailout" a la Greece and Ireland, but instead declare itself to be in default and initiate the restructuring of its debts. This would have numerous magnificent advantages and practically no downside, at least from the point of view of Portuguese society at large (the situation would of course be judged differently by the political and bureaucratic classes both in Portugal and the EU). Here are the advantages of declaring a default:
1. Portugal would be able to start with a "clean slate" instead of continuing to be weighed down by the unsound credit amassed in the distant past.
2. The government would subsequently find itself at least temporarily shut out from the bond market and would likely only be able to sell fully collateralized debt. This would force it to greatly reduce the size of the State and accordingly decrease the scope of its interference with the economy. The economy would be relieved from the heavy burden of government spending and the concomitant consumption of scarce capital. Portugal's economy would thereby be granted an excellent opportunity to enter a period of healthy, sustainable growth and wealth creation.
3. It would send an extremely valuable message to investors in government bond markets: you can no longer rely on being "bailed out" no matter what. Your speculations can actually go wrong. Instead of relying on the coercive powers of the state to provide you with your income, you should have thought twice and perhaps invested in productive enterprise instead. This may lead to a long overdue reappraisal of the wisdom of financing government expenditures without limit elsewhere as well.
Meanwhile, the European Commission moved to deny a report that appeared in Germany's Handelsblatt last week, in which it was asserted that the EU was mulling to "ban credit ratings from U.S. credit rating agencies." It did however drop a hint that it would seek to reform (read: regulate further) the activities of the credit rating agencies.
"The European Union said Friday that additional reforms are needed in the credit rating agencies sector, however it is not banning any agencies from the region.

"We are in a process of reforming the sector," said a European Commission spokesman Friday. He added: "We are not banning any credit rating agencies."

His comments come after German newspaper Handelsblatt reported the E.U. aims to ban credit ratings produced in the U.S. The article said the European Union's ratings have to be of the same quality, and that quality can't be guaranteed for ratings stemming from the U.S. and other third-party states. Still, the E.U. spokesman said the E.U. is working with the U.S. on reforming the sector.

"Some progress has already been achieved, but there is more to come," he said.

The E.U. has stated in the past it wants to reduce over reliance on rating agencies, improve sovereign debt ratings and address conflicts of interest within the sector."
The credit rating agencies are certainly deserving of criticism. However, the biggest problem usually is that they are too generous with their ratings given that they are paid by the issuers of debt, not investors. Moreover, in many cases they tend to be way behind the curve with downgrades, often only acknowledging a bad situation when the markets have already taken an issuer's paper to the woodshed. As an example, the performance of the ratings agencies in the run-up to the late 90's Asian crisis was simply atrocious – and the less said about mortgage backed securities the better. The eurocracy seems to be laboring under an entirely different misconception however, namely the idea that the ratings agencies are too generous with downgrades of the euro area's sovereign deadbeats. They blame the credit agencies for intensifying the crisis conditions (similar blame has been heaped by EU politicians on assorted speculators in CDS). The correct way to think about this is that anything that accelerates the demise of unsound credit should be welcomed, not dreaded. After all, the fact of insolvency remains in place no matter how much lipstick is put on the pig.
To this point we would note that the rating agencies correctly perceive that a restructuring of Greece's debt remains unavoidable , bailout or no bailout. As reported in the Herald (Scotland):
"In the case of Greece, the agency [Standard & Poors, ed.] said the downgrade reflected the view a sovereign debt restructuring was likely and would probably be a condition for Athens to borrow from the EU scheme.

The agency also cited "growing risks to Greece's budgetary position.' It said recently released provisional data on the government's 2010 balance indicated "a relatively higher cash deficit and larger outstanding spending arrears than planned."

That suggests that last year's deficit could exceed the government's target of 9.6% of gross domestic product. It also said the government was unlikely to hit its 2011 budget deficit target of 7.5% of GDP.

"We believe that the government has not tightened spending controls sufficiently to prevent further accumulation of arrears in 2011," it said. "Government revenues have been underperforming budgetary expectations, most recently in the current quarter."
To be blunt about it, there is no way Greece can pay its debts. In fact, there is no way any modern-day welfare state can pay its debts if its unfunded liabilities are taken into account, but in Greece's case the market's faith in the existence of a sufficiently large reservoir of greater fools that would enable endless debt rollovers has evidently been shaken beyond redemption. It seems highly likely that a similar fate awaits Ireland.
Ireland – Bank Stress Tests Revive Hope
It is truly baffling when following the release of news that four of Ireland's worst hit banks will require an additional € 24 billion to be kept afloat – bringing the total to date to a staggering € 70 billion – the markets are actually relieved. Hello? € 70 billion in total for these four zombies alone? How is Ireland supposed to swing this? This is a nation of 4.4 million people (recent estimate) , an annual GDP of about € 175 billion and annual tax revenues of approx. € 35 billion. Note that about a third of Ireland's people of ages 18 to 24 have recently expressed a desire to emigrate within the next 12 months, as they see no future in Ireland.
Note that Ireland's population count has still not recovered from the infamous early 19th century potato famine. It can hardly afford a further population drain at this time, which will serve to increase the country's debt per capita just as the most productive members of society take themselves hither.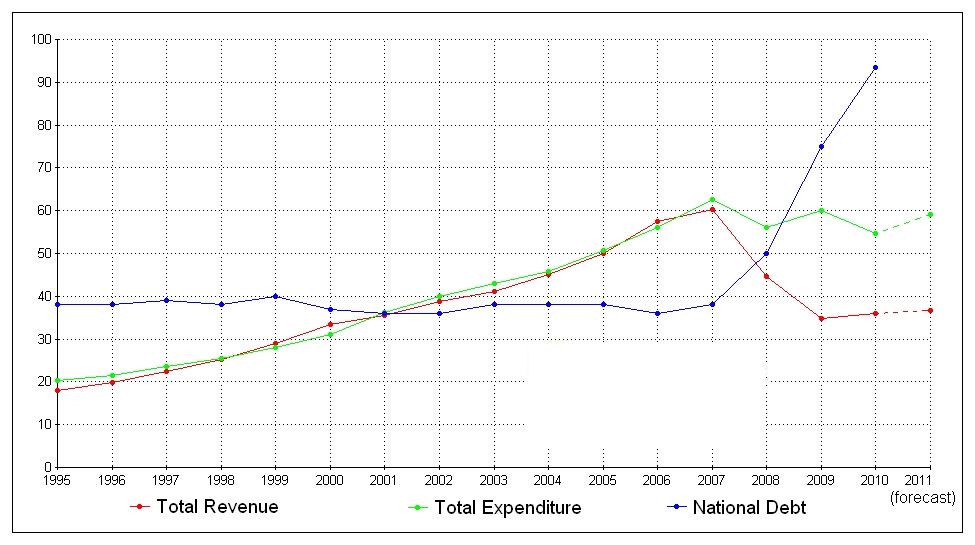 (Click to enlarge)
Ireland's fiscal situation as at year end 2010, i.e. the latest additional bank bailout costs are not yet reflected in this chart. It looks terrible even without them – click for higher resolution.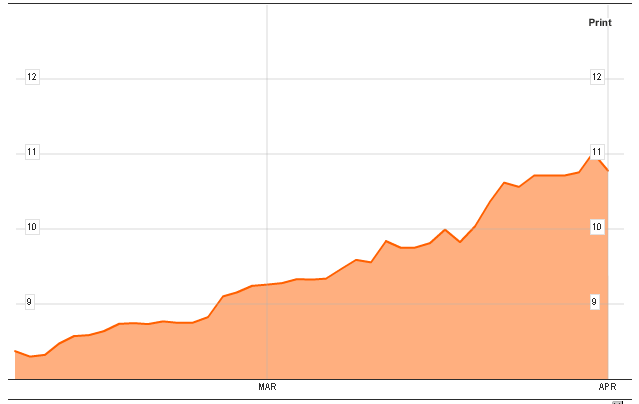 (Click to enlarge)
Ireland's 5 year note yield declines from a record high back to only 10.77%, as the markets express relief over the size of the additional bailout funds needed for the country's stricken banks.

Surprisingly, the new government has in the meantime apparently entirely backed down from exerting pressure on the EU and instead seems to be meekly hoping for a cut in its bailout debt interest rate. This has produced righteous anger in Ireland, which has found expression in editorials such as this one in the Irish Independent:
"The stress tests told us how bad our situation was and how weak we are in dealing with the crisis. The Government told us we are not masters in our own house.

They have consigned us to the EU, the ECB and the IMF and with needless haste have conflated stress test with twin-pillar banks. We should have learned to distrust Europe and confront their involvement in our affairs but have put ourselves more in their power.

We have failed to force senior bondholders to share the burden. Enda Kenny's reasons are weak, his position a betrayal.

Nationalising the banks, when we don't know how to run banks, does not help confidence and we have little in ourselves. We have obtained no EU concessions. Jean-Claude Trichet has rebuffed Kenny whose intended diplomatic onslaught on Europe means nothing. The world knows we are either mad or pathetic. We are back where Lenihan started out in 2008.

The EU involvement in our crisis was illegal. The EU invaded us, in November, backed by the ECB and the IMF, telling Cowen and Lenihan what to do. This plunged us into greater crisis. This was to avoid a bigger crisis for Europe.

The EU illegalities are of huge significance. They should have offered Ireland a way out. Instead, they have been ignored. Colm McCarthy said we should look into what happened. What the EU did put us in a powerful position, able to indict them for illegal interference contrary to the Lisbon Treaty. We did nothing.

I said last week that Article 122 of the Lisbon Treaty, used as the basis for the ECB, EU and IMF 'invasion' of Ireland last November, did not cover EU intervention on economic crisis grounds. Article 122 was misused. Its purpose is to help a member state "threatened with severe difficulties caused by natural disasters or exceptional occurrences beyond its control." It requires the Commission to propose action to the Council of Ministers. It requires also that the president of the council inform the European Parliament. None of this was done. It was wrongly and illegally used for the banking crisis. What had occurred was not beyond Ireland's control, but the result of Irish stupidity in failing to control or regulate the banks. We did not invite the EU to intervene. The EU invited itself and Jean-Claude Trichet was its instrument.

The Irish Government did not act constitutionally in accepting the invasion. Brian Cowen and Brian Lenihan were covert and deceitful. They said nothing was being done. Other government ministers were in complete ignorance. The decisions were in the hands of two incompetent men. Later, the grubby truths were laid bare. The ECB, after benignly presiding over our lethal improvidence, suddenly placed us under duress, forcing on us overwhelming debts with impossible conditions.

We never questioned this. We needed the matter raised in the Dail. We should have forestalled illegality. We did nothing."
(our emphasis)
We have previously commented on the dubious legal status of the bailouts and how a Lisbon treaty passage meant to deal with natural disasters such as earthquakes and the like was misused to cobble together a rescue of bank bondholders. Such legal fine points have of course never stopped a determined bureaucracy – least of all the eurocracy, which is inherently undemocratic and unaccountable. In an ironic twist, Catherine Day, the Irish secretary general of the European Commission late last week noted:
Ireland was seen in Europe to become "arrogant" during the Celtic Tiger years, the EU's top civil servant said yesterday.

Catherine Day, the European Commission's secretary general, said the "shine has gone off" the country's image in Europe.

Without directly accusing the previous Fianna Fail-led governments of damaging Ireland's reputation in Europe, Ms Day did concede there would be a positive response in Brussels to "an effort to re-engage" by the Fine Gael – Labour coalition.

"The perception in Brussels was that the more prosperous Ireland became, the more arrogant Ireland became and the less it felt it needed to invest in all of these things," she said.

"And we had become very successful over the previous 30 years in building up all of this. It shouldn't only be a fair weather relationship.

"Now Ireland needs Europe and Europe is there for Ireland. But people also expect just a little bit of personal investment in the whole thing."
Our impression is still that the euro-area's banking system is what is really being rescued here, not Ireland as such. The helping hand extended to Ireland is anything but an expression of altruism and solidarity. It may well be true that the Fianna Fail government became a bit complacent and haughty in view of Ireland's seeming economic success during the boom, but the huge property bubble that has brought Ireland to its knees was largely a product of the ECB's inappropriate interest rate policy. Whenever you have a good story combined with ultra-easy money a bubble is the inevitable result. Given that Ireland no longer controls its own monetary policy one can hardly blame it for having indulged in a deadly boom – which it must be pointed out was generously financed by the rest of the EU. This is why the troubles in Ireland could sink quite a few ships elsewhere, hence the urgency of driving the country into accepting the bailout.
Certainly Ireland's bankers were no less foolish, but for one thing, widespread entrepreneurial error and malinvestment are simply unavoidable effects of a loose monetary policy and for another, the banks in the euro-area's core were hardly averse to playing along. It seems not exactly fair to simply blame Ireland and its alleged arrogance in hindsight. As an aside, we do frequently detect displays of unwarranted arrogance on the part of the eurocracy in Brussels, so this is really the pot calling the kettle black.
Meanwhile, a number of market participants once again proved that they are often not the fastest learners by bidding up the shares of Irish banks late last week (we strongly doubt that anything will be left for the shareholders of these banks once all is said and done).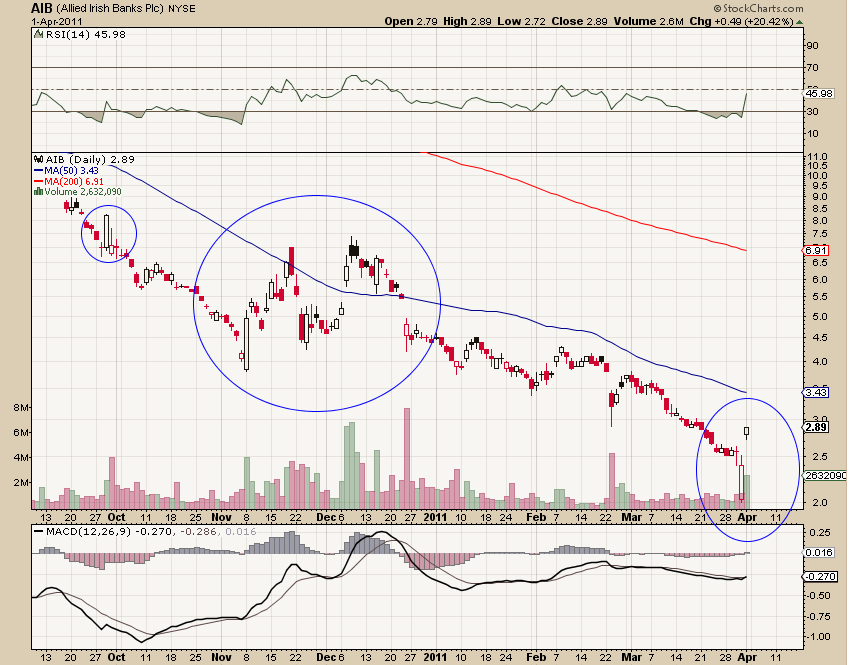 (Click to enlarge)
A daily chart of Allied Irish Bank's common shares. The blue circles show the times when traders took too big a hit from the hopium pipe.
Try as we might, we can not imagine how Ireland is supposed to get out from under its debt burden without bank bondholders sharing the burden as it has been put by the new prime minister Kenny. The eurocrats appear to be afraid of a domino effect if that happened, which explains the pressure that has been put on Ireland to accept the bailout and its conditions. And yet, since 'bailout' actually means nothing but 'even more debt', albeit at interest rates below market rates, the underlying problem – the sheer size of the debtberg – remains unaddressed. We remain quite confident that some kind of debt restructuring will have to happen in the end anyway.
In addition, the stress tests of the banks as always suffer from the 'moving target problem'. The tests are only a snapshot based on best guesses- they perforce must use assumptions about the value of the collateral underlying impaired bank loans that may no longer hold up a few months or years from now. There can be no guarantee that eventual recoveries will come close to what is currently estimated – thus the constant shifting of the goal posts since the beginning of the crisis. If all those young people indeed opt for emigration, demand for Irish housing will remain in the dumps for a very long time – likely far longer than anyone is currently prepared to admit.
As we have said many times, real estate cycles are sticky. Compare for instance the long term effects of a burst housing bubble to those of the bursting of the IT bubble in the year 2000. It should be easy to see what the decisive difference is. The bursting of a malinvestment bubble in network switches, routers, computer equipment and so forth is not as bad because at the very least one can look forward to a replacement cycle in fairly short order as technology continues to advance. The same can not be said of houses, which are far more long-lived assets. A period of malinvestment in this particular sector tends to have more profound and long-lasting ramifications – just ask the Japanese.

Parallels with China's Boom
As an aside, this also a major reason why one should be extremely wary of China's boom, which relies heavily on massive and evidently misguided property investment due to a vast mispricing of capital courtesy of the central bank and the government. It is clear as day that the property boom in China is a case of enormous capital malinvestment. Meanwhile, the general tendency of China's economy to move toward more economic liberty – a tendency that has been in place since the beginning of Deng Xiao-Ping's reforms – has unfortunately been arrested and reversed.
Central economic planning is nowadays once again the major driving force of economic activity in China, as is evidenced by the government-imposed bank lending spree and monetary inflation in the wake of the 2008 crisis, the use of price controls and the continue reliance on mercantilism with a closed capital account and nonconvertible currency. In many respects China's boom has begun to resemble the Japanese boom of the late 1980's, with the main difference consisting of the fact that China's government is an even more avid and intrusive economic planner than Japan's government was.
The complacency of investors regarding this situation is entirely inappropriate. They must convince themselves that against all theoretical and empirical evidence, central planning will work better in China than elsewhere. Often investors and other observers are in fact gaining such a misguided conviction by the apparent success of such a system, i.e. they are misled by economic statistics that do not really confer any useful information about the true state of sustainable wealth creation. This is by the way not to say that no wealth creation at all happens in China – it merely is meant to convey that a large part of it will eventually turn out to have been illusory. China is still likely to emerge wealthier once the boom collapses than it was on its eve. The impoverishment that happens on account of the artificial credit-induced boom is only relative to the wealth that it would have been possible to generate had China continued on the path of economic liberalization and refrained from massive monetary pumping.
One way to gain a measure of understanding as to how observers can be misled into believing that a command economy setting is able to deliver true economic growth is by considering a number of extreme historical cases. One pertinent example is provided the war economy of the early 1940's, which we have previously discussed in "The Myth of War Prosperity." Another example would be Stalin's collectivization of agriculture and forced industrialization of the Soviet economy during the 1930's. At the time, many Western intellectuals, wrongly believing the Great Depression to represent a failure of the market economy, tended to greatly admire Stalin's impressive economic statistics. They glibly overlooked that they were marred by famines killing millions and the use of an industrial reserve army of slave labor provided by the Gulag. They also failed to consider that if a country records production of X million tons of steel, representing an amount Y greater than the production volumes achieved previously, this is not an indication that any true wealth creation has occurred and society's living standards have been improved.
If China were to construct a giant cube of brick walls in the middle of the Gobi desert and fill it up with steel girders and concrete, its economic statistics would undoubtedly record large GDP growth on account of all the bricks , steel and concrete that would have to be produced to realize such a project. And yet, there would be little doubt in anyone's mind that such activities would be wasteful and destroy rather than create wealth. There is little practical difference between this putative cube of bricks, concrete and steel in the middle of the desert and China's 'ghost towns' of empty apartments, office buildings and shopping malls.

A Case of Crisis Fatigue in Spain – Is It Justified?
As we have previously noted, the markets have begun to differentiate markedly between the smaller and larger economies in the euro-area's stricken periphery. Spain, which has long been seen as the most crucial battleground of the debt crisis due to its too big to bail status, appears to be turning the corner, at least in terms of market perception. Sure enough, the news flow from Spain has notably improved.
Contrary to Portugal, it appears that Spain will be able to fulfill its planned deficit reduction targets. Two important sectors of the economy have experienced an upswing over the past year, namely tourism and exports. The biggest problems Spain faces at this point are extremely high unemployment (it remains stuck at over 20%) and the continuing collapse of the property market with the associated piling up of troubled loans at its banks, predominantly the cajas (savings banks). Note here that the high rate of unemployment is of course also intimately related to the demise of the real estate bubble.
Last week the cajas came into focus again, when a planned merger of four of them failed. As Marketwatch reported:
"Late Wednesday, the merger of four savings banks, to be called Banco Base, collapsed after Cajastur, Caja Cantabria and Caja Extremadura all backed out.

That came after key partner Caja Mediterraneo (NYSE:CAM), which has heavy exposure to the Spanish property collapse, applied for a cash injection of state funds on Tuesday which was twice what the Bank of Spain had estimated it needed. Those four savings banks will now have to present new plans for capitalization to the Bank of Spain. CAM said in a statement late Wednesday that it will apply for state funds to meet necessary capital requirements, but many believe that it will be sold off to bigger institutions."
The failed merger provides a small glimpse into the real underlying problem – namely that there remains a lot of uncertainty regarding the true size of the banks' losses, which seem to be much larger than official data would suggest. Not only does the same moving target problem pertain with regards to the value of collateral backing mortgage loans as in property busts elsewhere, but Spain's banking system has a well deserved reputation for being especially prone to sweeping problem loans under the rug via various extend and pretend measures. Also, official statistics tend to mask the extent to which collateral values have already declined. Similar to China, Spain is dotted with ghost towns (called ciudades fantasmas in Spain).
Here is a video on Spain's ciudades fantasmas in the middle of nowhere. Here are two more short videos showing some of the unfinished building projects left over after the end of the boom:
Many analysts contend that what counts in Spain's favor is that its property sector is a much smaller portion of the overall economy than e.g. in Ireland. However, we would note that while the sector's size relative to overall economic activity has certainly shrunk, the vast majority of the troubled loans to developers and homeowners reflect the prices and expectations that obtained during the bubble – and Spain's property bubble was one of the world's most egregious. In the US the housing sector has also become a much smaller portion of the economy, but that is little consolation to the banking industry, as its toxic mortgage assets continue to wither away.
We would argue that the problems of Spain's banking system are just as big if not bigger as those of the US banking system (as an aside to this, we would like to point readers to an excellent article at Minyanville by Jim Quinn, entitled "Extend and Pretend:The Severe Ramifications of Wall Street's Game," which provides an excellent summary of the dire consequences for the US economy in the wake of the banking cartel's highjacking of the political process following the bust. The long term damage wrought by this complete abdication of the rules of free market capitalism can hardly be overstated).Spain's central bank has provided an estimate of the likely cost of the banking system's restructuring that reminds one of an ostrich burying its head in the sand (even though ostriches in reality do not behave in this manner – we can thank Pliny the Elder who made up this myth in the first century).
Analysts contend however that even in a supposed worst case scenario, Spain will be able to deal with the restructuring of its banks. A recent article in the WSJ discusses these views as follows:
"The worst-case scenario is that Spain's property market falls so hard that the country's struggling regional savings banks, known as cajas, need more money to cover their losses than the Spanish state can raise. Similar problems sank Ireland last year. Concerns about Ireland's solvency are mounting despite international rescue loans granted in November.

But a report by credit-rating agency Fitch this month pointed out that Spain's banks and their property risks are significantly smaller than Ireland's in proportion to the overall national economy. As a result, "it will likely be easier for Spain to cope with the country's real-estate collapse" even if Spanish home-price falls and banking losses become as severe as Ireland's—"an extreme scenario which is not likely to materialize," according to Fitch.

In an Irish-style meltdown, Spanish banks would need to raise nearly €100 billion in extra capital, Fitch calculates, an estimate similar to that of the most pessimistic economists. If the state had to provide all of those funds, Spain's public debt would jump by about 10 percentage points of gross domestic product. That amount would be challenging for Spain to borrow quickly from bond markets.

But economists say it wouldn't undermine the state's solvency, since public debt stood at just over 60% of GDP at the end of 2010, well below the ratios of Germany, the U.S. and many other Western countries. Economists expect Spanish property prices to fall further this year, but not as drastically as in Ireland.

[...]

Spain's budget deficit, at 9.2% of GDP last year, remains too high for comfort, but was down from more than 11% in 2009. Spain improved its credibility with investors by meeting its deficit-reduction target, despite overspending by some regional authorities. This year's deficit target of 6% is achievable, said economists, but might require extra fiscal measures if economic growth disappoints."
We can not comment on the calculations by Fitch and the most pessimistic economists, since we don't know their details. We do however know that property prices in Spain continue to decline. Proof that the Bank of Spain is hopelessly overoptimistic on this account is provided by the huge and growing gap between its estimates and that of the largest private sector real estate appraiser in Spain, TINSA.
House prices in Spain continue to trend downwards. Weak demand, massive oversupply of housing, record high unemployment, low consumer confidence, and a struggling economy are among the factors that prevent a full recovery from taking place.

On an annual basis, house prices were down 4.46% in February 2011, according to the valuers TINSA, or 1.92% down on the quarter, after a meagre increase of 0.01% q-o-q to November 2010. When adjusted for inflation, prices actually dropped by 7.77% during the year to February.

* House prices were down by 5.2% in large cities (y-o-y);

* House prices down by 6.7% on the Mediterranean coast;

* House prices down by just 0.8% in the Balearics and Canaries.

The Bank of Spain, which produces quarterly house price data, said that the average appraised value of houses stood at €1,825.5 per sq. m. in Q4 2010; about 0.36% lower than the previous quarter, and down by 3.53% from the same period last year.

House prices in Spain started to fall in 2008, after a decade-long property boom. Prices have fallen by about 20% from their peak in 2007, according to TINSA.
We would recommend going with TINSA's estimates. Note that this is the 12th quarter in a row during which Spanish property prices have fallen. A recent report in the Guardian tells of the millstone around Spaniards necks the collapsing property values have become, as many borrowers are now upside down, i.e. their mortgages (which are full recourse in Spain) are higher than the value of their homes. Meanwhile the slump in the market continues as there is no end in sight to the oversupply of homes; in addition, the market remains overvalued in spite of the price declines seen to date (although it is obviously less overvalued than the official figures would suggest, as the price declines have in reality been much steeper):
"Spanish homeowners used to have little in common with the wealthy north Europeans snapping up holiday villas and apartments on the Costas. Now both are united in adversity. Both are suffering in a market preoccupied with falling values, negative equity, a glut of unsold new property and, in some cases, doubts about the legality of new estates.

An estimated 600,000 new homes, and 200,000 part-completed ones remain unsold, a sizeable proportion of which are in holiday areas. The Bank of Spain says official house prices have fallen 17% since 2007, but many observers believe that the market is much worse than that, as the bank's index is based on valuations, not achieved sale prices.

Estate agents say prices of homes have typically fallen 20% to 50% in different parts of the country, with no sector unaffected.

"There is an entire generation of young Spaniards with a millstone round their necks," says Enrique Quemada of One to One Capital Partners, a business consultancy. "They will have to work their whole lives to pay for houses now worth half what they bought them for."

[…]

The latest figures to emerge from Spain show little respite from a downturn that is now in its fourth year. Although there was a small rise in the number of homes sold early in 2010, this was driven by the desire to beat deadlines for the scrapping of mortgage tax relief and a rise on VAT on new homes. By the end of last year, sales volumes were again on the slide.

Despite the glut of unsold new homes, another 257,443 were completed in 2010. Even so, there has been a 43% collapse in the value of the Spanish construction industry, according to EU figures, and a collapse in land prices of about 50%.

Spanish banks – many of which hold thousands of repossessed homes as assets – are legally obliged to start selling these homes after holding them for two years. As a result, more properties are expected to flood the market for sale this year.

[…]

Property prices may have fallen, but last month Spain was named one of the world's most overvalued housing markets. A report in The Economist claimed Spanish homes are overvalued by more than 43%, and said this compared with just under 30% for Britain, 20% for Ireland and -12% for Germany (ie, the market in Germany is "undervalued").

It reckons home prices should reflect the rents that tenants pay, so its index calculates the ratio of prices to rents in 20 economies. Spain was the fourth most overvalued after Australia, Hong Kong and France.

But, writing on his Spanish Property Insight website, Mark Stucklin says: "You have to take these figures with a pinch of salt as far as Spain is concerned." The problem, he says, is they are based on official figures which "significantly understate the true extent to which prices have fallen. Spanish prices have fallen much further than this index suggests … If you want to know what's going on in the residential property market, a much more revealing figure is the collapse in planning approvals, down by 90% since 2006."
(our emphasis)