Within developed markets, the largest companies – known as mega caps – appear undervalued relative to their more speculative peers. On average these companies offer compelling valuations, better profitability and very clean balance sheets.
Over the last two years equity prices have doubled, junk bonds have rallied sharply, and a broad basket of commodities has risen by over 50%. In short, just about every risky asset in existence has done extremely well, with the riskiest assets posting the most stellar returns.
One consequence of this rediscovery of animal spirits has been that many less glamorous, i.e. less risky, assets have trailed the broader market. One example is the underperformance of the largest companies. The so-called mega caps have largely lagged global equity markets over the past twenty-four months. As these stocks have trailed for so long, on a relative basis they are now looking unusually cheap (see chart below).
Relative Valuation US Mega Caps vs. Large Caps (2001 – Present)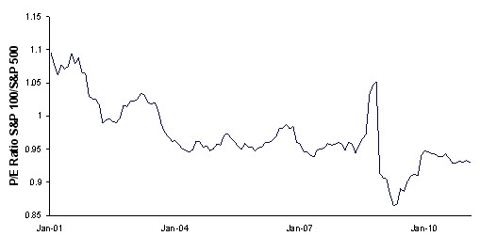 Source: Bloomberg 2/28/11
Currently the S&P 100 is trading at around a 7% discount to large caps, as measured by the S&P 500, and a 15% discount to an all-cap index, the Russell 3000. Despite the discount, on average stocks in the S&P 100 have higher operating margins, profit margins and return on equity (ROE). Given this opportunity, within developed markets we would favor large, mega-cap companies. One final reason to consider this market segment – as most of these companies are large exporters, this is another way to access stronger global and emerging market growth without paying a premium price.
For potential iShares solutions see this week's Monday Market Calls.
Source: Bloomberg