Six Flags (NYSE:SIX) owns and operates 19 regional theme amusement and water parks in North America. The economic downturn, combined with a heavy debt load, resulted in Six Flags filing for bankruptcy protection in June 2009. Six Flags emerged from bankruptcy protection in April 2010 and began trading on NYSE in June 2010 under the ticker SIX.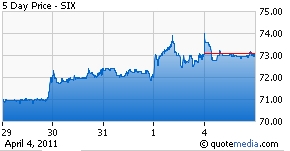 The bankruptcy process allowed Six Flags to reduce debt by $1.7 billion, yet retain $1.3 billion of net operating losses (NOLs), allowing the company to shield cash taxes for a number of years. Management has been laser-focused on bringing down bloated operating costs while maintaining guest satisfaction scores. Material progress is being made as last quarter cash operating expenses were 12% lower than the previous year.
Instead of investing in high-cost mega-coasters at a handful of locations, capital spending will be focused on new rides and attractions at most every park, allowing Six Flags to leverage the investments with local/regional marketing efforts. Given the high barriers to entry and the recent financial crisis, the competitive landscape remains encouraging as no new capacity is coming on line.
An important financial strategy is Six Flags' focus on improving ticket yield by managing promotions in a more targeted manner. Management will use extensive data to balance discounting with traffic-driving events.
While Six Flags' management has guided investors to expect only slight attendance growth this year, we believe it may be much stronger. In the recently filed 10-K, deferred income ("Deferred income at December 31, 2010 primarily reflects advanced sales of 2011 season passes.") jumped +26.7% versus the prior year, providing a strong leading indicator for 2011 attendance growth. "During the 2010 season, season pass attendance constituted approximately 32% of the total attendance at our parks."
Improved sponsorship and licensing opportunities, which currently make up only 5% of revenues, are likely as Six Flags has approximately 24 million visitors to its 19 regional theme parks each year, surpassing annual attendance levels of the NBA (21.5M), NHL (21.2M), NFL (17.3M) and NASCAR (6.9M).
Free cash flow of $7 per share provides valuation support at current levels and last year's attempted acquisition of Cedar Fair (NYSE:FUN) by Apollo Group highlights the private equity interest in the space. In February, CFO John Duffey spent $1.7 million to buy stock.
This current value-creation role is familiar ground for CEO Jim Reid-Anderson, who joined Six Flags in August 2010, as he previously orchestrated the turnaround and sale process of Dade Behring upon its exit from bankruptcy. Reid-Anderson and company have outlined "Project 350" which is a near term plan to achieve $350M of EBITDA. A valuation comparable to RCL/CCL of 9.9 x EBITDA would translate to a $90 stock price for SIX. Additionally, SIX owns over 1,000 acres of excess land near 3 of their parks, as well as 39% of Dick Clark productions (which provided a $41M dividend in Q310).
While we believe SIX is under the radar of many investors as it is currently only covered by 3 sell-side analysts, our guess is many more will be climbing aboard to experience the fun ride ahead.
Potential Catalyst
As outlined in the recently filed 2010 10-K, season ticket sales for 2011 appear to materially higher than investors' expectations. We believe this will translate into stronger than expected attendance growth and correspondingly higher EBITDA levels, supporting a stock price of $100.
Potential Risks
Oil - Higher oil and gas prices serve as a tax on consumer discretionary spending. There may be reluctance to drive to regional theme parks with rising gas prices. However, Six Flags' management contends that historically, when discretionary spending is pressured, families choose to stay close to home and take regional "stay-cations" instead of flying to destinations such as Disneyland. Additionally, higher season ticket sales generally ensure multiple visits as the mindset is that the ticket is already "paid for", thereby driving additional in-park concession sales.
Capital Spending - A natural concern for companies exiting a financial restructuring is that maintenance capital spending was deferred and will require a catch-up to improve facilities to appropriate levels. Our analysis suggests that Six Flags had likely been overspending, particularly on high cost mega-coasters leaving itself vulnerable in the economic downturn. Guest satisfaction scores highlight stable to improving metrics and no reason to believe Six Flags underinvested during the financial restructuring. (See pages 15-17 in the recent presentation.)
Supporting Materials
Q4 2010 Six Flags Entertainment Corporation Earnings Tuesday, February 22, 2011 8:00 a.m. CT Earnings Report
Disclosure: I am long SIX.