Great things do come in small packages, at least according to extensive research carried out by Kenneth R. French and Eugene Fama. They posit that small-cap stocks have greater upside potential than larger ones, and they offer empirical data to back up such theories in the paper Value Versus Growth: The International Evidence (1996).
To augment our small-cap picks, we will borrow research from Narasimhan Jegadeesh and Sheridan Titman from a paper called Momentum (2001). The other article by Jegadeesh published in the Journal of Finance in July 1990 is called Evidence of Predictable Behavior of Security Returns. The data points to a phenomenon known as "momentum" in which stocks that have outperformed the market over the past 12 months continue to do so the following year. But when looking at stocks with strong momentum over just one month, the opposite is true. Stocks outperforming the market one month will slow the following month as the stock and the market equalize. Stocks greatly underperforming the market in a single month period tend to pop back to the market norm the following month.
This suggests that stocks with stellar performance over the year, but that have dropped over the past month, can provide us with a good entry for both short- and long-term price appreciation. If we combine this with small cap stock selection and some fundamental analysis, we should be able to spot some rocketing winners.

Also check out how to find high-growth stocks using the CAN SLIM method.
eMagin Corporation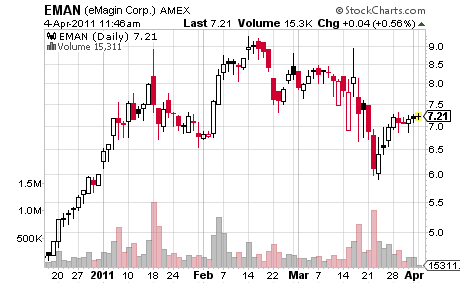 Our attention will be focused on two small cap stocks, the first being eMagin Corporation (NYSEMKT:EMAN).
EMAN produces OLED microdisplays which provides a superior alternative to LCD technology. They tout lower power needs, better contrast, quicker refresh rates, wider viewing angles and more variance on optimal temperature ranges.
On a price chart level, EMAN has strong annual momentum. While the S&P 500 rose just over 12% during the past 12 months, this stock has rocketed almost 40%! Prices have pulled back over 14% in the last month. Some of this could be due to pre-earnings jitters, before the report was released on March 16th and because the market made a pullback over the last month. Based on long-term positive momentum and short-term contrarian momentum, we have a potential winning candidate.
This is a micro-cap stock with only $158 million in market capitalization. We will get to some fundamental forecasting in a moment. Before that, what is our other stock pick?
InterDigital Incorporated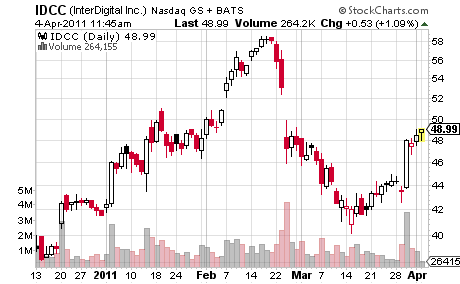 IDCC is our next small cap stock, with a market capitalization of just under $2 billion. Depending on the trading day, it might be classified as a mid cap.
IDCC develops wireless technologies commonly found in modem cores. They also seek to provide a better wireless experience through technology that would have your laptop computer automatically switching back and forth between WI-FI and 3G service seamlessly. IDCC wants to create a solution that can switch between whatever signals are present.
What about price momentum? While share prices are up over 72% for the trailing 12 month period, they have fallen since mid-February, and are just now popping once again.
We have 2 potential winners to look at a more closely. What do the fundamentals and ratios tell us about these two picks?
Digging a Little Deeper into IDCC
IDCC missed slightly with the most recent earnings report. They didn't provide much in the way of long-term guidance figures although they seemed optimistic and spoke of acquiring more patents and integrating them into the booming wireless industry, being well positioned for the coming bandwidth crunch, and new or renewed agreements with companies such as LG (OTC:LGERF). It does seem that the lack of hard fiscal estimates weighs on investors.
What do I like about IDCC's financials? Net profit margins have progressively climbed from 8.4% in 2007 up to 51% today. Return on equity is very high at 69.8%.
Based on this kind of growth, what sort of prices could we be expecting in the future? That really depends on if this stock is starting to decelerate as it transitions from ultra-high growth to decent growth, or if valuations are being pounded due to the uncertainty of future prospects. Stocks will experience decreasing valuations or price multiples, such as price-to-earnings or price-to-book ratios, as they move from growth to value. Is that the case here or is it simply a temporary compression of valuations since forward guidance is so murky?
If we use to assume that return on equity ratios hold strong for the next three years, then the book value could reach up to $38.38 per share. The 3 year price-to-book average is 7.44, which gives us a potential price of $285.55 per share in 36 months. This is over 5.8x higher than the current price of $48.53, which is a 488% pop. Of course, the industry average price-to-book ratio is 1.7. This is quite a big valuation drop if IDCC is simply reverting to the industry average. This would represent a meager 34% increase in 3 years provided the return on equity stays strong. If we use the current ratio of 6.13 we get a share price of $172.75, which is still almost 5 times the current price.
EMAN Fundamentals
I would place EMAN as being higher risk due to the lack of steady positive earnings history. Because micro-cap high-growth stocks often have fewer analysts covering them and a lack of stable earnings history, this means that our risk goes up. What sort of returns might we expect on this stock?
The most recent return on equity is 48.37%, and this seems to have risen up to 54% if you divide 14.8 million in net income by 27.5 million in equity. When looking over many years worth of data, this figure is volatile to say the least. Book value is at $1.36 per share with the most recent report. As I calculate the future price, I am not totally comfortable with the high return on equity. I will use it with my initial calculation but I will leave room for a much lower figure looking forward.
In three years, book value could theoretically rise to $4.96. The industry average price-to-book ratio is 5.5 while this stock is trading at under 9 times its book value. Using the industry average, the theoretical price of $27.28 in 3 years is roughly 4x what of what it is today at $7.22. If we use the current multiple of 8.72, our future price could be up to $43.25. I will add that I highly doubt that the stock will continue to trade at such a high book multiple. A guess of $20 - $30 would be more reasonable if this company can keep the aggressive intrinsic growth up, but future momentum could also add price strength.
Final Word
Both of these stocks could provide a giant upside with a potential price increase of 4-5x the current over the next 3 years. Based on the figures I have available to me today, I favor IDCC as a winning stock. But don't count out EMAN thinking it to be an underachiever. Keep an eye on their future filings as there could be some huge surprises behind that heavy curtain that is currently shielding investors from earnings forecasts.


Disclosure: I have no positions in any stocks mentioned, and no plans to initiate any positions within the next 72 hours.