REVIEW
The ongoing portfolio (ANTS) continues to outperform.
The aim is to generate consistent alpha, and to date, alpha generation has been approximately linear. Consequently, no change to the portfolio is required. The portfolio composition is shown below, together with the expected earnings for Q2 for reference as earnings are announced.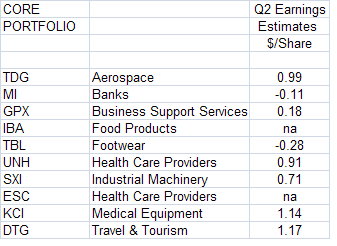 Alpha for the period is: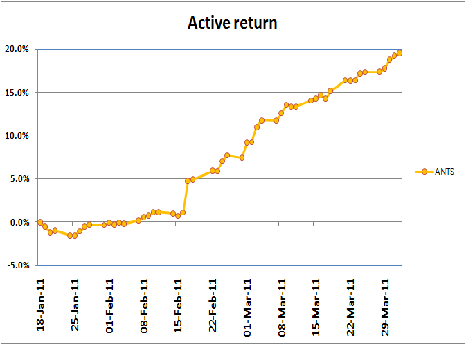 In my experience, the first month of the quarter is likely to be the most difficult for this methodology as the reaction to earnings and forward outlook statements can be disruptively large. To mitigate this risk, I have prepared an additional list of possible replacement stocks, should stocks in the ANTS portfolio falter.
PARALLEL PORTFOLIOS
I have prepared alternative stock lists with slightly differing levels of aggressiveness in historical alpha. The takeaway from this analysis is that sectors do not dominate at the moment. Stock selection does.
High Alpha
The high alpha list is:
And the alpha trajectory is: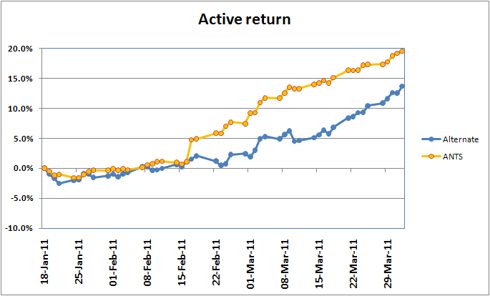 Low Alpha
The low alpha list is: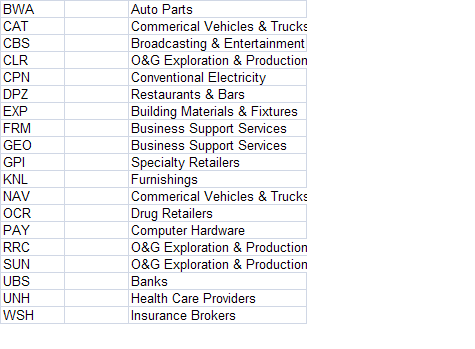 And the alpha trajectory is: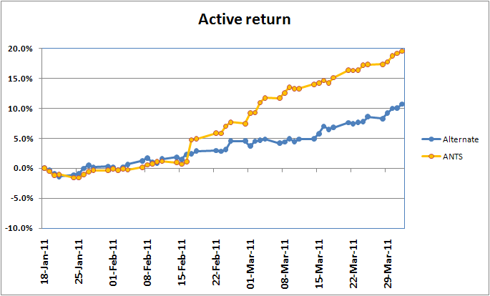 COMMENT
With just over a month since my first post on SA, it is appropriate to review performance, and identify issues going forward.
My appraisal is:
The ANTS portfolio has performed very well in the past 3 weeks, as defined by consistency in adding alpha.

Even with the benefit of hindsight, it has proven difficult to get a better outcome.
I expect performance to trend to index returns in the next month, and therefore, I am looking for alternative portfolios.

The alternative portfolios identified above are a first step.
The first month of earnings season reports usually prove disruptive (probably to everyone) due to unexpected announcements.

I always feel tempted to hedge the downside in this period.

Rather than going away in May, I would tend to get active again in May.
If the market overall suffers a correction, the best course of action is to short the SPY.
In terms of the alternative portfolios above:
The alternatives draw on only a few sectors of the S&P index, but the sectors represented between higher and lower alpha outcomes are similar.

The sectors represented are nevertheless diverse.

While the energy sector has been a standout performer in Q1, this sector is not represented in the ANTS portfolio at all, and only mildly represented in the alternatives.

This suggests to me that this methodology is fundamentally identifying good stocks rather than sector themes.

I am always looking for extensions to my investing universe. It seems to me that if this level of consistency can be maintained then this might form the basis of a good market neutral methodology.
Disclosure: I have no positions in any stocks mentioned, and no plans to initiate any positions within the next 72 hours.