Western Refinery (NYSE:WNR) is a company that does it all from refining and distribution to wholesale and retail selling of everything from asphalt and gas to beer, bottled water and snacks. Investors and the press are really taking notice and the price is really moving.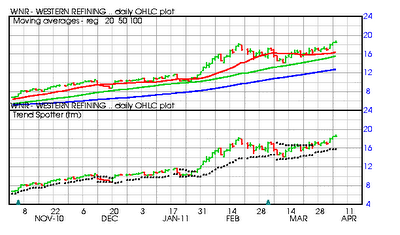 Western Refining, Inc. (WNR)
is an independent crude oil refiner and marketer of refined products headquartered in El Paso, Texas, and operates primarily in the Southwestern region of the United States, including Arizona, New Mexico, and West Texas. They have invested a significant amount of capital in refinery initiatives that will allow them to improve our crude oil processing flexibility, expand refinery capacity, increase production of higher-value refined products and satisfy certain regulatory requirements.
The Retail group operates service stations, which include convenience stores or kiosks that sell gasoline, diesel fuel, general merchandise, and beverage and food products. As of March 5, 2010, it owned and operated 150 service stations with convenience stores or kiosks in Arizona, New Mexico, and Colorado, which include 115 stores under Giant, 1 unit under Western, 2 units under Western Express, 20 units under Mustang, 10 units under Sundial, and 2 units under Thriftway brand names.
There are a lot of reasons to follow this stock.
Technical Factors:
100% Barchart technical buy signal
Trend Spotter buy signal
7 new highs and up 10.21% in the last month
Relative Strength Index 67.08% and rising
Trades around 18.49 with a 50 day moving average of 15.61
Fundamental Factors:
After coming off several years of deficits, the numbers look promising
Wall Street brokerage analysts have published 1 strong buy, 3 buy and 4 hold reports for their clients
Sales are projected to increase by 11.50% next year
Earnings are coming off a deficit and are expected to increase by 1800.00% this year, 1.10% next year and continue at a 100.00% annual rate for the next 5 years.
General Investor Sentiment:
On Motley Fool, a surprising number of investors are following this stock with over 1560 opinions registered
The CAPS members vote 1096 to 50 that the stock will beat the market
The More experienced All Stars agree with a vote of 402 to 12
I hope its not to late to get on board this one. When a company comes off a deficit, the numbers can be deceptive.
Disclosure: I have no positions in any stocks mentioned, and no plans to initiate any positions within the next 72 hours.