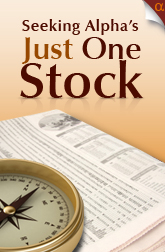 Several times a week, Seeking Alpha's Jason Aycock asks money managers about their single highest-conviction position - what they would own (or short) if they could choose just one stock or ETF.
---
Earl Hines is president and CEO of Hines Warner Wealth Management, a Portland, Ore.-based RIA. Prior to co-founding the firm, he worked for over 17 years for Intel Corp. and IBM Corp.
If you could only hold one stock position in your portfolio (long or short), what would it be?
Long, Devon Energy (NYSE:DVN).
Tell us more about the company behind the stock.
Devon is among the largest independent producers of oil and natural gas in the United States, with about 90% of its proven reserves in North America. With their expansive access to the natural gas shale areas in the U.S., the company is well positioned to benefit from future increases in gas prices, as well as any national policy decisions that expand U.S. domestic energy production - a topic that has recently been reignited in Washington by both the Japan nuclear crisis and ongoing civil unrest throughout the oil-rich Mideast.
Though the company has diversified oil and natural gas resources globally, Devon's most important asset is the Barnett Shale - North America's largest onshore natural gas field. Holding 39% of its proven reserves, Devon is Barnett's largest producer.
How does your choice of holding reflect your investment approach?
Our overall investment philosophy follows the axiom: "Buy great companies, at good prices."
First, we employ fundamental analysis to assess a company's relative financial strength. We prefer strong cash positions, low debt-to-equity ratios, and a history of consistent free cash flow and dividend growth. Next, we look at management effectiveness. Does the executive team have a proven track record? Is the company's business plan understandable and realistic? Is there a defensive position with regards to the competition?
Finally, we want to own the stock of companies that know they work for the shareholder. So we ask things like: Does the company have a history of making investor-friendly decisions, like using free cash to buy back shares or retire debt? What is the company's return on invested capital and are they investing shareholder money wisely?
Devon, as an example, is in a very strong financial position. The company has been aggressive in reducing costs and debt, and its current debt-to-capital ratio is quite low at just 17%. It enjoys a solid cash cushion of $2.9 billion, and current assets exceed liabilities by 20%. In 2009, the company began divesting underperforming assets in its deepwater drilling businesses (a timely move given the 2010 gulf oil spill), and later announced $3.2 billion in share buybacks, of which half have now been completed. This, along with a healthy dividend increase, signals company management's conviction that Devon is both undervalued and well positioned for sustainable growth.
How much is your selection based on Devon's industry, as opposed to a pure bottom-up pick?
Ultimately, our selection of any stock is based on a bottom-up analysis. However, it would be foolish not to look at the overall industry and macroeconomic trends that our companies operate within. For example, the last two years of increased supply and falling natural gas prices created attractive entry points for stocks like Devon.
Like all oil and gas companies, Devon is subject to the vagaries of the commodities markets, but even the recent economic recession is unlikely to disrupt the longer-term trend of global resource competition, particularly for energy. As economies worldwide recover, and the emerging markets continue to expand, demand for new sources of energy will continue. Legendary oil billionaire Boone Pickens predicts $300 oil within 10 years, and has led a national campaign to make natural gas a "bridge fuel" for the U.S. as the rest of the world pumps the ground dry of the last drops of crude.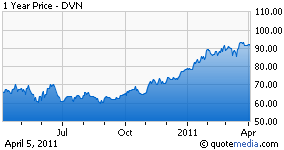 More recently, the crisis in Japan has reignited American debate over the role nuclear should play in our energy policy. Multiple rebellions in the Mideast have brought the words "energy independence" back into vogue. Natural gas is the most plentiful energy resource at our nation's disposal. Estimates are that if we converted just half of U.S. commercial ground transport fleets to natural gas, our oil imports would drop by 50%.
One might ask: What about renewable energy? Frankly, regardless of whether one believes we will be able to implement solar, wind and geothermal fast enough to meet rising energy demand, the reality is that these technologies are still very expensive, and are almost completely dependent on government subsidies for large-scale adoption. Given the new reality of government deficits that have ballooned globally since the last recession, it's unlikely such subsidies will return soon. Even if they continue, alternative energy will likely grow at a small rate relative to the rest of the world's energy production.
Natural gas offers a potential "transition fuel" from oil, eventually to renewable energy such as solar, wind and geothermal. Natural gas is both plentiful and clean, conspiring to make it a major part of America's energy mix in the future. And what's better, liquefied natural gas is likely to become a significant U.S. export. Devon, because of its ability to execute, and its vast access to gas reserves, is a company that stands to gain tremendously as this happens.
How is Devon positioned with regard to competitors?
In 2010, Devon repositioned itself as a pure-play onshore exploration and production company. This resulted in selling nearly $10 billion in offshore assets from the deepwater Gulf of Mexico, Brazil, and Azerbaijan, generating $8 billion in after-tax proceeds that the company has used to fund onshore drilling in addition to share buybacks and debt reduction. The company's long term debt-to-capital ratio is now nearly half that of its competitors.
Beyond financial strength, Devon has both technological and resource advantages. The company pioneered the drilling techniques that now make the cost-effective extraction of natural gas possible. The Barnett Shale, where Devon is the largest producer, is the most important gas field in North America, and with 663,000 net acres, Devon holds the best position of any producer. Also, as a first entrant in Barnett, Devon paid considerably less than others for its acreage and retained a higher share of revenue than companies that bought in later.
How does DVN's valuation compare to its competitors?
Given Devon's share price has increased by nearly 40% in the last year, the company has gotten close to fair value based on current earnings. Devon's current P/E is around 17. By comparison, the overall energy sector P/E currently ranges from the top quintile of 35.05 to the bottom quintile of 15.21 - with the average P/E for energy being 20. The average for oil and gas operations is even higher, at 27.
With this in mind, we believe Devon is still currently undervalued compared with its competitors.
Does your view differ from the consensus sentiment on DVN?
As the stock's price has moved up steadily in recent months, consensus has diverged from Buy to mixed, with several downgrades to Hold. We remain in the Buy category, and are cautiously optimistic in the short to intermediate term. Admittedly, Devon's price is not as attractive as it was a year ago, but we believe the company's corporate repositioning offers greater growth potential than the current share price reflects.
Does Devon management play a role in your selection? If so, how?
Management effectiveness and tenure is a key determinant in our evaluation of a company. Even with access to tremendous resources, sound leadership is what makes a company profitable and sustainable. Devon has a strong bench. Chairman Larry Nichols founded the company in 1971 with his father, and was the CEO until June of 2010. John Richels, Devon's current CEO, joined the company in 1998, and served as the CEO of Devon's Canadian operations after Devon acquired Canada's Northstar Energy.
Devon management made the very timely decision to eliminate its deepwater drilling operations before the fateful Gulf oil spill in 2010, and has consistently worked to streamline operations, divest underperforming assets, pay down debt, and buy back shares with free cash flow. Their business plan is not only sound, the company is executing it well. And 2010 was a record year with the company reporting not only record earnings, but its highest ever proven reserves.
Along with conservative financials, Devon's notable shift out of deepwater and toward the shales likely has an effect on its overall riskiness, too, right? Last fall the company stopped hedging natural gas output, as Larry Nichols said it's "just locking in the bottom. Why bother?"
That's exactly right. Devon employed an aggressive hedging strategy in 2009 and 2010, locking in prices on about 50% of both its oil and natural gas production in order to make their cash flow more predictable. But the dramatic decline in natural gas prices last year has made hedging largely unnecessary - the company will do better to sit on reserves and wait for higher prices in the future.
Also, the company's divestiture of its deep-drilling assets in no way eliminates oil from its production mix. In fact, the company still earns about one-third of its revenues from liquids, and it continues to hedge about 50% of oil production. These factors, along with Devon's strong balance sheet, create a relative margin of safety against any prolonged reductions in natural gas prices.
What catalysts, near-term or long-term, could move the stock significantly?
In the short term, sharp rises in commodity prices could positively move the stock. Several short-term issues could lead to this, most notably: overall demand increases due to global economic growth; continued cost disparity between oil and natural gas, such that the U.S. and other developed nations ramp their conversion to natural gas; and lastly, sudden disruptions to foreign oil supplies due to conflicts in the Middle East or Northern Africa.
The recent Japan nuclear crisis has put natural gas back in the spotlight and given nuclear a serious black eye. True, natural gas is not renewable, and it does still generate some greenhouse gases. But it doesn't create radioactive waste that has to be "stored safely" for thousands of years. That gives Devon a clear advantage currently.
What could go wrong with your pick?
Devon's biggest challenge would be prolonged low natural gas and oil prices, or new energy regulations that reduce production. Like most energy companies, Devon's share price is tied closely to short-term moves in commodity prices.
Government regulations could also diminish or slow down natural gas extraction and impact revenues. Technological improvements such as horizontal drilling and hydraulic fracturing have finally made it cost effective to extract natural gas from the rich shale areas, but several special interests have raised concerns about the safety of the technology to groundwater. As a result, Congress has directed the EPA to study the environmental impacts of hydraulic fracturing, and this study is not expected until September 2012.
Thanks, Earl, for sharing your choice with us today.
Disclaimer: This information is compiled to assist you in your study of the securities; however, nothing contained herein is to be construed as a recommendation to buy or sell any securities. Earl Hines and/or employees of Hines Warner Wealth Management or its affiliates may now or in the future hold positions in the company discussed in this article. Please see Terms of Use.
Disclosure: Earl Hines and his firm's clients hold long positions in DVN.
Read more Just One Stock interviews »
If you are a fund manager and interested in doing an interview with us on just one stock or ETF position you'd hold, please email us at Just One Stock.