A few weeks ago, I wrote an article about Star Scientific (CIGX), detailing the tobacco/pharmaceutical company's potential to strike it rich in the healthcare sector with its anti-inflammatory product candidate, RCP-006, which is currently being studied by the Roskamp Institute. I also detailed the recent $11M worth of insider and long-term investor buying.
At that time, the stock was trading around $3.00 and I noted that I was looking to add on any sort of pullback, though I didn't expect to see one. Since then, the stock has skyrocketed another 70% to its new 52 week high of $5.12, which was struck on April 4, 2011.
[Click to enlarge image]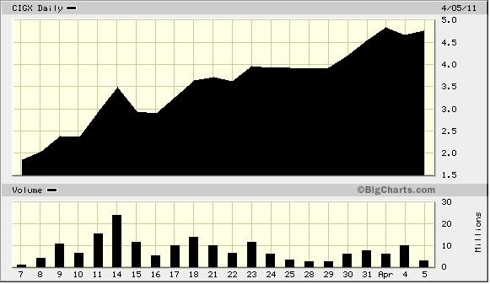 Click to enlarge
There are two interesting developments behind the stock's most recent run:
In two unexpected rulings handed down by the FDA on March 23, 2011, it was officially declared (to the dismay of tobacco opponents) that the company's Ariva and Stonewall products are not subject to regulation as they do not fall under the jurisdiction of the 2009 Family Smoking Prevention and Tobacco Control Act.
The stock has been on a 140% YTD rampage. Will it come back down to earth any time soon?
On April 4, 2011, the stock pulled back sharply from its newly forged 52 week high with a heavy volume sell-off occurring near the end of the regular trading session. The following day, in a press release, the company issued the following statement:
It has been brought to our attention that a headline has been running via the Bloomberg News outlet that states the company 'failed to meet NASDAQ continued listing requirements'. We have confirmed with Nasdaq that there is no listing deficiency. This headline is completely incorrect, and the company has serious concerns about its source. Star is in the process of having the headline withdrawn by Bloomberg.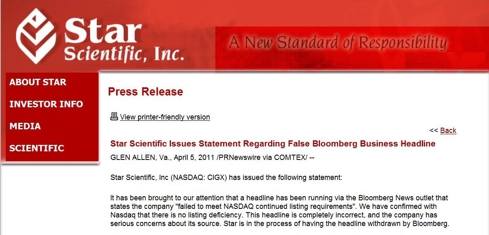 Bloomberg's false headline came at a time when investors had begun to question whether the stock's price may be getting a bit ahead of itself and shorts may be attempting to draw a line in the sand.
As an associate has recently reminded me, many anti-inflammatories have been tested in Alzheimer's disease over the years without much success. While still in a sphere of active medical research, Star's product candidate is but one of many potential compounds for use in this area and is still in the infancy stages of development.
While the stock is technically overbought and seems ripe for a healthy pullback, I still believe in Star's long term growth prospects as a tobacco company as well as its down-the-road potential in the pharmaceutical/healthcare arena. As such, I will continue to watch the price action closely for any opportunities to add to my position.
Disclosure: I am long CIGX.