In our previous report explaining why we are short Advanced Battery Technologies (OTCPK:ABAT), we claimed that "ABAT spent $20 million to acquire a company linked to the Chairman without disclosing the relationship." Further research confirms that the truth is even more nefarious than we initially believed. The target company was not only related, but appears to be a company that ABAT had already acquired in 2008 for $1 million. The announcement of a new acquisition appears to be a fabrication allowing Chairman Fu to funnel $20 million of shareholder funds out of the company into his own pocket. We also learned of disturbing allegations by the CEO of the company acquired in 2008. That individual alleges that ABAT's Chairman threatened his life in retaliation for a lawsuit over $600,000 worth of ABAT shares.
Background
In January 2011, the company claimed that it acquired Shenzhen Zhongqiang New Energy Science & Technology Co., Ltd. ("Shenzhen ZQ") for 135 million RMB (about $20 million).
We thought it was strange that the company acquired an entity with the "ZhongQiang" branding, since ABAT's existing subsidiaries are also branded ZhongQiang. ZhongQiang roughly translates to "Strong", so it is not a common part of company names.
Shenzhen ZQ's Government Registration
This Shenzhen government registration, dated September 10, 2008, shows that Shenzhen ZQ changed its Legal Representative and Executive (Managing) Director from Huang Youlin to Fu Zhiguo.
click to enlarge images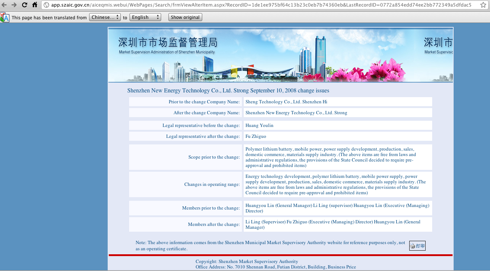 Sui-yang Huang vs. Advanced Battery Technologies, Inc.
In an unusual 'coincidence,' ABAT had acquired a Shenzhen battery company in 2008. We don't know about this acquisition from ABAT's SEC filings; we couldn't find any that disclosed this purchase. We know about the acquisition because the acquired company's CEO, Huang Suiyang, who became ABAT's Chief Technology Officer, sued ABAT in U.S. federal court over a payment dispute related to the acquisition.
Huang Suiyang, in his court filings, claims to be a U.S. citizen; to have a home in San Francisco; to pay U.S. income taxes; and to have worked at the National Renewable Energy Laboratory (a prestigious U.S. government lab). According to ABAT (back when they were still on good terms):
Dr. Suiyang Huang is one of the most well respected minds in the Chinese battery industry. He holds a Ph.D from the Universite de Bordeaux, and has over thirty papers published throughout the world. Dr. Huang personally owns 7 U.S and 20 Chinese patents. [emphasis added]

Source: ABAT press release, dated 9/4/2008
Two key questions:
What is Huang Suiyang's connection to Huang Youlin (former executive of the Shenzhen ZQ entity)?

What is the connection between the Huang Suiyang's battery company and Shenzhen ZQ?
Shenzhen Zhongqiang Was the Company ABAT Acquired in 2008
The answer to question (2): ABAT acquired the Huangs' company for $1 million and renamed it Shenzhen ZQ in 2008; two years before they told the public that they acquired it for $20 million. We believe that this connection was overlooked because the court regularly refers to Shenzhen ZQ as "Shenzhen ABAT" or "SABAT".
However, as a motion filed by ABAT's own attorneys makes clear, SABAT is simply an 'English rendition' of the company's real name, Shenzhen Zhongqiang Energy Science and Technology Co. Ltd.
Plaintiff's Employment Contract was executed contemporaneously with the acquisition of Huang's father's company, Shenzhen Shengxi Science and Technology Co., Ltd. ("Shenzhen SST"), by ABAT's Chief Executive Officer, Fu. See Compl., ¶ 7 & Ex. A. Curiously, the Complaint refers to Shenzhen SST as "Luke Battery Corp.," Compl., ¶ 6 & Ex. A — a name appearing nowhere in the Acquisition Agreement. The company was then renamed Shenzhen Zhongqiang Energy Science and Technology Co. Ltd., a name sometimes rendered in English as "Shenzhen ABAT" or "SABAT." Fu Decl., ¶ 10. [emphasis added]

Source: Defendant ABAT's Court Filing, dated 12/7/2009, originally retrieved from Pacer, Southern District of New York, case no. 1:09-cv-08297-HB, document no. 12
Note that both the former name of the company (Shenzhen Shengxi Science and Technology Co., Ltd.) and the new name of the company (Shenzhen Zhongqiang Energy Science and Technology Co. Ltd.) match the names on the registration filing we referenced above.
We sourced the court filings from Pacer. Pacer is a U.S. government website that is accessible to the public, but they charge 8 cents per page to download documents. We encourage readers to download these documents themselves from Pacer, but for your convenience, we have also uploaded copies to Scribd.
Huang Suiyang and Huang Youlin are Related
We believe that Huang Youlin is Huang Suiyang's father and the original sole shareholder of the Huangs' company before it was acquired by ABAT.
Huang [Suiyang] was the founder and CEO of a company called Luke Battery Corporation ("LBC"),1 and his father financed its formation and was its sole shareholder. On August 30, 2008, Huang, acting as an agent for his father, entered into an acquisition agreement with ABAT Chairman and CEO Zhiguo Fu ("Fu") to sell LBC to ABAT for one million dollars.

Source: Judge Baer's opinion, dated 3/26/2010, retrieved from Justia.com, also available on Pacer
Evidence that Huang Suiyang and Huang Youlin are connected can be found in a simple Google Search, which reveals that the Huangs are co-authors on numerous academic papers and that Suiyang was listed as inventor on patents owned by Youlin. One example can be found here.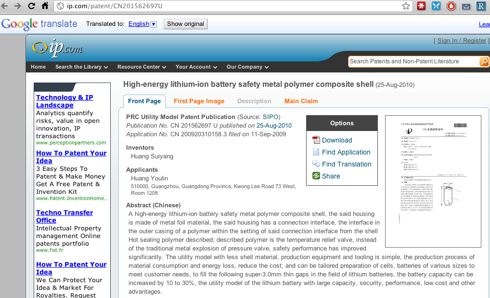 Death Threats
We found Dr. Huang and his complaint credible, and we think that shareholders should beware of what kind of people they might be dealing with when it comes to Chairman Fu and ABAT management.
Huang, in a court filing, alleged that he received death threats on the day after he filed his initial complaint (September 30, 2009) as well as the day after he amended his complaint (November 17, 2009).
Coincidence? We think not.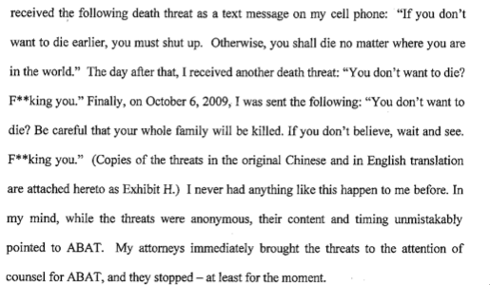 Huang presented the following exhibits as evidence: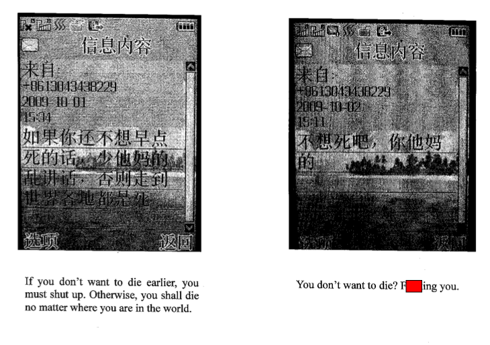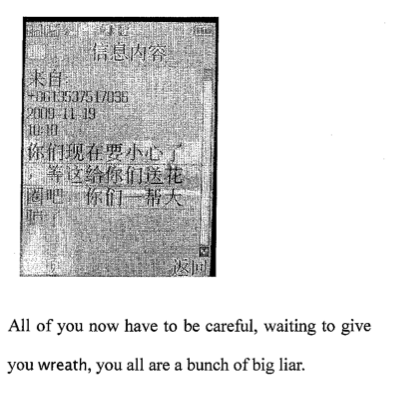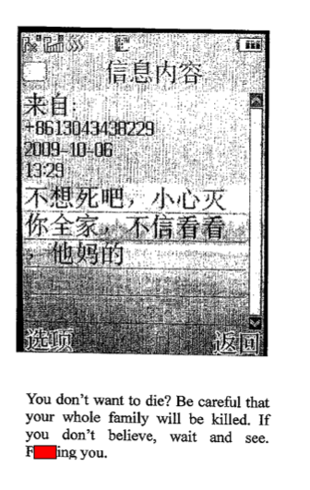 [Profanities redacted]
Source: Plaintiff Huang's court filing, dated 1/21/2010, originally retrieved from Pacer, Southern District of New York, case no. 1:09-cv-08297-HB, document no. 16
Ultimately, the judge decided that this case belonged in a Chinese court rather than a U.S. court for technical reasons, but he made no judgment about the allegations raised in the complaint. If they are true, perhaps ABAT should change its name to Assault and Battery Technologies.
Conclusion
We are extremely confident that the purported 2011 acquisition of Shenzhen ZQ is a fabrication allowing Chairman Fu to funnel $20 million of shareholders' money into his own pockets. However, we believe that the ABAT case is not just a question of accounting misstatements or disclosure failures. If Huang Suiyang's allegations are true, ABAT is a criminal enterprise masquerading as a public company, not a real business.
Disclosure: Variant View Research and its affiliates are Short ABAT via its common stock and options. We intend to profit from our short positions by covering, hedging, or otherwise unwinding them at lower stock prices. We reserve the right to add to or reduce our Short positions at any time, and we do not intend to disclose these transactions, either before or after they are made. This report does not constitute investment advice. Persons accused of crimes are presumed innocent until proven guilty in a court of law.