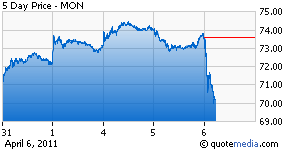 Although Monsanto's (NYSE:MON) second quarter results will likely not lead to dancing in the streets among its shareholders, it does represent some much-needed stability in the business. The fiscal second quarter is a major part of this seasonal company's revenue and profit base, and the results were encouraging. Moreover, with some attractive products in the pipeline there is a credible case for staying long on the shares of this agritech company.
Results – Not Great, But Not a Disaster
Dealing with the bad news first, Monsanto's fiscal second quarter results did come in shy of the average analyst guess, as sales totaled $4,129 million versus the $4,150 million expectation. For the quarter, sales grew 6% in total, as seed revenue rose 5% to $3,421 million and revenue from the herbicide business rebounded 10%.
Within those numbers, corn revenue climbed 7% and soybeans dropped 3%, roughly reflecting recent USDA plantings data showing higher corn planting and slightly lower soybean planting. Cotton revenue was up strongly (nearly doubling), but still represents a tiny percentage of the company's business.
Monsanto made real progress on the profitability side. Gross margin improved by almost 2%, with a modest improvement in seeds and a significant improvement in the herbicide business. Operating performance was also strong, with 16% growth and almost 300 basis point improvement in operating margin, despite strong ongoing investment in R&D.
While Monsanto's management does not focus overly much on earnings per share, and this is to be lauded, the company does give a lot of detail in its earnings presentations, including cash flow projections. To that end, investors should take heart in what represents an almost 18% improvement in the company's midpoint guidance for fiscal 2011.
Longer Term, Still a Good Place to Be
Monsanto is still in the fairly early stages of fixing some significant problems with its business. Not only was the Round-Up herbicide business a mess last year, but reports of underperformance in the company's seeds dogged the company. Worse still, aggressive marketing and high-handed behavior with customers came back to haunt the company.
With that opening, DuPont (NYSE:DD) and to a lesser extent Syngenta (NYSE:SYT) saw an opportunity and moved aggressively. The question now, though, is whether they can hold the ground they gained.
Looking ahead a few years, DuPont's Pioneer business is almost certain to remain a formidable competitor. Although DuPont has had some issues with its Optimum GAT technology and other competitive offerings and Monsanto seems to be getting more responsive to customer wants and needs (offering more variety in price points and products instead of just ramming premium-priced products through the channel), this past crop year showed that DuPont can deliver the goods even when Monsanto cannot.
Monsanto shareholders can find some encouragement in the company's pipeline. Products like insect-protected RR2 soybeans, refuge-in-a-bag corn and drought-tolerant corn could all come out over the next two years and could definitely ramp up growth. Refuge-in-a-bag is particularly notable, as it could significantly improve yields and convenience for corn farmers.
Some Good, Some Bad, Some Patience Needed
On the plus side, Monsanto has a huge IP base in crop science and a strong pipeline. Moreover, Monsanto's strategic position is such that competitors like BASF (OTCQX:BASFY) and Bayer (OTCPK:BAYRY) sometimes choose to work with, rather than compete against, the company. This is also a business where scale really matters and that is likely to be an issue for Syngenta as it tries to grow its seed business and build on its strong crop protection franchise.
On the down side, Monsanto once again came in a bit shy of revenue estimates and reiterated full-year earnings guidance that was below the consensus (the company's views were consistent, but analyst estimates had drifted above that). What's more, Monsanto is a company with a highly motivated base of opponents – critics who hate the idea of GM crops and/or the company's history of conduct.
All of that said, a few realities are still in place. World populations are growing, arable land is shrinking, soil quality is falling, and water is becoming more scarce in many areas. That means a growing need to get more food out of every acre of cropland available. Companies like Whole Foods (WFMI) have done a great job of supporting organic farmers and drawing attention to this alternative, but there will always be a need for the products that Monsanto and DuPont are developing.
Monsanto's shares do not always trade on the fundamentals of the business. Because it is relatively difficult to invest directly in farmland or agricultural producers (though there are a few options like Adecoagro (NYSE:AGRO), Cresud (NASDAQ:CRESY), SLC Agricola and Sprott Resource (OTCPK:SCPZF), Monsanto shares experience a lot of the ups and downs that go with big movements in the grain markets, even though month-to-month price changes do not change their business all that much.
At today's prices, Monsanto looks fairly valued. While I normally make a point of buying and holding stocks that I think are undervalued, I have confidence in the company's ability to accelerate its growth and profitability in the coming years as pipeline products move into the market. Accordingly, I think Monsanto is a good stock to hold today, but perhaps not a must-buy absent a pullback.
Disclosure: I am long MON.