By David Russell
Some investors simply refuse to give up hope for the airlines. We have seen repeated call rolls in the sector this year as traders pay money to keep their losing positions open. Today they're going after United Continental Holdings (NYSE:UAL), which has lost more than one-quarter of its value since late October and is attempting to cling to support at the $21 level.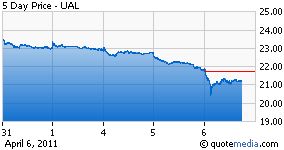 In the largest trade, a block of 10,000 June 29 calls was sold for $0.18 against existing open interest and replaced with 10,000 September 29 calls for $0.73. The trade cost the investor a net $0.55 to keep the position open for an additional three months.
Some 3,000 April 23 calls were rolled to the May 23 expiration while 2,000 June 24s were swapped out for September 24s. The trades cost $0.75 and $0.91, respectively.
UAL fell another 2.07 percent to $21.30 in late morning trading. Earlier in the session the stock touched $20.36, a level not seen since late August.
Airlines enjoyed huge gains between late 2009 and late 2010 following dramatic improvements in their business models during the preceding decade. But more recently they have struggled as higher energy prices continue to drive up the price of jet fuel.
Overall option volume in UAL is five times greater than average so far today, with calls accounting for a bullish two-thirds of the activity.