By David Russell
Elan (NYSE:ELN) has been in the dumps since a massive collapse in 2008, but now the bulls are coming back.

optionMONSTER's Heat Seeker tracking system detected a surge of call buying in the Irish drug maker yesterday as investors positioned for a springtime rally. The May 6s were the most active strike, trading more than 20,000 times against open interest of just 50 contracts. Premiums climbed from $1 to $1.30 throughout the session, but most of the large blocks priced at the lower end of that range.

Almost 6,000 May 7 puts were also sold for $0.40, this time against previous positioning of just 20 contracts. ELN was trading for $6.90 when most of the puts crossed our monitors, so they were in the money, which is noteworthy because it's a highly leveraged way to play for upside.

The shares ended the session with a 5.15 percent gain at $7.15, so those puts are now out of the money. If ELN stays above $7 or climbs further, those puts will dwindle to zero.

The stock has been battling its way higher since the later summer, although for the last three months has been consolidating those gains. Yesterday's session, with options volume 32 times greater than average and share turnover more than twice the normal amount, suggests it may be starting to attract interest once again.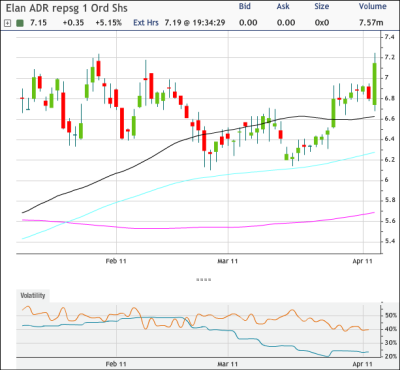 The recent gains also seem to have improved ELN's technical position because its 50-day moving average is now above its 100-day moving average (black and blue lines on chart at right, respectively) and its 100-day moving average is above the 200-day moving average (purple line on chart). That configuration is often necessary before a stock can advance.

Its 200-day moving average has also started to climb, another potentially bullish pattern that suggests the longer-term trend is turning upward.

There are also fundamental reasons why investors may be warming to ELN. While its loss was wider than expected the last time it issued results on Feb. 8, revenue was significantly ahead of consensus.

Also in January, the company announced a 7 percent price increase for its Tysabri multiple sclerosis drug, which accounts for more than 80 percent of its revenue. Last month ELN also announced that European regulators approved the first medicine that will use its NanoCrystal drug-delivery technology.