By David Russell
Industrial stocks saw a large downside trade yesterday, and today the bears are upping the ante. Our Depth Charge tracking system detected the purchase of about 64,000 May 37 puts on the Industrial SPDR ETF, XLI, for $0.65. An equal number of May 34 puts were sold for $0.18, resulting in a debit of $0.47. Known as a bearish put spread, the position will earn a maximum profit of 538 percent if XLI closes at or below $34 on expiration.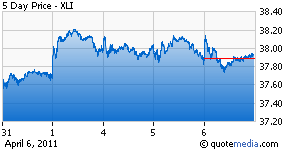 The activity follows a similar trade on Tuesday that involved 15,500 contracts in each strike. That position remains open today.
XLI rose 0.21 percent to $37.97 in morning trading. It's up more than 3 percent in the last month, versus a 1 percent gain for the broader S&P 500.
Industrials have been one of the stronger sectors in the market amid a surge of capital spending by companies. XLI, however, seems to be forming a double-top around $38, which could make some investors expect a reversal lower is in the cards.
Overall option volume in the fund is four times greater than average today, with puts outnumbering calls by a bearish 75-1 ratio, according to the Depth Charge.