Sirius XM (SIRI) has been trading higher these past few days. The stock is up 22 cents (or almost 14%) from its low of $1.62 at the beginning of the week. What makes this even more interesting is that the shares have been trading on higher volume for the three sessions since Monday - an average increase of over 20 million extra shares per day. The share price has reached an intra-day high of $1.86 on Wednesday 4/6; only 3 cents away from a new 52 week high. What might have caused this?
Some are speculating that the surge in share price is due in large part to anticipated solid auto sales, and it seems the anticipation is justified. According to Edmunds, this is turning out to be one of the best years in terms of vehicles sold since the start of the recession. In fact, the automotive journal predicts that Ford (F) and GM will each report over 200K vehicles sold for March with each figure being increased by 14.5% and 10.8%, respectively from the previous year. Edmunds also reports Chrysler would sell 112K, Honda (HMC) is on pace for 135K, Nissan (OTCPK:NSANY) 117K and Toyota (TM) will report 181K. From the auto makers mentioned, only Toyota is projected to have slower sales from the previous year; by 3.1%.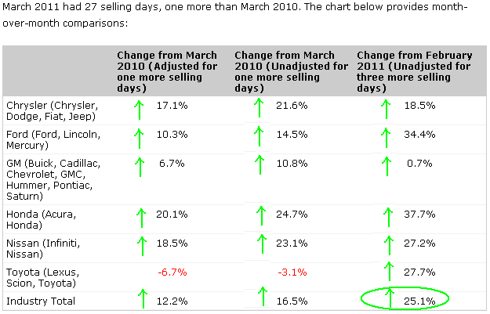 click to enlarge
So overall, and based on the image above, Sirius stands to gain a "decent" amount of subscribers from what was initially projected by the company. This has me anticipating that the company will likely increase its guidance from what was initially projected in the fourth quarter. That is one thing to keep an eye on as the Q1 conference call draws near.
2.0 possibilities
Better than expected auto sales is one way to get Sirius investors excited. The other method is to mention Sirius 2.0. There have been some rumors regarding its possible early release. Mel Karmazin told investors that -- "our next generation of satellite radios are expected to offer significantly more choices for the consumer and contain functionality that does not exist today in our radios." The exciting new gadget, currently slated to be released by the 2011 holiday season has investors salivating in anticipation of the "game changer" we frequently hear about. Sirius is banking on the device to expand on the platform's already broad content and offering enhanced interactive features.
I believe that until a formal announcement is made, I have no reason to expect Sirius will divert from the previously announced 2.0 launch date. But as I have said many times, Sirius has had the uncanny ability to make many experts, particularly those who feel they have a good grasp on the model, appear foolish. They will set you up to over deliver; that is to say, expect the unexpected.
Causes for bullishness
One of the catalysts for the recent surge in the stock price this week had to do (to some extent) with a recent upgrade by Gabelli Asset Fund. The firm raised Sirius from hold to buy given what they termed "pent-up pricing power." This propelled the shares higher in morning trade Wednesday. The firm also sees increased consumer demand for Sirius' offerings as well as share buyback sometime in the next fiscal year. Brett Harriss said:
Sirius customers are loyal: 1.9% monthly churn is low compared to other subscription businesses and did not spike through the recession. With a relatively modest subscription price, we think SIRI can raise prices without significantly impacting consumers' budgets.
The analyst noted the FCC condition to not raise prices for basic subscription until August 2011, a requirement set with the 2008 merger of Sirius and XM."With August six months away, we do not expect any immediate pricing action; it is in Sirius XM's best interest to act responsibly given its market position so as not to upset the FCC." Gabelli expects ARPU to increase at a measured pace over the next three to five years, with assumed pricing growth of 4 percent though 2015.
If Sirius increased ARPU $1.00 per month across the company's 20 million subscribers in 2010, it would equal $185 million in EBITDA, or about $0.28 per share. Harriss believes Sirius could begin repurchasing shares in 2012. "Based on our projections, we believe Sirius XM could return as much as $6 billion or 55% of the company's $10.9 billion equity market capitalization through 2015."
I have to agree with Gabelli. We have become quite familiar with the mandated price freeze as a condition of the merger between Sirius and XM on 2008. As mentioned previously, this freeze is due to be lifted this summer. This will give the company the freedom and flexibility it needs to squeeze extra revenue from its subscribers at the basic monthly rate of $12.95. To find reason for optimism, one only needs to look to another subscription based service that recently initiated a rate hike, Netflix (NFLX). Their shares have risen 46% since they raised their rates last November; from $167 to $239. So it is reasonable to think that Sirius may experience some "decent growth" as well from this enactment.
This has not been the only news that has spurred buyer interest in the stock. Sirius also announced that it has increased the purchase price offered in its tender for any and all of its outstanding 3-1/4% convertible notes that is due this year. They are raising the premium to $1,010 per $1,000 principal amount of notes tendered, plus accrued and unpaid interest up to, but not including, the payment date of the notes.
This is 1% above the value of the notes compared with its earlier 0.75% premium. It unveiled the tender offer last month. As of then, there were $97.8 million in such notes outstanding. This is further evidence of how the company so far has show it is committed to not only cleaning its balance sheet, but also returning value to its shareholders. Over the past year, Sirius has shown a track record of doing just that.
Core earnings continue to improve

Revenue has climbed and it has continued to add subscribers

Its business model is executing in the face of mounting competition and litigation

Debt-extinguishment continues, though some will choose to point out a loss in the Q4 as weighing on its bottom line. But any time a company can eliminate debt, it is considered a positive as astute investors have taken notice.
Summary
In the wake of the recent bad PR such as the Anti-Trust law suit, as well as the suit filed by Howard Stern, some of these positives could not have arrived at a better time. It also helped that a plaintiff in the anti-trust case has opted to be removed from the case, a sign that the case is actually a non-event; and likely will be ruled as such. Good things are on the horizon for a company that appears to never be able to catch a break. It remains clear that even in the face of adversity, Sirius is focused solely on executing its business. This should bode well for the company and its shareholders.
Disclosure: I am long SIRI.