By Julian Murdoch
Between unrest in the Middle East and the natural disasters striking Japan, 2011's first quarter has been an eventful one. Unsurprisingly, it was also a pretty good one for commodities. The iShares S&P GSCI Commodity-Indexed ETF (NYSEARCA:GSG), which provides a broad snapshot of how the sector as a whole performed, was up 11.41 percent for the first three months of the year.
But not every commodity has outperformed since January 1; in fact, many individual sectors have sunk to surprising lows. So what hard assets were Q1's big winners—and losers?
Agricultural Commodities
Best performers: Lean Hogs 17.52%, Live Cattle 12.65%, Corn 10.21%
Worst performer: Wheat -3.9%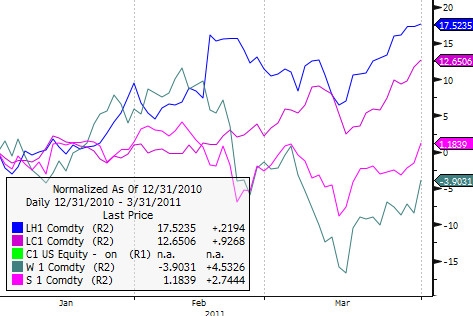 Despite its overall rise, the agricultural complex was hard hit this quarter by the earthquake and tsunami striking Sendai, Japan. Lean hogs especially dragged lower, as Japan is the largest importer of U.S. pork, and imports approximately a quarter of U.S. lean hogs.
Japan is also the world's largest purchaser of corn, its third-largest soybean buyer and its fifth-largest wheat buyer. So needless to say, worries mounted that sustained decreased demand would push prices lower, leading many traders to get out when they could. At the time, Alan Brugler, president of Brugler Marketing & Management, said, "Increasing levels of radiation have people dumping positions in stocks and commodities and piling assets into cash. There's increased risk aversion until the situation stabilizes in Japan."
But demand—and prices—quickly bounced back, even as Japan continues to deal with the ramifications of the emergency. Concern about contaminated domestic foodstuffs has led to increased Japanese demand for imported goods that may not be readily available. Smithfield Foods Inc. (NYSE:SFD) CFO Bo Manly said, "More Japanese demand for chilled fresh pork over frozen products signals the country may have little meat available at the retail level."
Meanwhile, corn costs to livestock producers rose 94 percent in the past year due to tight corn supply, making farmers reluctant to expand their herds. We now have a situation where smaller herds must meet higher demand—both internationally and domestically speaking, as the U.S. economy recovers and we head into the summer barbecuing season. Therefore, analysts expect meat prices to remain at their current levels for a while.
Wheat was the agricultural sector's worst performer, with prices dropping 3.9 percent during the first quarter of the year. Blame it on good wheat-growing weather worldwide, as well as international crops expected to have reasonable yields. Of course, this all could change should a period of drought or prolonged rains hit the major growing areas. But for now, prices remain down.
Energy Commodities
Best performers: Brent 23.86%, WTI 16.79%
Worst performer: Natural Gas -0.36%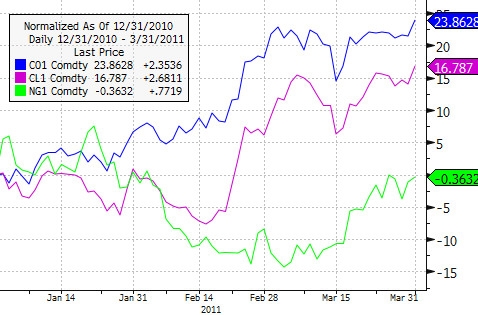 Brent oil had a banner Q1, with prices up 23.86 percent since the first of the year. It handily outperformed the other two major energy commodities, even though WTI also had an impressive rise, at 16.7 percent.
For oil's rise, we look no further than the cascading unrest in the Middle East, which began in Egypt in January before escalating to Libya, Yemen and other parts of the Middle East. The biggest benefit was seen in Brent; abundant supply in Cushing, Okla., helped keep WTI prices at a discount.
Natural gas prices bottomed out midquarter, dropping almost 15 percent. Since then, prices have essentially rebounded to where we started the year.
Precious Metals
Best performer: Silver: 21.82%
Worst performer: Palladium: -4.78%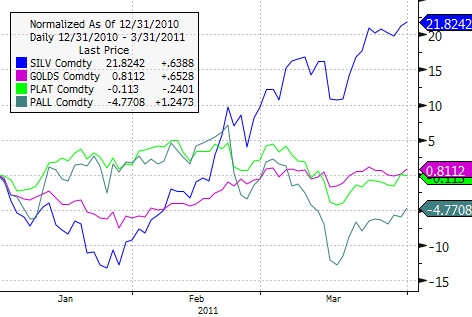 With gold and platinum basically flat for the quarter, silver really shined, with a 21.82 percent increase.
Palladium also appeared to be on track for a good quarter until the end of February, when it started to fall precipitously. The earthquake and tsunami in Japan didn't help matters, as many automakers in Japan were forced to close their plants in the aftermath; some 60 percent of palladium is used in the creation of automobile catalytic converters.
Many plants remain closed for cleanup and repairs, while others stay shuttered due to power shortages. Many automakers do not expect plants to reopen for several more weeks, and parts shortages are expected to spread to North America soon. With its main industrial demand driver offline, palladium prices could remain low for the foreseeable future.
Base Metals
Best performer: Tin 18.12%
Worst performer: Zinc -3.95%, Copper -2.45%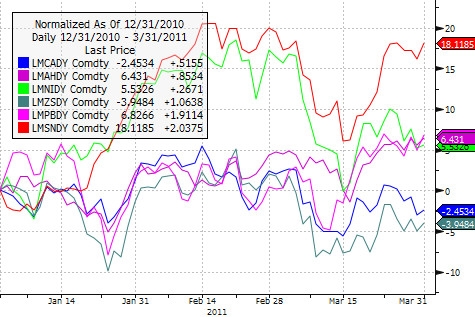 This quarter, industrial metals seemed to fall into three categories: high-flyers (tin); middle-of-the-roaders (aluminum, lead and nickel); and the losers (copper and zinc).
Tin is up 18.12 percent since January, with production tight since the last half of 2010: Power concerns in China and weather-hampered production (and possible smuggling) in Indonesia were the main culprits. Since new tin supply is always slow to come online, this supply tightness could remain in place for up to several years. The question now is, will high prices slow demand?
Comeback Kid: Uranium
I realize that uranium should be counted among the base metals, but its story is interesting enough to warrant its own chart.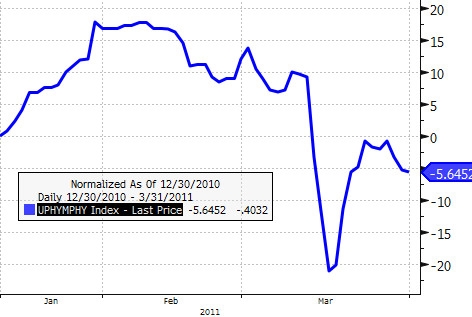 Prior to the earthquake, tsunami and subsequent nuclear incident in Japan, uranium was up 10 percent for the year. Within a day, the price of uranium dropped 30 percent. That's unsurprising, perhaps, but note that even though the Fukushima nuclear plant continues to have problems, uranium prices began to recover almost immediately. Uranium ended the quarter only 5.6 percent down from where it started.
While we can't say what effect the nuclear disaster will have on nuclear projects around the world, it doesn't look like demand for nuclear power is going away anytime soon.