In this article I will describe some stocks that I believe have upside potential, and more importantly, very sizable dividends. These companies will not only enjoy market growth by increasing demand for energy nationwide, but will guarantee substantial gains from their dividends alone. I feel that these are generally long and medium term plays, as these companies could become much more popular with investors in the near future.
1) Exelon (NYSE:EXC)
Exelon is the largest nuclear energy provider in the United States, and consists of PECO Utilities and ComEd, which generate its massive cash flow. This company's exposure to nuclear power gives investors a chance to reap the benefits of the post-Japanese earthquake selloff which is still depressing the price of uranium drastically. Exelon's selloff has not been fully corrected, however, and the savvy investor still has a chance to buy the stock at a P/E ratio of 10.5. In addition to this rather cheap valuation, it pays a huge dividend with a return of 5.15%. The S&P report places the 12-month target price at 47.00 a share, roughly 15% above the current price.
Technical indicators show mixed signals after the selloff in mid-March, but one can see the stock testing the 200-day moving average in the daily chart posted below. Before establishing a position, consider watching the stock until the short-term technicals show a bull market beginning the form. A breach of the 200-day moving average should be a solid signal, as the stock has a low beta and should be a long-term play regardless.
click to enlarge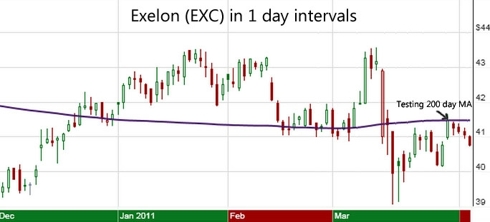 2) Entergy (NYSE:ETR)
This company has utility operations in Arkansas, Louisiana, Mississippi, and Texas. It also engages in nuclear power production. Entergy has been hit much harder than Exelon from the Fukushima incident, so an investor who believes that the nuclear selloff in mid-March is just a blip on the radar would be wise to buy nuclear-exposed assets soon. Entergy generates a solid cash flow from its electricity generation, and should be able to appreciate the price in time. It has a low P/E of 10, and pays a hefty dividend with a 5% yield. The S&P report places the 12-month target at $71, about 6% higher than the current price.
Despite heavier government scrutiny towards nuclear power in the future, as well as public fears of another Fukushima incident in the United States, I believe the chart shows that it might be a good time to consider a stake in Entergy. While it is well below the 200-day moving-average, the stock should return to regular levels in time as its valuation and dividend make it an attractive asset.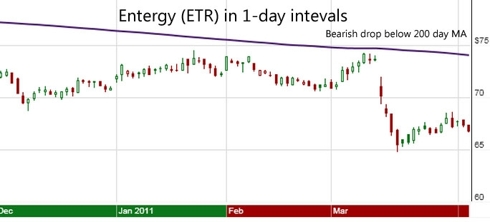 3) Chevron (NYSE:CVX)
While it has already seen quite a run, this big-oil play still has some juice left to keep the show going. While it's very debatable whether or not oil will continue to climb, this energy stock still has attractive fundamentals that make it a safe addition to any portfolio. While the dividend yield is the smallest on the list at 2.6%, the upside potential seems much more probable than the others.
Chevron is still a better buy than its big brother Exxon Mobil (NYSE:XOM), which has a smaller 2% dividend yield. On a P/E valuation basis, Chevron wins again with a ratio of 11.6 against Exxon's 13.73. The S&P report places a target of 127 in 12 months, 16.5% above the current price.
The technicals show a very obvious bull-run with a lot of momentum. While a buyer may want to wait for a small pullback to enter a position with Chevron, riding the momentum could prove to be extremely profitable.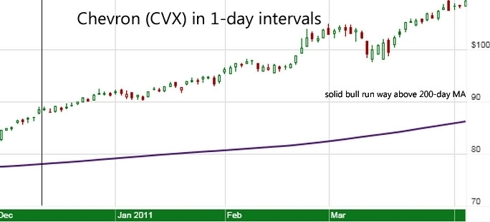 4) Progress Energy (NYSE:PGN)
This firm is a pure utility company that operates in North Carolina, South Carolina, and Florida. The upside potential is more limited based on fundamentals, as it has recently been popular with investors and has broken a new 52-week high, but it is still a strong dividend stock in the midst of a bull-run. Progress Energy now trades at a P/E multiple of 15.8 and has a stellar 5.3% dividend yield. Although it's not cheap, this stock is similar to Exelon and Entergy, but without the risks associated with nuclear-power investments. The S&P report gives it a 12-month target of $46, which is about the same price it is trading for now.
The technicals look very healthy, as the stock is continuing its bullish momentum (likely from investors chasing the hefty 5.3% dividend). The stock is breaking new highs with moderate pullbacks, and is staying solidly above the 200-day moving average. While the valuations may become too high in time, I believe an investor could ride the momentum and watch the trend for a reversal, at which point he/she should sell or wait to add more to the position.