By Brad Zigler
Apparently, gold traders are taking advantage of the downturn in option premiums to scoop up protective puts. Overall, the volatility premium priced into options—measured by the CBOE Gold ETF Volatility Index —has been on the skids for the past couple of weeks.
GVZ is a sibling of VIX, the CBOE Volatility Index that tracks the expected variance in the S&P 500 Composite. VIX, nicknamed "the fear index" for its tendency to rise ahead of market downturns, is calculated by surveying the volatility assumption implicit in a universe of calls and puts on SPDR Depository Receipts (SPY).
GVZ's value is likewise derived from the prices of calls and puts on the SPDR Gold Shares Trust (GLD). That GVZ is figured on calls and puts is telling. Overall, it would seem that the fear of a downturn in gold prices has been ratcheting down since the ides of March (see the chart below). Traders' expectations for gold's near-term volatility have fallen from 19 percent on March 15 to 15.8 percent on Monday.
But if we narrow our focus to look only at slightly out-of-the-money puts—the kind of options purchased by GLD holders as insurance against downdrafts—we see a very different picture. An opposite picture, in fact.
CBOE Gold Volatility Index Vs. Gold Put Index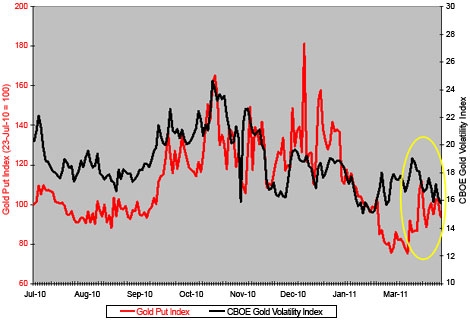 The cost of insurance on GLD has been, in fact, rising despite the broader complacency of option traders.
So what's this mean? Just this—while the market seems to be discounting a correction in gold prices, there are investors who are hedging their gold bets for the near term. By "near term," we mean 30 to 60 days.
That's pretty much consistent with the changes in GLD's money flow. The Money Flow Index measures the velocity of outbound capital versus money inbound, and shows that interest in the Gold Shares Trust has been waning since March 7.
SPDR Gold Shares Money Flow Vs. Bullion Assets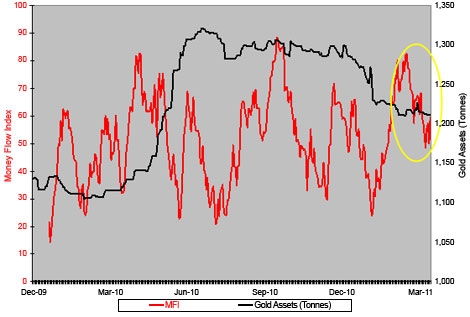 It seems some option traders have reason to fear the "fear index." Do you?
Originally published on April 5, 2011