Sandvine (OTC:SNVNF), a Canadian supplier of telecommunications networking equipment, said Wednesday it swung to a loss in the first quarter as revenues fell and expenses rose.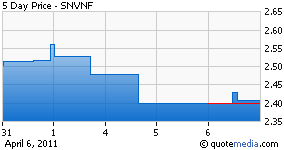 The Waterloo-based company reported a quarterly loss of US$2.7 million, or 2 cents per diluted share. That compares with a net income of US$0.5 million, or near break-even on a per share basis, for the year-ago period. Excluding special items, the company's loss for the quarter was US$1.9 million, or 1.4 cents per diluted share, in line with analyst estimates.
Meanwhile, revenues fell 7% year-over-year to US$19.2 million from US$20.7 million, which was actually a smaller drop than the company had expected. Last month, Sandvine warned that revenues would be in the US$18 to US$19 million range. Analysts had predicted revenues of C$18.36 million (USD$19.14 million).
For the quarter, 59% of the company's sales came from the DSL access market. Sandvine said Wednesday in a statement that it is focused on growing its fixed and mobile service provider customer base. According to the company, it currently has more than 200 service provider customers in over 80 countries.
During the quarter, Sandvine's expenses rose 10% to $14.3 million from $12.9 million a year earlier.
The company's shares rose 0.34% to $2.41 on Wednesday.
Disclosure: None