On Wednesday, Haptify, an independent subsidiary created by Immersion Corporation (NASDAQ:IMMR), announced the availability of the first virtual pinball game with full tactile feedback, dowloadable on the Android (NASDAQ:GOOG) Marketplace for $1.49.
The game will include full-fledged tactile effects, and players are supposed to "feel" the action as they flip their ball onto each ramp, bumper, and target.
Pinball certainly represents the best game to put Immersion's haptic effects to test, as players will be dealing with immersive touch-screen controls and accelerometer support that lets them 'tilt' the table, just like in the arcades. The OpenFeint platform will also allow players to compete remotely with each other for the top scores.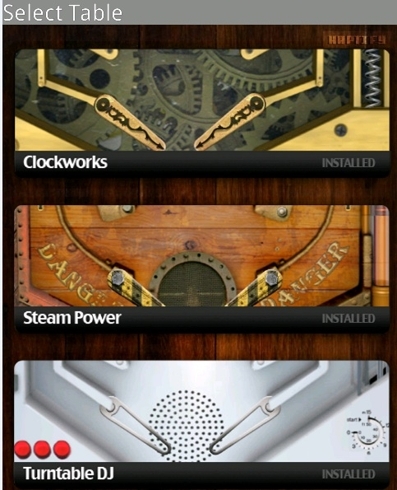 With the recent introduction of the MOTIV development platform which automates haptic integration into the Android OS, Immersion potentially opened the door to a new royalty stream.
Application developers for the Android platform will now be able to easily add haptics to their games, and Immersion will collect a 5% royalty on the gross receipts attributable to the sales of the games or the advertising incorporated in the applications.
While haptics is already associated with console gaming, mainly for joysticks, racing wheels, or controllers, the impact on handset is still to be proved.
This is mainly the reason why Immersion felt the need to introduce its own apps, in order to "create" a market for haptics, by showing its efficacy to other developers. Haptify is also meant to support developers interested in the implementation of haptic-enabled effects into their new or existing games, and will also continue to investigate opportunities for the iOS, Windows, and BlackBerry platforms, among others.
The choice of Android came natural to Immersion as two of its main handset licensees, Samsung (OTC:SSNLF) and LG (OTC:LGERF), have already introduced several smartphones incorporating Immersion's technology.
Haptic games will be more effective when played on handsets that license Immersion's Touchsense technology, but will work also on phones that may utilize a different underlying actuator technology that still allows the phone to reproduce a simple "confirmation" effect – i.e. most smartphones.
In the long term, a wide diffusion of haptics in gaming application might also help Immersion get new Android producers interested in becoming licensees of its more advanced haptic technology.
Disclosure: I am long IMMR.