Now judge judge I had debts no honest man could pay
The bank was holdin' my mortgage and they was takin' my house away
Now I ain't sayin' that makes me an innocent man
But it was more 'n all this that put that gun in my hand

-Bruce Springsteen, Johnny 99

In a previous article about new and old media, I reintroduced the world (or an incredibly tiny sliver of it) to George Costanza's worlds theory. It appears that Netflix (NASDAQ:NFLX) executives don't feel the need to pay attention. While I don't have a large enough ego to think that a man of Reed Hasting's stature should pay attention to me (or Larry David's theory), I do hope he realizes that worlds are about to collide.

There's a perfect storm brewing. As I discussed in another article, when spending-spree Netflix further encroaches on revenue-generating Netflix's territory, things will get ugly. Convenient bookkeeping allows Netflix to show an impressive bottom line today. But, the money it puts off into the future as "non-current liabilities" and arrangements "that do not meet content library recognition criteria" will come due someday. At the rate spending-spree Netflix is going, this will amount to a multi-billion dollar strike to the balance sheet.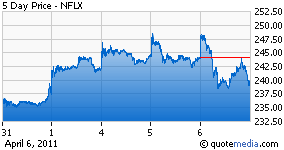 Unfortunately, financial details about the deals Netflix cuts prove hard to obtain. This comes as no surprise given the potential ramifications for shareholders further on up the road. Plus, Netflix doesn't feel the need to be any more transparent than the law requires given its poor excuse for an earnings call and the half answers its executives provide when they actually decide to speak. We can, however, get an idea of how much money Netflix forks out to secure "content."

When the market opened on Wednesday, the street reacted positively to the news that Netflix signed a deal with Lions Gate (LGF) for the rights to the hit series Mad Men. According to the Wall Street Journal, Netflix will will pay about a million bucks an episode, for a total of somewhere between $75 and $100 million. Wrap your head around that figure again for a television show that airs on the American Movie Classics network and can boast critical acclaim, but a very small number of viewers.

And I understand the argument -- Netflix will open up shows like Mad Men to a vast audience who just happened to miss the first four seasons thanks to accessibility issues, timing, lack of exposure, or plain laziness. I don't buy it. If Netflix signs more deals like this one, it will be in for about a billion dollars. And that's just the beginning; it doesn't account for what the company has paid and the charges it puts off into the future.

Simply put, Netflix is in over its head. If it does not collect impressive content with frequency, its brand -- its image -- takes a serious hit. But, as it attempts to keep up the pace required to retain its top spot in the hearts and minds of streamers, it spends itself into a future it cannot afford.

As much as I hate to make the comparison because of what is more than a feeling of love for Bruce Springsteen, it reminds me, on some levels, of what happened at Sony (NYSE:SNE) when former executive Andy Lack signed a new deal with the Boss. From Fortune magazine, November 28, 2005, via CNN Money:
Then things came to a head with the Springsteen deal. In September, people familiar with the company say, Lack faxed Schmidt-Holtz a copy of a contract he had struck with the Boss. It stated that Sony BMG would pay the aging rocker more than $110 million over ten years for roughly seven CDs--$65 million up front in the first year. This was too much for Bertelsmann. Columbia sold 20 million copies of Born to Run two decades ago, but Springsteen's most recent new releases, The Rising and Devils and Dust, have sold a total of 2.8 million copies in the U.S., according to Nielsen SoundScan.

In fairness, Lack had to know he'd be damned if he were perceived as being overly generous with Springsteen, but he also had to worry about letting him go to a competitor. Perhaps Lack's biggest sin was not running the deal by the board first. Two people familiar with the agreement say he submitted it to the Sony BMG directors after he and Springsteen had finalized the deal and drunk champagne in celebration. (A company source denies this.) The directors could have refused to sign off on it, but that might have damaged Sony BMG's relationship with Springsteen and embarrassed Lack. The Bertelsmann directors blessed the contract, but they told Sony CEO Stringer to "do something" about Lack.
Consider the parallels. Lack simply could not pass up on Springsteen. Makes sense. Netflix, given the landscape it finds itself in, cannot pass up on securing programming such as every season of Mad Men. Sony overpaid for Springsteen, but it looks good to have him as part of the stable (just like it does Bob Dylan and other marquee names who generate relatively low revenue). Netflix, as I see it, overpaid for Mad Men and has and will continue to overpay for content. The difference? Sony can afford to overpay to position its brand. Netflix cannot.

According to Yahoo! Finance, Sony turned a $17.66 billion profit on $89.53 billion in revenue last fiscal year. It has $17.39 billion in cash. Netflix reports an $805.27 million profit on $2.16 billion in revenue and cash totaling $350.39 million. In Sony's position, you can afford to spend like a drunken sailor once in a while. Unlike Netflix, Sony is a company that actually produces something. Like Disney (NYSE:DIS), it has other business segments that hedge against and compliment one another. Netflix produces nothing; it merely spends money to buy what others have created. It's a middleman. In some ways, Netflix is little more than a regulated bootlegger that pays for the stuff the guy on the corner just steals. But the guy on the corner usually gets you a flick you haven't seen before.

If investors could only be flies on the wall when Netflix signs its content deals. If the company paid close to $100 million for Mad Men, I cannot imagine what it paid Twentieth Century Fox for the rights to Glee's first season and reruns of Ally McBeal, The Wonder Years, and other shows. If we go on some of the other numbers that have been leaked, my multi-billion dollar estimate looks like it's long been hit.
That surface scratch gives you an idea. And when Netflix inked the deals really doesn't matter. It's not like it's actually already paid for most of this. Netflix effectively defers much of the costs. Even in its books though, the bill will someday come due. Subscriber growth can help the company keep pace with some of the money it spends, but it will need massive growth and a lid on other expenses to keep up with all of it.

This comes at a time when Netflix is set to embark on an international expansion beyond Canada. The spending spree also coincides with intensified competition from every angle. When Apple (NASDAQ:AAPL), for example, puts out an iPad, it has a pretty good handle on how well it will do. It has a history. It has a pretty good idea of how it has situated itself in the competitive landscape. There's no way Netflix can claim anything close. The House of Cards deal, for instance, amounts to nothing more than a $100 million, 26-episode lottery ticket. Netflix, unless it gets lucky enough to receive a buyout, will likely find itself losing market share in the next several years. If competitive pressure stunts its growth even a bit, look out below.

To my surprise, Hulu.com's name came up in Arbitron (NYSE:ARB)/Edison Research's recent report on the media. Interestingly, 20% of Americans, ages 12 and older, report having used Hulu. While the study did not ask about Netflix as far as I know, I was taken aback by Hulu's high number. Sixty-two percent of those who report using Hulu note that they "like" or "love" it. Hulu appears to be ramping up aggressively.

Ultimately, the content producers permit Netflix's survival. And, for now, why wouldn't they? They are ripping Netflix off. They're akin to dope dealers. Netflix adds millions of unexpected dollars to these firms' bottom lines. Netflix fits well in Silicon Valley, home of the $30,000-a-year millionaire. It's spending like it has an Apple or Google (NASDAQ:GOOG) budget. Someday, however, the programmers and rights holders will cut Netflix off or, before that, Netflix will simply spend itself to extinction.

Some content providers don't really see the need to take Netflix's money. Time Warner's Home Box Office (HBO) is set to ramp up its HBO GO service with full access for current HBO subscribers. Soon, HBO could extend the offer to everybody, offering the potential for a huge revenue stream. If it works, others will follow (many already have started doing this anyway). Needless to say, this would not be good for Netflix.
Click to enlarge:





If Netflix owned the infrastructure and/or technology that makes streaming possible it would have something. But, it doesn't. The company doesn't offer anything that generates considerable revenue other than its subscriptions. It doesn't have relatively under-the-radar revenue streams like other companies do.

For instance, Amazon.com (NASDAQ:AMZN) makes money off of Amazon Web Services (AWS). Netflix happens to be an Amazon customer. According to Amazon's latest annual report, AWS and other "non-retail activities" took in $953 million in 2010, up from $653 million in 2009. Recent-IPO Demand Media (DMD) has effectively used revenue -- about $100 million in 2010 -- from its growing registrar business to help fund its content and media aspirations, based on numbers from its annual report. These companies use this diversification to their advantage.

As for Netflix, it's essentially a one-trick pony. It takes them all of three short paragraphs in the company's annual report to describe its business. Netflix streams and essentially treats the girl that brought them to the dance -- DVD rentals -- like a red-headed stepchild. Netflix's run has made lots of people rich; however, today it's setting up as the short of the decade.

Disclosure: I have no positions in any stocks mentioned, but may initiate a short position in NFLX over the next 72 hours.