One of the more interesting of Obama's energy plan that he unveiled last week was his call for all government agencies to purchase only hybrid or alternative fuel vehicles by 2015. There is an opportunity for a savvy investor to profit off of this plan.
As I am sure many of those reading this are already well aware, hybrid electric vehicles (HEVs) are powered by a combined gasoline and electric motor. The electric engine is typically composed of multiple batteries which are recharged by the gasoline motor as well as through regenerative braking which converts the excess kinetic energy of a vehicle into electricity for the batteries. There are many different types of hybrid automobiles and an exploration of the various types is beyond the scope of this article. My point is this: All hybrid automobiles require batteries. There are three basic types of batteries that are currently used in hybrid vehicles. These types of batteries are nickel-metal hydride, lithium-ion, and lithium-ion polymer (LiPo).
Juan Carlos Zuleta, a fellow Seeking Alpha contributor, makes a point in a recent article that lithium may soon be replacing NiMH completely in hybrid car batteries. As a commenter to that article notes, Toyota (NYSE:
TM
) has also been developing their own
battery technology
based around lithium that is completely different from the aforementioned battery technologies. I do not care to speculate as to which of these battery technologies will ultimately prevail in the marketplace. They all require lithium and that offers the potential for profit.
Sociedad Quimica y Minera de Chile SA (NYSE:SQM)
is a Chilean potash, iodine, and industrial chemicals company. SQM also controls the salar brines of the Andes mountains which contain the highest known concentrations of lithium in the world. As a result, this company is the largest lithium supplier on the planet. The stock has had impressive performance in the last few years, returning 45% in 2010 alone. It has, however, not continued that performance for the past few months and has been bouncing between about $51 and $59.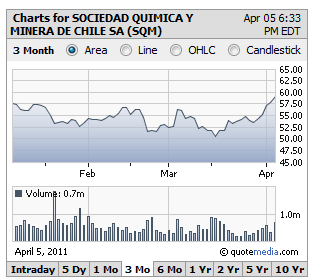 In addition to lithium, SQM is also a major producer of potash. Potash has been used since ancient times in the production of glass, soap, and soil fertilizer. Demand for potash for use as fertilizer to produce animal feed and human food has been rising steadily for quite some time. The world's population is consistently increasing and food is a basic human necessity. Population growth is an exponential function; the more people that are living on the planet, the faster the population will grow. This is not a trend that will reverse anytime soon. In fact, it is quite the opposite. The United Nations expects the world population to be over 9 billion by 2050. SQM is not a pure agriculture play by any means but it should still benefit from the inevitable growth in the sector.
SQM earned a net income of $382.2 million on revenues of $1.83 billion in 2010. This gives the company a net after-tax profit margin of 20.9%. There was an average of 263.52 million shares outstanding throughout the year, giving the company a trailing EPS of 1.45. That gives the stock a trailing P/E ratio of 40.74 at the April 5 closing price of $59.08/share. That P/E ratio is well beyond the price that I would normally find attractive. As investors, we are not paying for past performance. Thus, the future performance is more important. A high trailing P/E ratio can be acceptable (or even cheap) if the growth prospects are good enough.
Zacks
expects 2011 EPS to be 1.94 and 2012 EPS to be 2.32. That is 33.79% growth for 2011 and 19.59% growth for 2012. This gives the company a forward P/E ratio of 30.45 for 2011 and 25.47 for 2012. This gives the company a PEG ratio of 1.21. Ideally, a PEG ratio under 1.0 is desirable for an investment as this indicates that the stock is underpriced relative to its growth prospects. Likewise, a PEG ratio over 1.0 indicates that the stock is overpriced relative to its growth prospects, but the ratio does not work particularly well for evaluating larger companies.
Eric Linser of Green Valley Wealth Advisors has an even more optimistic outlook for the prospects of SQM. He expects 2011 sales to surpass $2.0 billion and an EPS of 2.10. This gives the company a growth rate of 44.8% and a forward P/E of 28.13. If Mr. Linser is correct, this would give SQM a PEG ratio of 0.91. This would indicate that the stock is undervalued at its current level, even with the stock near its 52-week high.
It is worth noting that both of these analyses were done before Obama unveiled his new plan to have government agencies only purchase hybrid vehicles within the next five years. SQM has had many tailwinds contributing to growth over the past several years and these same trends remain into the future. Lithium, in particular, stands to have quite a promising future ahead of it that can richly reward investors. Many of the battery-powered consumer electronics that we all love, including laptops, notebooks, and smartphones, are powered by lithium batteries. If Obama succeeds in his plan to have government agencies purchase only hybrids by the middle of the decade, that could increase the demand for lithium and thus increase SQM's growth rate even more. Additionally, the growing world population could continue to increase demand for the potash made by SQM for use as fertilizer to grow the food necessary to feed the increasing number of people.


Disclosure: I have no positions in any stocks mentioned, and no plans to initiate any positions within the next 72 hours.